Erica Enders would like nothing more than to give herself a belated birthday present at this weekend's AAA Texas Fall Nationals at Texas Motorplex in suburban Dallas.
And what a present it would be, one that would be so welcome in a season that has been anything but welcoming
Enders, who turned 33 on Oct. 8, has had one of the most frustrating seasons any drag racer has ever seen.
In 2014, she won six races and her first NHRA Pro Stock championship.
In 2015, she won nine races and repeated as Pro Stock champ.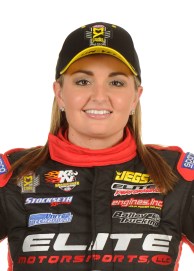 But 2016 has been a whole other story. She has yet to win even one race this season. She also failed to qualify for the first race of the six-race Countdown to the Championship playoffs.
Admittedly, it has been a rough transition for Enders and Elite Motorsports' switch from Chevrolet power and adapting to Dodge/Mopar power under the hood this season, as well as the changeover in the class from carbureted motors to Electronic Fuel Injection.
And, if she has another poor outing this weekend, she could wind up being mathematically eliminated from continuing on in the Countdown.
That's why a win on Sunday would help Enders and her team forget about so many first round exits (11 in the first 21 races), the DNF at Charlotte and other disappointments that have occurred this season.
"The nature of this sport is full of peaks and valleys," Enders said in a media release. "Believe me, I've experienced it all out here and compared to years I've had in the past, this season hasn't been that bad.
"Certainly you get used to winning and even dominating at times. That's why we all work so hard. But every driver, every champion out here has experienced years like this. The good news is our team hasn't fallen apart and I know we'll come back better than ever. Right now, we're just focused on finishing the year strong."
Enders comes into this weekend ranked last (10th) in the Pro Stock standings, a massive 285 points behind Pro Stock points leader Jason Line.
To stay eligible in the Countdown, Enders would have to leave the Texas Motorplex on Sunday less than 260 points behind Line or anyone else who might assume the points lead after this weekend.
Racing at the Ennis, Texas facility may be just the thing Enders needs. First, she's a Texas native, having grown up near Houston.
Second, she has raced at the Ennis facility for 25 years, since she was an eight-year-old competitor in Junior Dragster racing.
Plus, she is the defending champion of this race.
So, in a sense, Enders would probably love to celebrate a quarter-century of racing at the Motorplex with a big win Sunday.
"I'm a Texas girl through and through," Enders said. "I always love being home and the Motorplex was pretty much my second home track next to Houston Raceway Park, so yes, this race is very important to me.
"We were on such a roll last year and winning this race put us in a really good position to clinch our second championship with just two races left. We were able to get it done the following race in Las Vegas so obviously the win in Texas was pivotal.
"I loved getting the cowboy hat and belt buckle they give the winners also. That had always been on my drag racing bucket list."
This week, even with knowing she's all but eliminated from earning a third consecutive championship, there's still plenty to win for Enders.
"I'm going to have fun this weekend," Enders said. "We'll have lots of friends and family around, including a bunch of people from Oklahoma, which is where our shop is located.
"So it'll be a good time. And we'll do our best to race hard also."
Follow @JerryBonkowski