The newest Indy Lights Presented by Cooper Tires champion, Ed Jones, probably has one of the most intriguing international background descriptors you're going to find. Especially when you consider a name like Ed Jones is actually quite a simple one.
Jones is often referred to as a Dubai-based Brit, he's entered under the United Arab Emirates (UAE) racing license, he resides in Miami when he's in the U.S., and he's driving for a British racing team that's based its U.S. headquarters in Florida. And again, he's got a name that is almost more American-sounding than American driver Josef Newgarden, who also drove for Carlin earlier in his career.
The two years he's spent racing at the top rung of the Mazda Road to Indy presented by Cooper Tires ladder, Indy Lights, though have provided him some career stability he hasn't had earlier in his career.
Having bounced back from a back injury in the FIA Formula 3 European Championship, Jones wasn't sure what lay ahead for him the rest of his racing career.
But upon moving to America, Jones made an impression early. Three wins from his first three Indy Lights starts with Carlin in 2015 defied expectations on-track, and all the while, he began to learn about his U.S. surroundings.
Finding a U.S. base of Miami helped Jones find his footing much easier compared to the cutthroat world of Europe where he'd raced previously.
"I love being in America and all the different places and the experiences are new again," Jones told NBC Sports. "I'm still finding things I like, Miami feels like a base now. When I was racing in Europe, I never really felt like I had one (base), so it's nice to have something like that.
"The people are so friendly and welcoming. It's a place I see myself for a long time."
Jones was arguably disappointed to have lost the 2015 Indy Lights crown but unlike his two title rivals of a year ago, Jack Harvey and Spencer Pigot, Jones stayed for a second season. Harvey had already raced two seasons; Pigot, who perhaps surprised by winning the title as a rookie, advanced into the Verizon IndyCar Series and ran 11 of 16 races this year.
The changes were significant at Carlin this year for its second go-'round. Carlin moved into Del Ray Beach, Fla., roughly an hour and a half north of Miami, from Poughkeepsie, N.Y. Jones stayed on while Felix Serralles switched from Belardi Auto Racing, and Neil Alberico stepped up from the Pro Mazda ranks.
Still, as team owner Trevor Carlin related, it was an easier year knowing the battlefield he and the team would be facing this year. And keeping Jones and engineer Geoff Fickling for a second year was always going to pay dividends from a continuity standpoint.
Carlin said the paddock atmosphere is better in America, and explained how having been through the ringer of 2015 helped prepare them for the second season in 2016.
"The biggest thing is that when you're in the paddock and you're mixing with people, everyone is far more friendly and amenable and do things to encourage racing to go ahead," Carlin told NBC Sports. "It's a far friendlier environment. But when they're on-track, the racing is as fierce as in Europe. You've seen Lights this year, and like IndyCar, it is always incredibly tough.
"People still behave correctly over here and enjoy the sport and then let the drivers do the fighting. The teams and mechanics and engineers shouldn't be fighting, they should be doing their job and enjoying their job. It is a sport at the end of the day, and we do it because we love it. We don't want to get bogged down in politics and bureaucracy."
Funny how telling that last quote would be once we got to the Mazda Raceway Laguna Seca season finale.
The year for Jones first centered around consistency. Through Round 9, Road America race one, Jones had seven straight top-four finishes, including his only two wins of the year at Barber and the Indianapolis Motor Speedway road course. There was the bitter heartbreak at the Freedom 100, losing to Dean Stoneman by only 0.0024 of a second in the closest finish in Indianapolis Motor Speedway history.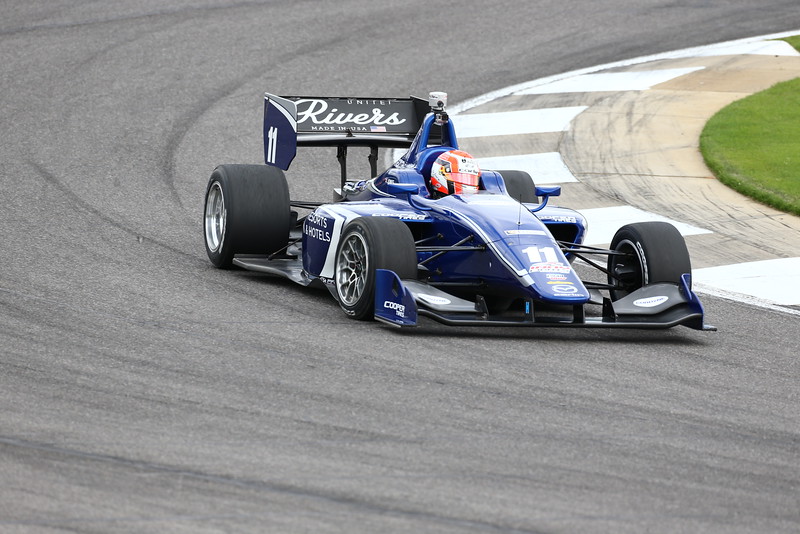 And then there was, and there's no way of sugarcoating it, the Jones-Stoneman-Santiago Urrutia battle that raged the first half of the year and that eventually reached a crescendo in Road America race two.
Stoneman and Urrutia had both driven perhaps overaggressively the first half of their rookie years, and Jones felt it his task to become the enforcer to say, "this isn't happening anymore." Once Jones drove Stoneman off the road at Road America race two, it was the flashpoint in the battle between the three of them, and the resulting incident at the next corner was enough to ensure Race Director Tony Cotman put all three on probation for the balance of the season.
"At the time it felt like the right thing. But obviously now it wasn't the right thing," Jones reflected at Monterey. "I can't regret what I did. That's a way of life."
Anyway, for better or worse, Jones fell into a midseason slump where from that race of contact at Road America through his only actual DNF of the year – a heavy crash at Mid-Ohio race two – he only banked one podium in six races and lost the points lead.
It was a moment that would have tested most drivers but this is where his being a series sophomore, having been through the ringer of a title battle, paid dividends.
"It never should have got as close as it did," Jones reflected. "We had so much speed, but I made too many mistakes. It's kind of embarrassing to not win it earlier.
"We had quite a few lows, like Mid-Ohio and Toronto and then Watkins Glen was probably one of the biggest highs because we just got everything back up there, had a solid weekend and put us in a good position for Laguna. If we didn't have that, it would have been very difficult to do it, but that's what changed everything."
So, Watkins Glen. Jones entered 20 points behind Urrutia and then was furious when he lost a potential pole position, after Urrutia spun and then resumed on track right in front of him. Urrutia was docked his fastest lap, but his second quickest was enough to secure the top spot.
But Jones and Carlin had been smart enough to focus on tire preservation earlier in the weekend, and were well prepared for the long run that followed in Saturday's race. Having opted only for short runs, Urrutia and Schmidt Peterson Motorsports found themselves on the short end of the stick in the race, and a puncture after a lockup in the final laps resigned him to 12th, and dropped his points lead to just 1.
A second-place there positioned him well for Mazda Raceway. Once to the second race of the week, though, Urrutia ran second and was set to claim the title on a tiebreaker. Jones trailed teammate Felix Serralles for fourth, before Serralles pulled aside on the final lap to ensure Jones had the title by two points.
Despite some people condemning the move, Serralles moved over on his own accord rather than this being a team orders edict, and it was an unfortunate flashpoint that overshadowed the rest of Jones' arguably more consistent season. Urrutia, to his credit anyway, handled the defeat in a classy manner.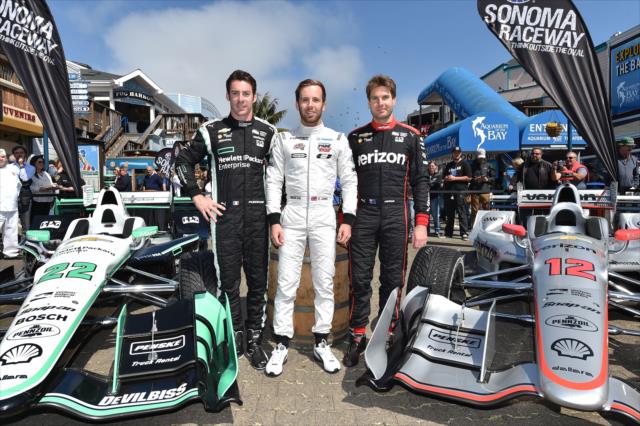 Jones then embarked on a weeklong media tour after the title win, first with the banquet – and a legendary plug for his sponsor E11even Night Club in Miami during his banquet speech – and then a really cool opportunity to drive the Verizon IndyCar Series' two-seater with the Astor Cup on the Embarcadero in San Francisco, and then making the rounds in Sonoma for the season finale.
"Yes, it's been really nice. The banquet is always a good event and driving around in the two-seater with the Astor Cup in the back was certainly pretty cool to do, as well as being around the other drivers," Jones reflected.
"I'm out here for the race at Sonoma before I go back and see my family. Once I see them, it'll all sink in then. It'll be nice to see them after all they've put in to it."
"It's very different for me to be on the other side. I was on the IndyCar radio earlier, and then in race control, and to see everything that goes on up there, when you're racing you have no idea you're being watched, everything you do, so you have to be more careful the next time."
As he's guaranteed a three-race step-up to the Verizon IndyCar Series, the next step for Jones is locking down where he'll take the $1 million Mazda advancement scholarship in 2017. He's had conversations with multiple teams and looks to nail that down this month.
"We've been to talk to quite a few. At the moment, it's still quite broad. Still need to narrow it down, but it's still early," he said.
"The sooner, the better. It's not just us that has to sort things out, but also the teams have to sort out the crew and things like that. Ideally within a month or two, to have it done early, Therefore, everything can start flowing earlier and the more prepared you are the better it's going to be."
Jones isn't one to get too high when he's winning or too low when he's not. The even keel driver said the same of his title, that the magnitude of the dream realized will take time.
"It's still taking time," he said. "I'm one of those guys where I find it hard to feel emotion on things. It'll take time to sink in.
"We've worked together with Geoff Fickling for two years. He's brought me on massively as a driver. Our personalities match very well in a working way. Without him, there's no way we would have been able to do this. The Carlin team would have suffered without having him here.
"And coming over here with Trevor was a big change for me. For it to pay off, the job the team has done is incredible. You have to realize what a job they've done, to have competed with teams that have been for so many years. When they make it to IndyCar, they'll be one of the top teams."
As Jones prepares for his IndyCar debut, the hope also exists for him he'll become one of its top drivers as well.