Resilience and experience told the story for Pro Mazda Championship Presented by Cooper Tires rookie Aaron Telitz, as the young American captured the title on the second rung of the Mazda Road to Indy presented by Cooper Tires ladder and the Mazda advancement scholarship that went with it.
The 24-year-old is older than his peers for a ladder system that is, admittedly, overflowing with teenagers.
But that's not a bad thing. Using James Hinchcliffe as a comparable example, Hinchcliffe spent a full seven years in the ladder between Formula BMW, Pro Mazda (then Star Mazda), Formula Atlantic and Indy Lights before graduating into IndyCar in 2011. And at 24, Hinchcliffe promptly rocked up and qualified eighth on his debut at Barber Motorsports Park… while eventual future champion Simon Pagenaud, then 26, was 23rd in a one-off injury replacement outing before ending eighth.
The point of that preamble is that Telitz is already at a position where he's both experienced from the ladder and mature enough for when he could graduate into IndyCar. For him, 2018 would be the target season if he can emulate Spencer Pigot in winning an Indy Lights title a year after winning Pro Mazda.
That experience probably served him better than his closest title rival all year, his Team Pelfrey teammate Pato O'Ward, who at 17 lit a fire under the rest of the field with a blazing start.
O'Ward, on a limited planned schedule that was eventually extended through the year, won six of the first seven races, while Telitz left that seventh race some 55 points behind.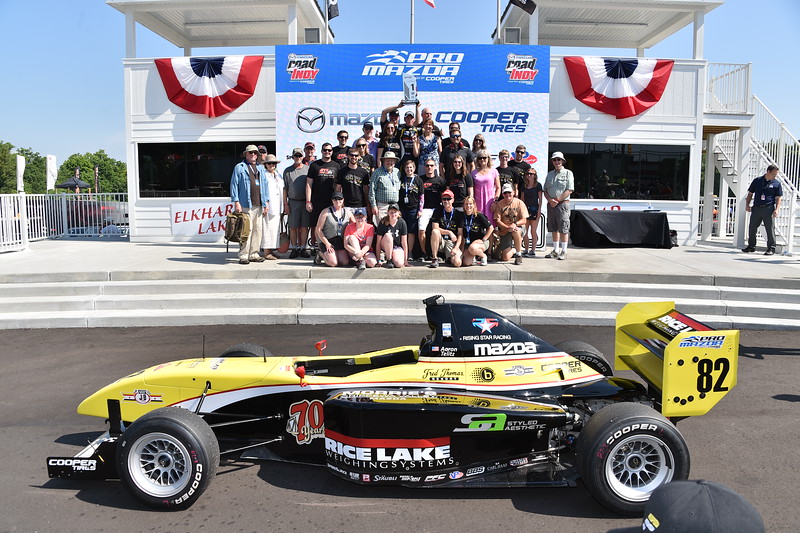 At Road America, Telitz's home race, the tide turned in a big way. A single-day sweep of two races was enough to get the ball rolling on a comeback, with the double win coming in front of a wealth of family, friends, partners and supporters.
Two more wins followed in Toronto, then two podiums in Mid-Ohio, and Telitz had turned the 55-point deficit into a 14-point lead over O'Ward, who went winless in this six-race stretch.
"After Lucas Oil I was super down. But I knew coming into Road America, that I can't give up," Telitz told NBC Sports. "It was my biggest race of the year. I had all my friends, fans, family, supporters, sponsors… it's everyone who has ever seen your posts, friends from college. I knew I had to perform, so getting something done there really turned my season around.
"Toronto, winning again, that was huge. That was the turning point in the season. 'Mr. Mid-Ohio,' Nico Jamin, was awesome there. But being on the podium there both races got me out front."
Even though Telitz only won one of the three races at the Mazda Raceway Laguna Seca season finale, the last one, it was qualifying on pole for all three that positioned him to hang onto his points lead.
"Here, qualifying on pole won me the championship," Telitz told NBC Sports. "Pato didn't get to qualify on pole, and it's tough to make passes here, so it's hard to be on the outside of Turn 2."
Indeed the only drama between the two all year came in the Sunday morning race, when Telitz collected a fast-charging O'Ward around the outside of Turn 2. O'Ward went up-and-over Telitz's car and landed with suspension damage; Telitz was issued a drive-through for avoidable contact.
That left the pressure on Telitz to ensure he didn't blow the lead in the final race and he didn't, with a dominant win from pole enough to deliver the goods and secure the title. O'Ward fought valiantly but came up short with finishes of 10th and sixth in his last two races, after a terrific win in the first win of the tripleheader weekend.
"He raced awesome. I was really happy to be teammates with him. He really is a great driver," Telitz said. "Yes we came together once, but over the course of 16 races, it was mostly us two racing for top spot. So to only have the one time coming together, I think was OK."
The 24-year-old native of Birchwood, Wis., who now lives in Minnesota, isn't your typical driver. He has a college degree, he caddies when he's not driving, and he's knitting when he's not doing either of those. He's also one of the funniest drivers you'll get to meet.
But despite him adding a needed dose of personality to the Mazda Road to Indy, he's still plenty serious and focused at the track. His relationship with Tom Knapp, the veteran engineer who suffers no fools and keeps everyone on task, helped bring out a more tenacious and determined side of Telitz this year after a tougher 2015 season in USF2000 with Cape Motorsports with Wayne Taylor Racing.
"Having him there was huge," Telitz reflected. "Even when Pato was winning, I never felt he got special treatment or had a faster car. Sure, I thought I might have been faster but things didn't go my way. But there was no favoritism; I knew I had a fair crack every weekend."
He had his first crack in an Indy Lights Dallara IL-15 Mazda at this weekend's Chris Griffis Memorial Mazda Road to Indy test at the Indianapolis Motor Speedway. He spent a day apiece with Schmidt Peterson Motorsports and Belardi Auto Racing, the latter of whom invited him to Watkins Glen as a guest.
Telitz hasn't picked where he'll be driving a Soul Red Mazda yet but said the caliber of team is such that any one of them can win.
"The big thing for me is picking a team where I'll mesh," he said. "That's the important thing to me. Not just winning races or championships. I think every single team has won in Indy Lights? Yes. I think it's possible to win with every team."
Telitz made it through the year with a strong support team and he'll look to add to that next year as he makes the step up to Indy Lights, thus adding his name to the list of those who've competed in all three Mazda Road to Indy series.
"I just tried to stay calm. I don't get worked up," Telitz said. "I have to thank my family and girlfriend (Maggie), and my driver coach Steve Welk, the team at Pelfrey, Anders (Krohn), Jonny (Baker), and (Tom) Knapp.
"They'd always call and say it's fine. I have a huge support group that helps me not overthink it and it wasn't that stressful."