The Verizon IndyCar Series made its return to Gateway Motorsports Park on Thursday, with a number of new combinations in action among the drivers and teams testing in a Firestone test day at the 1.25-mile egg-shaped oval.
Josef Newgarden, Tony Kanaan, Sebastien Bourdais, James Hinchcliffe, Marco Andretti, Graham Rahal and Ed Carpenter made it drivers from seven teams (Team Penske, Chip Ganassi Racing, Dale Coyne Racing, Schmidt Peterson Motorsports, Andretti Autosport, Rahal Letterman Lanigan Racing and Ed Carpenter Racing) all having their first crack at the track. Of that seven-pack, Kanaan is the only one with past IndyCar starts there, while Carpenter raced there in Indy Lights in 2003.
Newgarden, who made his first test with Team Penske earlier this week at Road America while in Juan Pablo Montoya's No. 2 Chevrolet, switched to Helio Castroneves' No. 3 car on Thursday and took on another different Simon Pagenaud firesuit. He'd had a PPG one earlier in the week and on Thursday, he was in one of Pagenaud's old yellow Penske Truck Rental suits.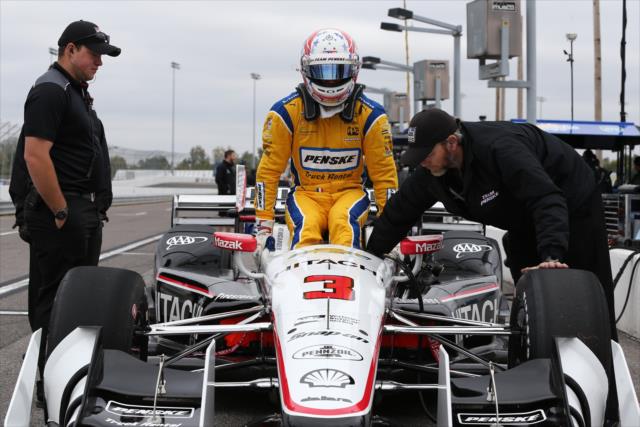 Elsewhere, Kanaan was first among Chip Ganassi Racing's stable of drivers to be back in action in a Honda engine and aero kit.
And Bourdais completed what was termed a "very good" first test back with Dale Coyne Racing after being formally confirmed there earlier this week, with Bourdais joined by two-thirds of the stellar engineering arsenal Coyne has assembled (Craig Hampson and Michael Cannon; Olivier Boisson joins the team later this month).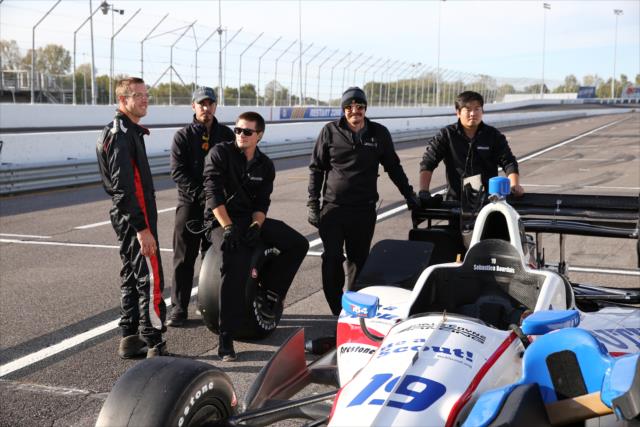 Hinchcliffe took a break from his "Dancing with the Stars" commitments to return to his No. 5 Arrow Schmidt Peterson Motorsports Honda.
"I think it's huge for INDYCAR and also exciting for me to come to a new track," Hinchcliffe said in a release. "We always love doing that. And especially one that has so much history with INDYCAR racing. I've seen old races from here at Gateway and I've heard a lot of stories from the old-timers who've raced here and it's always exciting when we get to come back."
Andretti, in a new hhgregg firesuit (but not new livery – yet), Rahal (base red livery on his No. 15 United Rentals/Mi-Jack Honda for Rahal Letterman Lanigan Racing) and Carpenter – Newgarden's old boss – were also in action on Thursday.
For new Firestone Racing chief engineer Cara Adams, this was a chance to determine what would work as the best tire specifications for next year's race, to be held August 26.
"Our intent in coming to Gateway today is to understand the needs of the Gateway track surface and make sure we apply the appropriate tire specifications for the upcoming race," Adams said.
INDYCAR used the day to assess aerodynamic alterations and turbocharger boost pressures to hone in on the proper 2017 race specifications. Andretti tested the No. 27 Andretti Autosport Honda and stated his case for less downforce and more boost when the series returns in full force next year.
"Early on with the amount of downforce these cars have, it's just nailed," Marco Andretti told IndyCar.com. "We're running flat at a place I've never been (before). The track seems fun. I think we need to get some raceability out of it so not everybody is just flat out. I think we need to evaluate some things to make sure we put on a good race for the fans."
Although the track wasn't perfect – the aging surface reportedly had some issues as the test went on – the tighter radius Turns 1 and 2 and open radius Turns 3 and 4 will present a unique challenge to competitors.
"I'm thrilled we have INDYCAR here again today," Curtis Francois, owner and president of Gateway Motorsports Park, said in a release. "It's a dream come true. As a fan, as a racer, as a track owner, I couldn't ask for anything more than to see these open-wheel cars running almost 200 miles per hour around Gateway Motorsports Park.
"It is so important that the fans get a great show. With a unified INDYCAR, you're getting the best open-wheel racing in the United States. Without a doubt, this is going to be the most exciting oval race we've ever had in St. Louis."
Tickets went on sale on October 11 for the August 26 race.