September 23rd this year likely came and went without much fanfare for 16-time NHRA Funny Car champion and the sport's all-time winningest driver, John Force.
It was the first day of qualifying at Gateway Motorsports Park near St. Louis, the second race of the NHRA's six-race Countdown to the Championship playoff. Force was coming off an emotional win the race before in the Countdown opener at Charlotte, North Carolina.
But three weeks later this weekend, as he returns for the ninth straight year to Texas Motorplex in Ennis, Texas (just south of Dallas) for the AAA Texas NHRA Fall Nationals, Force will likely remember another September 23rd and its memories – if not outright nightmares.
For it was at the same Texas Motorplex back on Sept. 23, 2007, a normal day and a seemingly routine race in the second round of eliminations with now-retired and former NHRA champion Kenny Bernstein, that Force experienced the most life-changing day in his 67-plus years.
The two fan favorites, who had competed against each other dozens of times in their careers, started their race off strong before Bernstein passed over the centerline of the dragstrip, causing immediate disqualification of that run.
Suddenly, as they both veered past the finish line at the top end of the racetrack, Force's car – which had been in the left lane – appeared to blow a right rear tire, abruptly veered right, crossed the centerline and slammed into Bernstein's car before hitting the retaining wall head-on.
At 327 mph.
It was an impact so violent and so hard that, to this day, Force still doesn't know how he survived.
But he did — barely.
"I've never seen a car break like that," said Bernstein, who was uninjured in the crash. "I've seen crashes that are just as bad, but not where it left the driver so exposed. That was a bad one, as bad as it gets."
Force's car split into two parts. And as you watch the above video, I bet more than a few of you might think Force remained in the part that continued to roll down the track before stopping in the sand trap.
As it turned out, John was still strapped in in the driver's cockpit that impacted the wall after the body and motor of his Funny Car had torn away, essentially leaving Force hanging sideways in the debris.
"I remember I started running toward the car (in the sand trap), got close to it and realized it was from the motor forward," daughter Ashley Force recalled. "My stomach just dropped. I thought, 'Where is my dad?' because the part he was supposed to be in was not even there.
"Then, I turned around and saw a race car body over there and realized it was Kenny's car. At that time, I just panicked and had no idea where to go. Then, the part he was in, you could barely even see it and it didn't even look big enough for a person to be in from where I was at."
HOW A SPLIT SECOND CHANGED A LIFETIME
While Force may have suffered countless other wrecks and fires during his 30-plus years of racing, this one was without question the most serious when it came to body damage – as in Force's own body.
The then-58-year-old was pulled out of his wrecked race car. Surprisingly, he was conscious – and even asked who he'd be racing in the next round.
As is typical of his Superman-like persona, Force was ready to climb into his backup car like he had done countless times in the past. Only this time, his body said something was amiss – REALLY amiss.
Force suffered a compound fracture to his left ankle, a deep left knee laceration that extended to his bone, several broken fingers and lacerations on his right hand, several burns and a dislocated left wrist.
"I thought this was it, we had lost John when they helicoptered him out," fellow Funny Car racer and current points leader Ron Capps said at the time. "I thought he was dead. If we would have lost him, drag racing would have been in trouble."
Early on, during the nearly month's hospitalization that followed after the crash, there was concern if Force would ever walk again – let alone get back into his Funny Car to race another day. As the days and weeks of hospitalization slowly progressed, Force equally and slowly began to get stronger and healthier.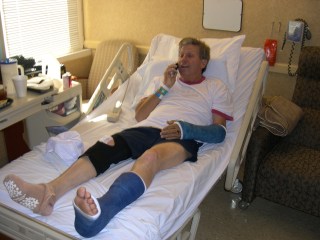 "In 2007 when I left the track in a helicopter after my big crash, my life changed," Force said earlier this week. "Basically, it was a wake-up call that you are not Superman.
"It shows you what your real values on life are, which is family and your children. Mainly the thought of not being able to race showed me how much I really loved drag racing."
Indeed, the transformation from Force of old to Force of today was nothing short of life-altering. He became more introspective – particularly of his own mortality. He became a physical fitness nut, not by choice but by need to rebuild his body and allow him to remain as productive and victorious as ever in a race car in the nine following seasons.
Today, Force doesn't need any reminders of how lucky and blessed he's been in life, particularly after his Texas wreck. He need look no further than his right foot to quickly flash back that horrible day: he has six screws that were permanently implanted during several hours of surgery later that night after his crash to keep his severely burned toes from falling off.
Then, in almost miraculous fashion, just over four months after his crash, Force was back in a race car in late January 2008 during a preseason test-and-tune for nitro-powered Funny Cars and Top Fuel dragsters at Firebird Raceway in suburban Phoenix.
While there had been some hesitation and trepidation of how Force would react and respond once back in his car – most notably from his family – he got back into the gas as if nothing had ever happened.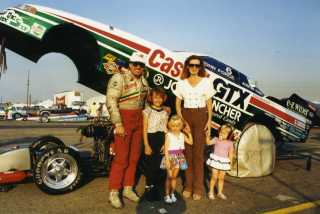 And with one very ironic twist: in his first run that chilly January day in the Valley of the Sun, Force covered the quartermile in the SAME EXACT SPEED as when he hit Bernstein and the wall at Texas: 327 mph.
Not only was that a physical, mental and emotional relief to Force and crew chief Austin Coil, in a strange way, it was the closure Force needed from Texas and to go forward from there.
"I finished what I didn't finish at Texas," he quipped that day at Firebird.
I still vividly remember Force's runs that weekend at Phoenix, as I was on-hand to report on his comeback in my role then as National NASCAR and Motorsports Columnist for Yahoo Sports.
While I have countless stories I could relate about Force, who I've known for well over 30 years, that day sticks out in my mind as if it was just yesterday.
While he's said and done so many unforgettable if not outrageous things in his career during that time – like "I saw Elvis at 1,000 feet (down the dragstrip)" – the John Force I saw that day was both the same and also markedly different.
Sure, he still had the same boisterous bravado, the bigger-than-life personality and never missed an opportunity to plug all his sponsors, as well as thank all his family and friends that helped him get back to where he was that day.
But at the same time, he also still carried and displayed clear remnants of the crash that almost killed him. One of the things I remember most vividly was the massive pair of Frankenstein-like boots that were specially made to cover and protect his still-swollen feet while both walking and in the driver's cockpit.
He had a pronounced limp, moved slowly and gingerly at times, grabbed at table tops or walls or doorways to help his balance, but he also did something that very few people have ever seen in-person from the world's greatest drag racer: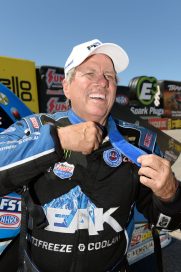 He cried.
In the roughly three hours we spent together, Force uncharacteristically bared his soul. He showed me the scars from his injuries. He talked at length about how he spent every day working out at a gym, strengthening his still-healing body. He talked about how lucky he was to be at the racetrack again, let alone still be alive. He talked about cutting back on one of his favorite off-track pastimes, having a cold beer or two – oftentimes with loyal fans – and to lose weight and become healthier.
But then the tears really went full-faucet: he lamented about how he was so thankful that he not only survived but also how it helped bring back perspective into a life that was constantly spent racing or on the road, away from his family, how many of his kids' school activities he missed and the strain it put on his marriage at times over the years to wife Laurie (the couple celebrated their 35th anniversary on Sept. 26).
MORE: The REAL Force that drives NHRA superstar John Force: his wife Laurie
He said he had maybe gotten too comfortable over the years, perhaps had taken too much for granted both inside and outside of his race car, or that he had not given enough attention to those that mattered the most. He also said he was going to spend the rest of his life not only continuing to race, but to make up for the shortcomings and human frailties that made drag racing's Superman only human.
Then, after composing himself for a while – and taking a break to let me speak with daughter Ashley, whose own pro NHRA Funny Car career had just begun a year earlier – John Force broke down once again.
REMEMBERING THE SON HE NEVER HAD
He recalled the death of his young protégé, Eric Medlen, who died in a testing accident six months earlier (March 23, 2007) to the date of Force's crash (Sept. 23, 2007). Eric Medlen drove for Force and was the son of one of his longest-tenured employees at John Force Racing and one of his closest friends, John Medlen.
"It was heartbreaking," Force recalled the day Eric Medlen passed away. "I watched his dad sink to his knees when the doctor walked out into the room. You pick a man off the ground. What do you say to him?
"This man will never have his baby again. If that had been Ashley, I'd be history. I would have died right there on the spot."
Force spoke candidly about how Medlen's death shook him to the core. Eric was practically the son John never had. And that bond, that relationship, caused Force to become a tireless advocate to work within the sport and NHRA for enhanced safety in the sport, particularly in the nitro classes.
"I have a picture of Vince Lombardi that says, 'Winning's everything,' " Force said at the time. "So, I've got to change my deal. Winning is still in there, but maybe Vince never lost a man on the playing field. I did. And it makes you say, 'What good is it to win if you're going to lose somebody else?'"
Force and John Medlen began a safety initiative known as the Eric Medlen Project that was devoted to testing and refining Funny Cars to make them as safe as possible. Force invested more than $4 million of his own money into the project because he believed in it so much.
"That was going to be my retirement, but I had to do it," Force said at the time. "If we can do something to save even one life, we'll have made a difference."
Some of those safety initiatives were quickly adopted by NHRA and potentially saved Force's life and many others to come over the years.
Sadly, less than five months after Force returned to racing in 2008, NHRA suffered another death of a prominent driver when Scott Kalitta was killed in a crash in Englishtown, N.J.
But Kalitta's death did not detour or alter Force's efforts. He, Medlen and others involved in the safety initiative worked even harder to bring the sport as close to 100 percent safe as humanly possible and which has led to today: one of the safest periods of time the sport has ever seen.
THE EYES OF TEXAS ARE ONCE UPON HIM AGAIN THIS WEEKEND
Now, nine years after the sport of drag racing almost lost its equivalent of NASCAR's Dale Earnhardt, Force is still out there chasing wins and championships.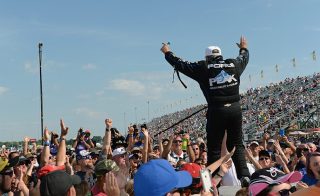 This weekend's race is particularly pivotal for him and his team, composed of daughters Courtney Force (also races in Funny Car) and Brittany Force (competes in Top Fuel) and son-in-law Robert Hight (also a Funny Car driver). With just three races remaining in the Countdown, the three Forces and Hight know their respective seasons could be on the line if they don't leave Texas with strong finishes – if not outright wins.
"When I race the last race of the season in Pomona (California), I will still be racing for the championship in my mind," said John Force, who is 138 points behind points leader Capps heading into this weekend's race. "I may be defending it for myself or for one of my teammates.
"That has to be the mindset because even if you can't win the championship, you want to win that race because you want to move up as high as you can in the points. I was feeling pretty shiny coming out of Charlotte (with that big win). Then all our Funny Cars nosedived in St Louis and Reading. The only race car that held its own was the Monster Energy Top Fuel dragster with Brittany.
"I have a lot of confidence in these Chevrolet Camaros and I have said it before that we are turning the corner. I am still positive about winning this year. I know Courtney and Robert are positive too. Maybe it will take a Hail Mary but that is what we shoot for. I shot a Hail Mary in my opening game in high school (he was his team's quarterback) and won the game. I have watched (Green Bay Packers quarterback Aaron) Rodgers throw a Hail Mary last year to win games. I watched Tennessee in college throw a Hail Mary in the last few seconds. I know all about Hail Marys."
And you can believe Force said countless Hail Mary's after his crash, during his recovery and will likely say a few more in his annual return to the track once again nine years later.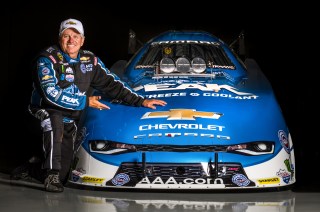 "I have to look back on the first time I saw the Motorplex that (track owner) Billy Meyer built that was like an oasis," Force reflected. "You drive out into the middle of nowhere and there it is.
"We were all pretty impressed when it was built. He built the drag racing super track before Bruton Smith did (at Charlotte). Over the years I have fought battle there with Cruz Pedregon for the championship in 1992 and I was crashing on the race track. I won races there over the years."
TIME TO PUT THE NINE-YEAR JINX TO AN END
But Force has not won at Texas Motorplex since before his fateful wreck. He's attacked it for the last eight years and each time came up a bit short.
He hopes to change that nine-year jinx – finally – this Sunday during final eliminations, and maybe get some additional closure, if not satisfaction, that at last he beat the track that almost took his life.
"I set goals in life of what I want to accomplish," Force said. "I have won every race on the circuit. I had won the four-wide at zMax Dragway but I never won the Carolina Nationals in the fall until this year.
"The other race that is at the top of my bucket list is to win the AAA Texas Fall Nationals again in Ennis. I have won it before but not since the crash.
"There are a lot of memories at that track, a lot of scars, a lot of pain but it is a track that I truly do love. Who doesn't love the great state of Texas? I have a special love for the race track there in Ennis."
Even if it almost killed him.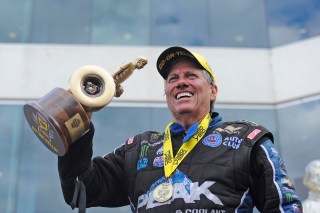 But at the same time, Force actually owes a great debt of gratitude to Meyer's drag racing palace. He came back from his injuries a changed man, a better man, a more thoughtful and more insightful individual.
"I love going to Dallas," Force said. "I love all the race tracks but there is something about Ennis and maybe it is because I spent more time in Texas because I was in the hospital for two months after my crash.
"I reinvent myself every race. Every race I have a new attitude and a different song. It is Elvis one week, then it is the Beach Boys, the next it's Merle Haggard and then it might be Eminem. You have to find the music then I find the burnout then I find the winning. It may sound corny but that is how I do it. Everyone has their own style. My deal is to go in there guns a blazing."
Somehow, that analogy couldn't be more appropriate for drag racing's No. 1 cowboy than this weekend, deep in the heart of Texas.
Click here to read the original story about John Force and his comeback from early February 2008.
Follow @JerryBonkowski