Hockey may be Canada's favorite sport, but drag racing isn't far behind in terms of popularity and interest.
Saturday night in Montreal, 23 drag racing luminaries from north of the border were inducted into the Canadian Drag Racing Hall of Fame in its second annual gala.
"It's a privilege to witness the Class of 2015 welcome this year's inductees," says John Scotti, Founder of the Canadian Drag Racing Hall of Fame. "Seeing the positive reactions from members of the drag racing community at each annual induction, is truly a rewarding experience to be a part of."
Inductees were enshrined for having been actively engaged in the top level of their respective drag racing categories for at least 25 years.
Categories for which they were inducted included racers, crew chiefs, engine and chassis builders, mechanics, track officials, track photographers, announcers, promoters and sponsors "who have made a lasting impact and significant difference in the development of the sport of drag racing in Canada and elsewhere," according to a media release.
Among those inducted were former NHRA team public relations representative and International Hot Rod Association Media Relations Director Rob Evans, as well as Jeff Arend, who won several races in his career, including the 1996 NHRA event at Maple Grove Raceway.
Others inducted included former world champion Gianni Cantusci, who follows his father Frank Cantusci, who was inducted in last year's inaugural Hall of Fame class.
"With each new induction, the Canadian Drag Racing Hall of Fame Museum is expanding with new artefacts and memorabilia thanks to each inductee and the drag racing community," said Hall director Bob Aubertin. "Not only are we recognizing some of our nation's drag racing greats, it also shows today's generation just how far the sport has really grown."
The Hall is located in Montreal.
Here's a list of Saturday's inductees:
Ken Achs, Saskatoon, SK; Jeff Arend, Thornhill, ON; Bob Beazer, Odessa, ON; Vic Beleny, Welland, ON; Gianni Cantusci, Ottawa, ON; Guy Desjardins, Montreal, QC; Bob Elliott, London, ON; Rob Evans, London, ON; Geoff Goodwin, Prince Albert, SK; Charlie Haviland, London, ON;
Also, Vince Hazel, Windsor, ON; Ron Hodgson, St. Albert, AB; Richard Jones, Ottawa, ON; Bill Kydd, London, ON; Wayne Lang, London, ON; Abe Loewen, Regina, SK; Brian Mulligan, Cornwall, ON; Norm Noddle, Wasaga Beach, ON; Harold Parfett, Edmonton, AB; Venice Perno, Stoney Creek, ON; Rob Potter, Dundas, ON; Bert Straus, Kitchener, ON; John Waldie, Embro, ON.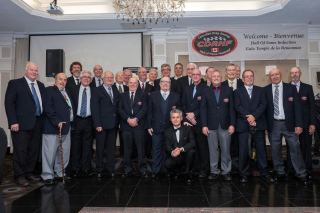 Follow @JerryBonkowski