A 27-car field appeared at the season-opening weekend of the Cooper Tires USF2000 Championship Powered by Mazda championship in St. Petersburg.
Packed among the grid were proverbial title favorites Anthony Martin and Parker Thompson, Mazda Road to Indy presented by Cooper Tires veteran Victor Franzoni, Martin's two Australian countrymen of note in Jordan Lloyd and Luke Gabin, all of Gabin's 2015 Team Pelfrey teammates in Ayla Agren, Nikita Lastochkin and Garth Rickards and a host of other dynamic rookies.
Pelfrey's new quartet for 2016 featured a wide range of competitors. Jordan Cane stepped up from Pelfrey's F1600 program and it was fair to call the British teenager a prodigy, given his number of wins there. TJ Fischer had the unique story of being a football player who restarted a racing career. James Munro came over from New Zealand looking to impress, and Cane's fellow F1600 graduating teen Robert Megennis completed the lineup.
Few could have predicted what would happen from there.
Megennis, the 16-year-old New Yorker, emerged from this stacked USF2000 field with a third place on debut, a shock podium finish after starting ninth, and added an eighth on Sunday for good measure.
And that first weekend laid the groundwork for what would be an incredible season beyond pretty much anyone's wildest expectations, least of all Megennis, who had struggled in preseason testing.
"It was ridiculous! It was nothing like what I've expected," Megennis told NBC Sports, reflecting on that weekend. "Usually I was slowest in testing. So I had no expectations; it was, let's learn as much as I can, as a first-year rookie driver. I was loose and free, then I got the results.
"But yeah on the start there was the crash ahead, I was fourth, then I dived Gabin into (Turn) 3, I'm in third and I had Martin, Franzoni and Luke behind me, and three-quarters into race, I'm still in third!"
Up against the significantly more experienced veterans, Megennis then went through a whirlwind of events in the following weekends.
Munro left the team after Barber, which left just three cars for the Indianapolis Motor Speedway road course weekend. Then Cane left after that weekend, with Fischer also leaving after being bumped up last-minute to a Pelfrey Pro Mazda seat starting at Road America.
Suddenly, Palo Alto Networks-supported Megennis was the equivalent of an Internet startup: he was a one-man wolfpack at Team Pelfrey. At 16.
The circumstances of how the car count within the team went from four to one had nothing to do with Megennis but everything to do with the other drivers being uncomfortable with their situations, and also with a bit of team turmoil at the top. Fischer maintained the Pelfrey relationship as the year went on, though.
"It was pretty chaotic because a lot went on," Megennis explained. "So it was, James is gone, now TJ's gone, now Jordan's gone.
"But I kept the same mindset from the beginning of the year. I'm here to learn and do the best I can. And I think it actually helped me… of course, you don't want the situation to occur. But initially, I learned from the experienced guys, and I learned how to drive and set up car, then I was forced to do it on my own. I've seen everything this year!"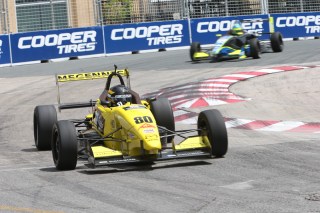 Just two weekends after the driver exodus, Megennis turned in another drive on par with St. Petersburg, when in Toronto he went from 18th to fifth in race one and 12th to fifth in race two.
The street course drives were exceptional, because coming from F1600, Megennis had never been on a course with concrete confines. The F1600 races are almost always on permanent road courses.
"That race was a little awesome; I hadn't got a proper time in qualifying so I knew I had pace to move forward," Megennis said. "The first lap, obviously, I don't want to crash, because this is Toronto, it's sketchy. But I realized I had meta pace. I don't know if it's my fencing legs or something done to the car, but I was so good on the brakes all year. I don't know how.
"It doesn't seem like others seemed near the peak. I out-braked everyone. I went for every opportunity I saw. It was calculated, but it was good."
Megennis went into Mid-Ohio nominated as a finalist for the Team USA Scholarship and although he didn't win it – that honor eventually went to Oliver Askew and Kyle Kirkwood – being nominated was a seminal moment because of his relative inexperience, and the fact he'd caught the eye of renowned North American open-wheel talent scout Jeremy Shaw.
"When you look at the alumni from Team USA Scholarship, there's so many legendary drivers and people that have come from it," Megennis said. "When Jeremy sees you have a shot to make it, you're humbled. He has a good eye for it. He's been in it for years. He knows what he's doing."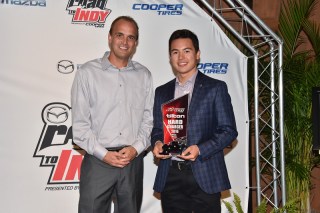 Megennis ended the year with a pair of eighth-places at Mazda Raceway Laguna Seca, with Pelfrey back to a multi-car team for the first time since May. Kaylen Frederick and Phillippe Denes made their USF2000 debuts.
He ended sixth in points, behind the Cape twins, Franzoni, Lloyd and Gabin, but ahead of five drivers who had 2015 USF2000 experience. He won the Tilton Hard Charger award, with a season total of 67 overtakes, and was also the top-finishing American driver in the series.
He reflected on the step up on the whole.
"You're moving from F1600 weekends which are chill, with not that many drivers, to IndyCar weekends, where it's a big deal," he said. "You meet so many important people and try to manage it around your track time.
"But you just have to focus on yourself. There's no point in focusing on anyone else or setting super high expectations. If you do, you get disappointed and mentally screw yourself over."
There's one other intriguing nugget that makes Megennis' year all the more miraculous. When he's not racing, he's actually a competitive fencer, as a nationally ranked sabre fencer.
The worlds couldn't be more different but the competitive juices flow just the same.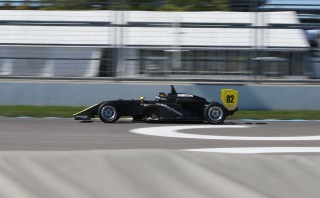 "Those two sports could not be further apart. But there's the mental preparation and focus, and everything you need for sports in general in the real world, that's what it's taught me. It's a big part of my edge, being so chill," he said.
Megennis also starred in the rollout of the new USF2000 chassis, the Tatuus USF-17, which premiered at the Chris Griffis Memorial Mazda Road to Indy test at the Indianapolis Motor Speedway. The New York driver, who's half Korean, set a track record of 1:25.3194 (102.912 mph) on the first day of testing in session four.
"It was an epic first test in the new USF-17," Megennis said. "I am super happy with how everything went this weekend. We made a ton of tweaks to the car and made vast improvements. We showed serious speed and I can't wait for the for the first rounds in March!"
Megennis will likely slot in as a potential title contender for the 2017 USF2000 campaign, as he'll be back for a second season.