AUSTIN, Texas – Esteban Gutierrez felt a brake issue was the primary culprit for his retirement on Lap 17 from Sunday's United States Grand Prix, and Brembo has confirmed this was likely a disc issue.
Brembo released a statement regarding the retirement:
—
"In relation to what happened to the driver Esteban Gutierrez of Haas F1 Team during the United States Formula One Grand Prix, Brembo regrets that the withdrawal of the driver at the end of lap 17 was caused by a possible issue connected to the braking system.
"After a first analysis of our technicians present at Austin, it would seem that in correspondence with the front left wheel a problem in the dragging area of the disc has been identified.
"It will be Brembo's responsibility to carefully investigate, in collaboration with the team, the causes that led to the technical issue."
—
Haas has had a number of brake-related issues this year, but team owner Gene Haas reiterated a commitment to Brembo over the weekend.
Gutierrez told NBCSN's Will Buxton after the race he thought for sure it was a brake failure.
"Yes, it was," the Mexican said in the immediate aftermath. "We think one of the discs broke. Not what we wanted for a race weekend. Not easy to accept either. Difficult start of the weekend and it was not going to be easy. We went on. We did a great qualifying, optimizing what we had. We pushed to the maximum. We got into the top 10 the first few laps. Aggressive strategy. At some point lost the brakes. Fortunately didn't run into the barrier (in Turn 11).
"It's very disappointing but we have to continue focusing on the positives. I want to thank everyone for the enthusiasm and support all weekend. I'm sorry for all of you who were here to support us and ensure we are doing our best."
Gutierrez's teammate, Romain Grosjean, got a point on Haas F1's home soil with 10th place.
—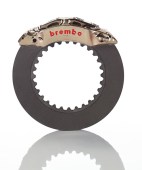 Coincidentally, I guess, I caught up with Brembo F1 brake engineer Andrea Pellegrini earlier this weekend on Friday, who explained that Circuit of The Americas is a low-energy braking circuit, and only requires more braking capability than Silverstone, Spa, Suzuka and Interlagos.
He explained the initial temperature of the carbon brakes is about 400-450 degrees Celsius, with a peak temperature of over 1,000 degrees.
"You don't want it too high to avoid the wear, and not too low, because it's complicated. There's initial bite and friction. Every disk has a special cooling dedicated to different circuits. Austin is a medium circuit in energy for the brakes," he told NBC Sports.
A list of more information from Brembo is linked here.