AUSTIN, Texas – The old adage in the restaurant service industry is that good service can often overcome poor food, but good food does not necessarily overcome poor service.
Such an analogy serves as a perfect transition to describe the last two contrasting years of the United States Grand Prix in Austin at Circuit of The Americas, a city where the food itself is actually never in question.
Consider the race weekend on site as a whole the comparative meal, here.
In 2015, call the race the "good food," and the overall weather and atmosphere the "poor service."
The race itself was excellent, aided in large part by the mixed weather conditions, heavy attrition, a late Safety Car and a subsequent pass for the lead and win which netted Lewis Hamilton his third World Championship.
But the weekend on the whole felt underwhelming and disappointing, owing primarily to the heavy rain that interrupted the weekend proceedings through Saturday.
As COTA Chair Bobby Epstein said so bluntly about the resulting attendance and financial hit, "I think we're screwed."
That left the 2016 version of the USGP weekend having a point to prove: deliver a weekend on par with the first three weekends and seek to overcome the poor fan turnout a year ago with a big bounce back.
In other words, the service needed to deliver more than the food.
In a two-word answer, it did.
The 2016 United States Grand Prix race – the food here in this analogy – was not a classic by any stretch of the imagination. The quality of F1 racing itself is another topic for another day. But thanks to the collective efforts of the track and organizers in partnership with F1, by the race start time it didn't need to be to make this a successful weekend on the whole.
This race saw Hamilton pretty much ran away and hide, Daniel Ricciardo lose a sure second-place to Nico Rosberg thanks to a Virtual Safety Car period inadvertently caused by his teammate Max Verstappen, Spanish countrymen Fernando Alonso and Carlos Sainz Jr. perform some late-race theatrics and Haas F1 scored a point on home soil in 10th with Romain Grosjean. Otherwise, it was a largely forgettable 56 laps, particularly as it lacked that "signature" moment as Hamilton had delivered with passes for the win in 2012, 2014 and 2015.
But why the weekend worked was how COTA, which has often been in the crosshairs over the years for its volatile financials, leadership, staff turnover and possibly inflated attendance figures (I'm looking at sports car weekends in particular, having been to four of them in the last four years), pushed on to create a near-perfect weekend it absolutely had to have after last year's disaster.
COTA's push to make Austin 2016 a successful weekend was, to use your stick-and-ball equivalent example, the equivalent of Aaron Rodgers' Hail Mary pass for the Green Bay Packers to break the Detroit Lions' hearts last year or Miguel Montero's pinch-hit grand slam for the Chicago Cubs in the NLCS this year to break a tie with the Los Angeles Dodgers.
It was not a case where they'd gather a few singles to bring in a run on a sacrifice bunt or assemble a 17-play, 94-yard, eight-minute drive full of methodical three and four-yard run and pass plays.
No, COTA threw down the gauntlet and went big to bring in Taylor Swift, for her first and only planned concert this year. And make no mistake, her "squad" brought it in a big way.
Had she not delivered the crowd she did – which was officially pegged by COTA at 83,000 although reports ranged lower than that by some reporters and higher than that to some members of her fan "squad" – it would have been trouble when she walked in.
That alone generated significant buzz on a day when the qualifying order was all but decided going in, when you knew it would either be Hamilton or Rosberg scoring the pole a couple hours earlier.
I was fortunate to be out walking the grounds Saturday afternoon after qualifying, and seeing the crowds hanging out for the remainder of the day's races – Porsche Mobil 1 Supercup and Historic Masters Racing were also on tap – as well as prepping for T-Swift were very much present between the grandstands, the bar area, the food trucks and then prepping to get in line to waltz onto the Super Stage lawn assembled inside Turn 11.
Once 5:30 p.m. hit and the crowd was released to get in line, 90 minutes before the show started, the line stretched from the entry point past Turn 7 all the way to the Fly Emirates bridge at Turn 2, with more fans continuing to stream in across the bridge. Mind you, that's the length of the entire Esses section and then back across the way, into the infield.
Sunday's crowd was also strong, with fans getting to the track early and already a good number of folks already on hand at the hillside several hours before the lights were out.
Between the old Grand Prix cars and Supercup preliminary races, there was some genuine appreciation there.
Yes, mostly gentlemen drivers pushing 1970s to 1980s-era F1 cars at 60 or 70 percent is not the same spectacle as the actual drivers in their heyday, but for younger fans and students of the sport, it's vitally important you get that chance to witness – and listen to – living F1 history in motion.
Supercup, meanwhile, provided a tasty appetizer of a race with some clean, fair fighting for the lead between Porsche Juniors Mathieu Jaminet and Matteo Cairoli, a deserving new champion in Sven Mueller, and a great Supercup weekend debut for American Alec Udell in his step up from Pirelli World Challenge' GT Cup class.
Regarding the announced attendance figure of 269,889, it is worth noting that COTA's attendance numbers have been called into question in the past, primarily for its sports car weekends. This could be an optimistic number, but if so, it's not to the same degree as on sports car weekends.
For reference, although I wasn't at the initial USGP race here in 2012 (more than 265,000), I have been to the last four. This weekend number was pegged higher than the 2013 number of 250,324, and while I would say the Friday number was lower this year compared to then, the Saturday and Sunday numbers appeared higher.
If possible, it would benefit COTA to provide a deeper news release and analysis of the figure beyond just the number itself, to dismiss any potential doubts or red flags. But flying out of the Austin airport Monday morning and seeing how packed it was, with many folks still dressed in team kit, was a sign there was a very good turnout this weekend.
The celebrity presence at COTA, while something of a running joke and perhaps source of frustration among hardcore fans and observers, is actually something to be embraced if I'm honest.
Part of the reason Monaco works – and has worked for as long as it has – is it's because it's a glamorous destination that attracts some of the world's richest, most beautiful and popular people. You can choose to not like that fact, saying it takes away from the action on track, and that's fine. But the allure of an event is amplified when people with big audience consider it worthy of their time to attend.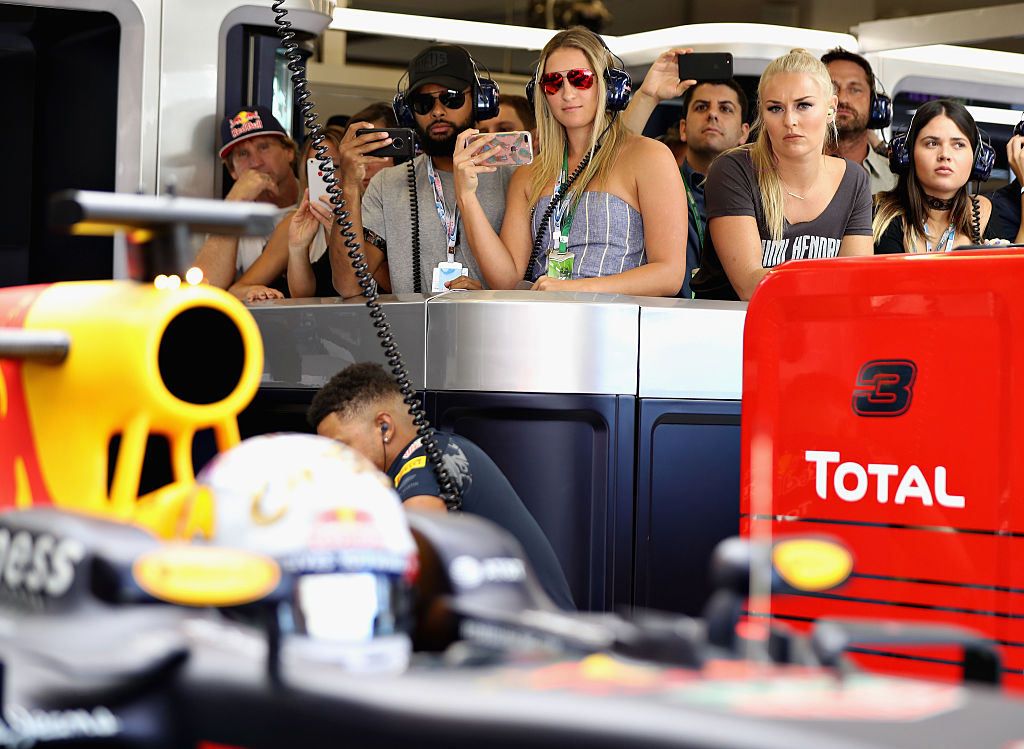 Lindsey Vonn's presence among others this weekend was a perfect example. Vonn, the star skier, appears to be a burgeoning racing fan in her own right with her interest piqued by Red Bull, a brand that understands the value of getting stars outside the norm to an event.
The fact Vonn was tweeting about F1 during the weekend (by the way, sending thanks from my colleague Luke and I for a RT of one from @F1onNBCSports) to her hundreds of thousands of followers must be considered a good thing from an "F1 in America actually being taken note of" standpoint.
Add in the random Christoph Waltz and Rosa Salazar sightings, tennis star Venus Williams (who I almost inadvertently bumped into in the airport this morning), Gerard Butler's Red Bull podium "shoey," Gordon Ramsey and Jeff Gordon, and it was a full plate of celebrities here this weekend. Perhaps the biggest surprise is that we didn't get the obligatory Matt LeBlanc at COTA shot, and unless he was hiding, this would have been the first one he's missed.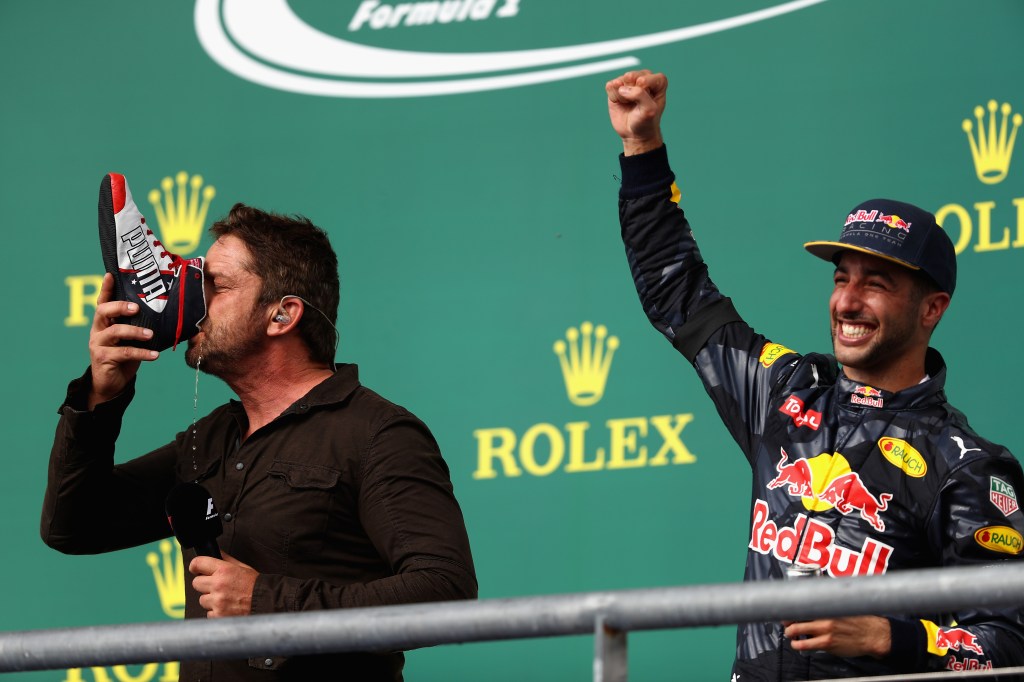 If you create a race weekend that people want to go to and make it a proper full-on experience, it can make it a bigger draw to add stability for an event going forward. And if there's one thing F1 in the U.S. has perpetually lacked, it's that: stability. Ultimately, that is the key takeaway I have from the 2016 USGP weekend.
Hamilton, who's more or less adopted the U.S. as his second home, actually has become something of an unofficial ambassador for this race, and this city of Austin in particular.
In the buildup to the race, Hamilton made a big deal about going on The Ellen DeGeneres Show and for good reason. Ellen has massive audience, and it's not the usual hardcore race fan. And Hamilton, admittedly, isn't her usual guest.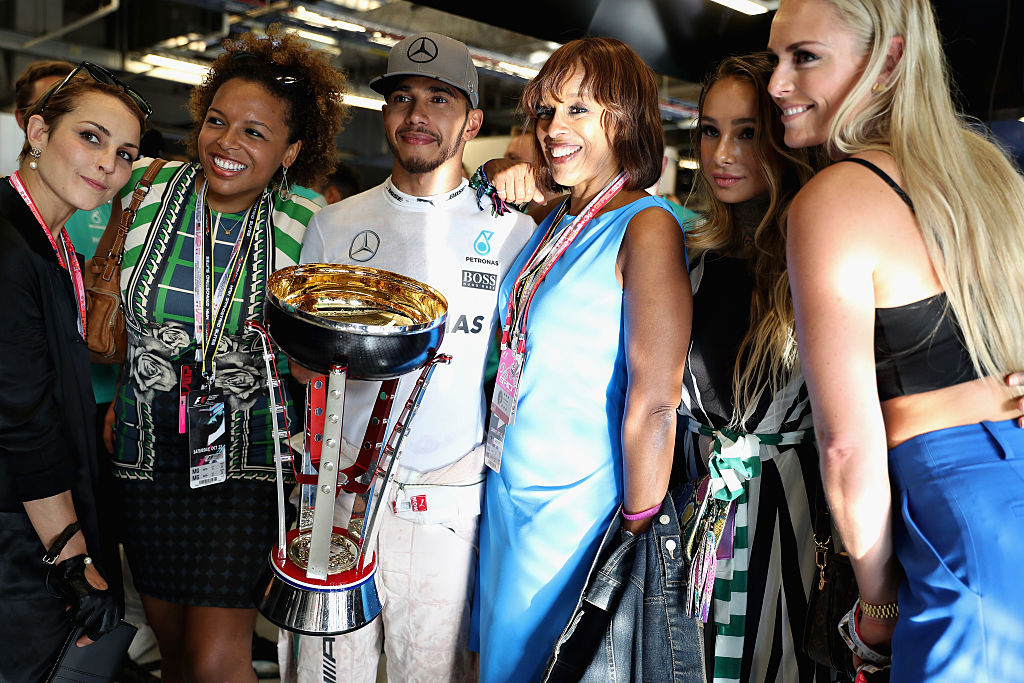 Then in his post-race interview with NBCSN's Will Buxton, Hamilton described why he feels the way he does about this country, and the race in Austin itself.
"This is such a beautiful country," he said (perhaps he hasn't been following the 2016 presidential election that closely).
"This race, the whole weekend in Austin, with the ambiance and atmosphere, it's the only Grand Prix I go out to dinner every night. No other Grand Prix do I do that. Since Wednesday, I've gone out to dinner every night. It's great food, great service, and the people here make us feel so welcome.
"The crowd … is almost like the British Grand Prix. There's the crowd on the whole front straight when we're on the podium.
"I'm so glad we still have the grand prix here. I hope it continues. I hope more and more people get exposed to it. Being on The Ellen Show the other day, I hope has done so to get more."
When Hamilton, who's a student of the sport and has carved his own legacy within it by winning his 50th Grand Prix of his career this weekend, compares a race site in its fifth year to a race that has graced the calendar all but annually since 1950 (Silverstone), it speaks volumes of that race's place having established a foothold on the F1 calendar.
COTA has now set the bar from a service standpoint to its fans, and done so in spite of the fact the F1 race itself Sunday wasn't the best showcase of the sport.
It has now set a standard to meet, to keep the full race weekend as strong as it was this year.
For one year at least, COTA and Austin have shaken off the 2015 blues, thus making it harder for haters to hate.