On Sunday, Sven Mueller secured the 2016 Porsche Mobil 1 Supercup at Circuit of The Americas, thus becoming the third driver who's clinched the title at the Supercup season finale in Austin since the track first hosted the series in 2014 (Earl Bamber won in 2014, Phillip Eng last year).
Mueller, in his third year in the Porsche Junior program, claimed a double title this year with both the Supercup and Porsche Carrera Cup Deutschland championships.
He entered the weekend only two points ahead of fellow Junior driver Matteo Cairoli (135-133), but a second-place finish coupled with a DNF for Cairoli following Saturday's first race left him needing only to score one additional point to win the title on Sunday. He finished in eighth place on the road, and that was enough for the Lechner MSG Racing Team driver to do it.
Mueller won three races and scored eight podium finishes in 10 races, to beat Cairoli 162-151 in points despite Cairoli winning four races. The third Porsche Junior competing in Supercup, Mathieu Jaminet, used a weekend sweep of the two races at COTA to finish third in the standings with 146 points, and having scored three wins.
We caught up with Mueller, who's also raced in the U.S. in the IMSA WeatherTech SportsCar Championship on a couple of occasions this year in a GT Daytona class Porsche 911 GT3 R (Frikadelli Racing in the Rolex 24 at Daytona, Alex Job Racing at Road America), prior to Sunday's race where he ultimately clinched the title.
For the 24-year-old who lives near Frankfurt, the Supercup title could well be a springboard to bigger things (more here from Porsche Newsroom):
—
MotorSportsTalk: This is your third year. What have you learned this year that has allowed you to take that next step as a driver compared to previous seasons?
Sven Mueller: "I feel my evolution as a driver is huge. In my first year in a Porsche, I also had quite good speed, but to finish the race was not always the goal. The speed was there, but the consistency and all this stuff, I learned from year-to-year. And especially in my third year, the important things that were around the track and racing, yeah, I also improved a lot. This year, my goal is the championship. Last week, I had already won championship in Porsche Carrera Cup and I was working three years to get this, and hopefully I can get my second championship today."
MST: How has the competition level been this year with some of the new drivers?
SM: "Every year, you have new drivers. I think because now I'm at a really good level and I see that Matteo and Mathieu they are also really good. For me, this year is the hardest season I've ever had. I won only three times, Matteo won four times, Mathieu twice (before this weekend). We're always on the podium and in qualifying, we're always within a thousandth of a second. This shows how close the championship is."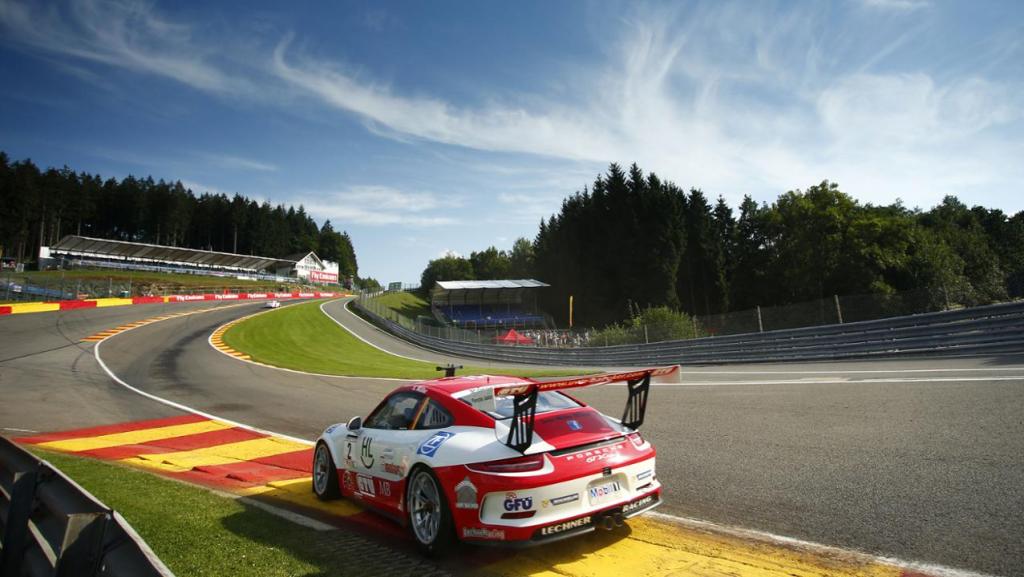 MST: How nice is it knowing driver talent makes so much of a different in this championship?
SM: "It does. This is a one-make Cup, it's the same type of car, but also the teams they put quite a lot of effort to build up the car set-up wise that is the quickest for quali-simulation and also for quali-runs (qualifying runs). To have a really good car, it's easier for a driver to handle this. To have a good car and a good driver, that's the whole package. You can't win with a bad car and good driver. The package always has to be perfect. For example, in qualifying, if you miss one of these parameters – being not 100 percent focused or the set-up is not 100 percent right – you can't get the pole position. In Super Cup, to get the pole position or to win the race, everything has to be 100 percent."
MST: What do you like about this track?
SM: "In 2014, I was here, so I had some experience in the dry. But Austin, or COTA, is by far the most difficult track at first for the driver because you have 21 corners and it's so technical. For example, Turns 2 through 5 are really quick and all the corners are building up to the next corner. So if you start wrong entering the first corner, you're going to end up in a mess. And the second thing is the car. It's very difficult. The car and tires cannot rest, so they're always under pressure. You only have one straight where the tire pressure and temperature can go down a bit, but Austin is really, really difficult. Yesterday, we had 14 laps and it felt really, really long – by far the longest race we've had in the season so far."
MST: You've raced here now on multiple occasions. What do you like of the atmosphere of racing in the U.S.?
SM: "I really like racing in America. Daytona, I think, was not the best result I've ever had, but the whole week in Daytona, it was crazy and really nice. The racing and all the strategy with the team, it's complex and difficult and you have to understand it. But with all the different manufacturers, to do proper racing, I really like it. And the fans, you can speak with them; in Europe, it's a bit different. It's also nice, but the Americans are really open and they're not scared about asking questions or doing photos. I really like that."