Today's news that Audi Sport would be withdrawing its LMP1 program at year's end was not a surprise in that it happened, but only a surprise in terms of when it did.
But the truth of the matter is that for five years, the beginning of the end of the Audi era was always going to end: it was just a question of how it would.
How it ends should not take away from the 18 years of magic that Audi, Dr. Wolfgang Ullrich, and the team of people assembled, has provided on sports car tracks around the U.S. and around the world, as a brand that has helped to elevate both itself and the sport as a whole to the level it is today.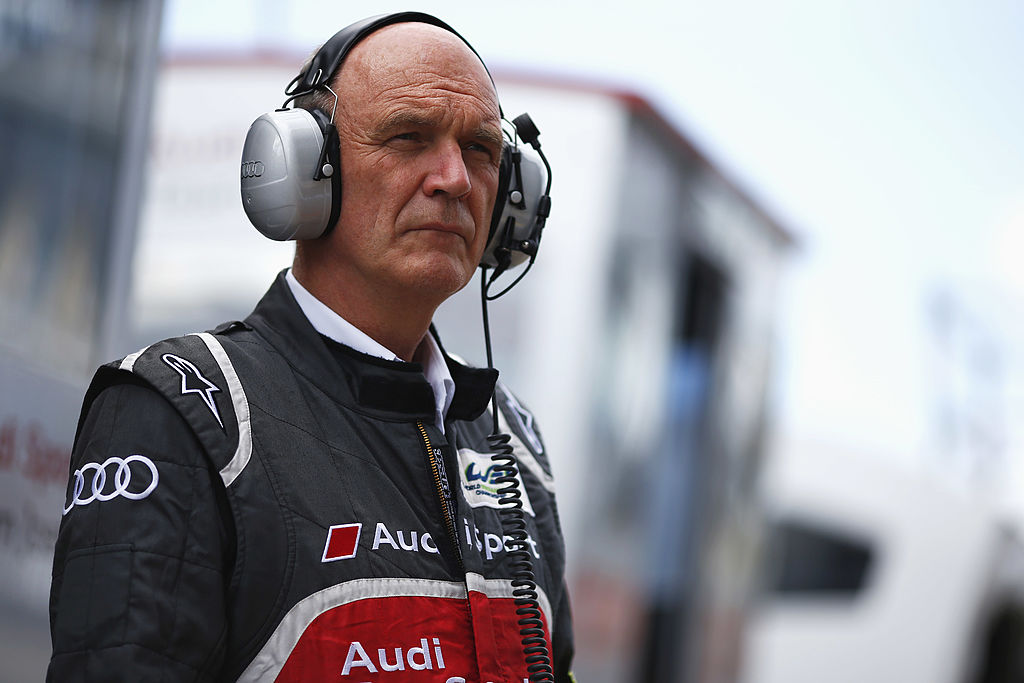 When I started watching sports car racing on an occasional basis in the late 1990s at the Rolex 24 at Daytona, it was a mix of Riley & Scotts, Ferrari 333 SPs and then a hodgepodge of GT cars – some more stealthy and pioneering, some more low-budget than others. It didn't really seem to have proper cohesion or, more importantly, a true "star car."
Daytona was the U.S. 24-hour race of note at the time but then there was this other 24-hour race in France every June that I knew little about but somehow, felt an allure and a draw to once I properly understood what it meant.
And from 2000 onwards, there was one manufacturer whose dominance at the event became a staple of summer, and that was Audi.
Every June, even if I hadn't yet comprehended the series around which Audi raced – that came later – I knew I'd be tuning in from home the Saturday of Le Mans to watch as many hours as I could to see Audi win again.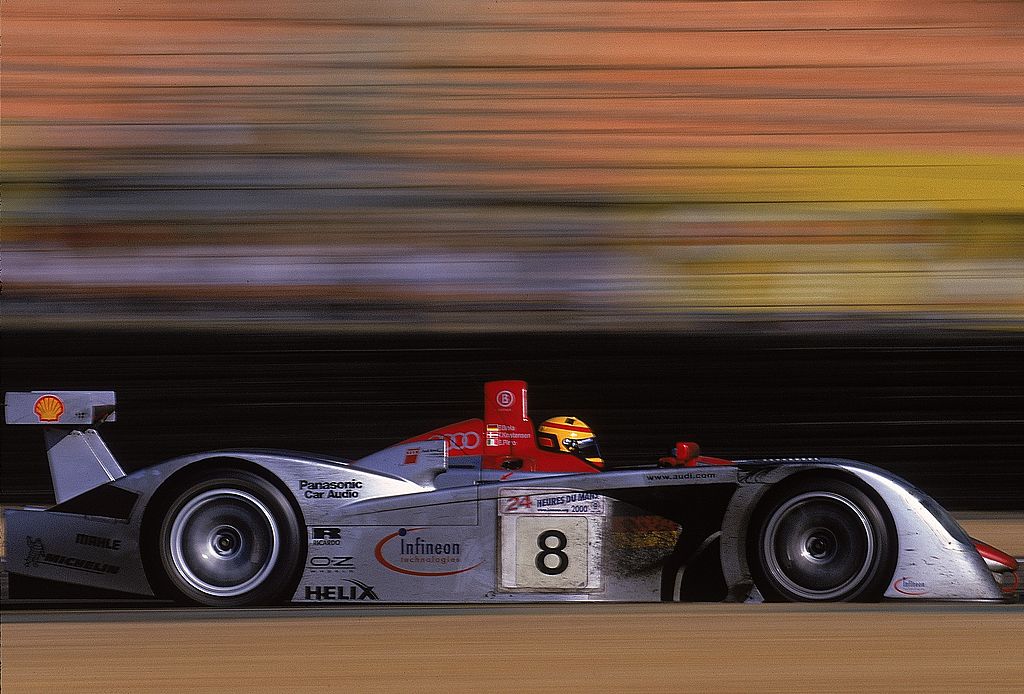 With a mix of promotional efforts, pioneering technology and an all-star group of drivers – none ever rising too high to be much more "a star" than another – Audi established itself as the brand to beat with its incomparable run of form with the R8 those first six years from 2000 to 2005. It was perhaps unlucky its only defeat in that time was in 2003, to the beautiful Bentley Speed 8, was to a car from a sister brand (keep that in mind for the future).
The bar was raised in 2006 with the all-conquering R10 TDI, Audi's move into diesel shifting the game from a singular petrol focus to a form of new technology. That was 10 years ago. And Audi didn't just win Le Mans with its new car; they dominated.
Further wins in 2007 and 2008 followed against Audi's toughest adversary yet, Peugeot, the French carmaker entering with a diesel of its own, the 908 HDi FAP. It's funny; to me at the time, even though Peugeot was the crowd favorite on home soil in France, I always cast them in a role of the villain up against the good guys from Audi, who we at least knew here a little better in the U.S., and who we'd got to know as fans from their time racing in the American Le Mans Series.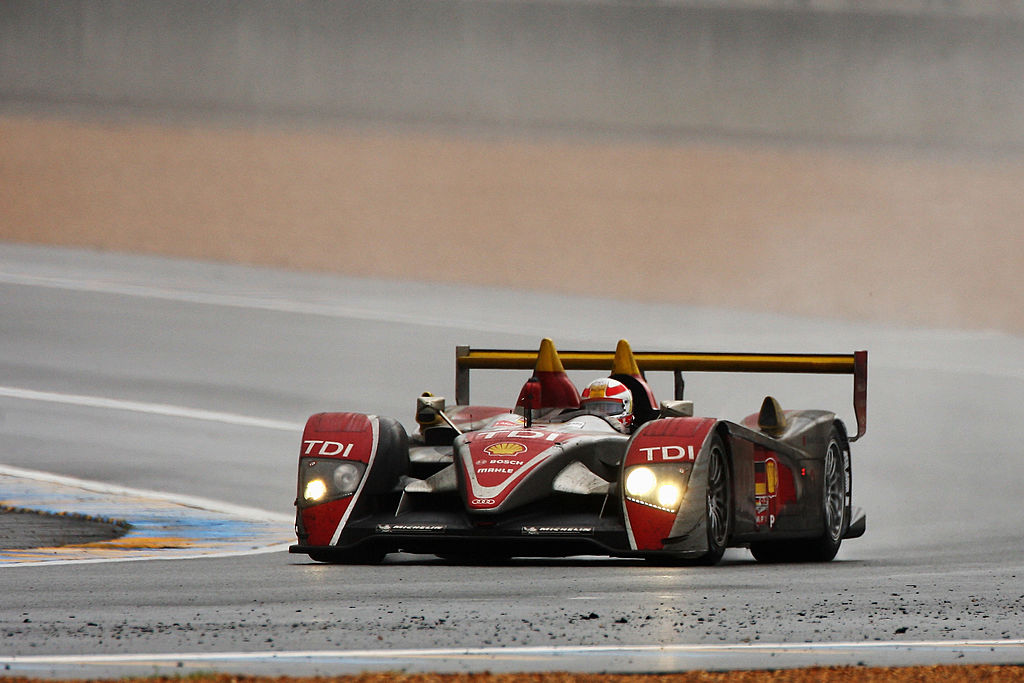 The 2008 win in mixed conditions served as the impetus and race for the iconic Truth in 24, a movie that inspires chills among the sports car racing world for how good the Audi/Intersport/NFL Films production was. From the singular first line of the film – Jason Statham's foreboding "It always rains at Le Mans," – to the buildup to the race from testing and the preliminary races, to Allan McNish's track lap description, and then to the introduction of Howden "H" Haynes as the engineer, you are so incredibly amped up by the time it gets to the chronicling of the race itself. And you feel as though you've become one with the team, as Audi won the 2008 race on smarts and strategy more than outright pace.
This would be a good time to note that when I first had the opportunity to go to Le Mans in 2009 for another website, I was so excited to see Audi win at Le Mans. Naturally, then, it didn't happen; the new R15 was a rare misstep from Ingolstadt and Peugeot, which needed to win to keep its program going, finally did so in its third crack at the race.
The die cast of Audi's success in the nine years previous is why Peugeot's 2009 win was such a big deal at the time; the almighty Audi had finally been toppled. Audi was human.
In truth though, the dominant, unchallenged period of success Audi had at Le Mans was really at an end in 2008, even though they've still amassed more wins. The 2010 and 2011 Le Mans wins were fortunate. Audi won in 2010 only after the Peugeots grenaded themselves; with the new R18 in 2011, Audi won only after its first two cars sustained two of the heaviest accidents in recent years at Le Mans, and held on with its single remaining bullet in the gun.
Audi won the first two Le Mans in 2012 and 2013 following the launch of the FIA World Endurance Championship – a championship whose presence was spurred on by LMP1 manufacturers and the creation of hybrid technology, but has since seen the privateers that made up the rest of the class fall by the wayside. Toyota wasn't ready to win Le Mans either year; frankly no one wanted to win in 2013 after Allan Simonsen's fatal accident in the opening laps.
But the biggest signs of change for Audi had been revealed in summer, 2011, and it had nothing directly to do with Audi. That summer, Porsche announced it would be returning to Le Mans with an LMP1 entry, targeting a 2014 launch.
Audi, the flagship LMP1 brand that had built its image on Le Mans greatness in the 12 years previous, would have company within the Volkswagen Group as two top tier brands would start competing head-to-head for wins at the most glorious sports car race on the calendar.
Audi had beaten a host of competitors in its run at Le Mans, the privateers, then Peugeot, then Toyota. But it hadn't yet beat a manufacturer from its same company in a full-season setting.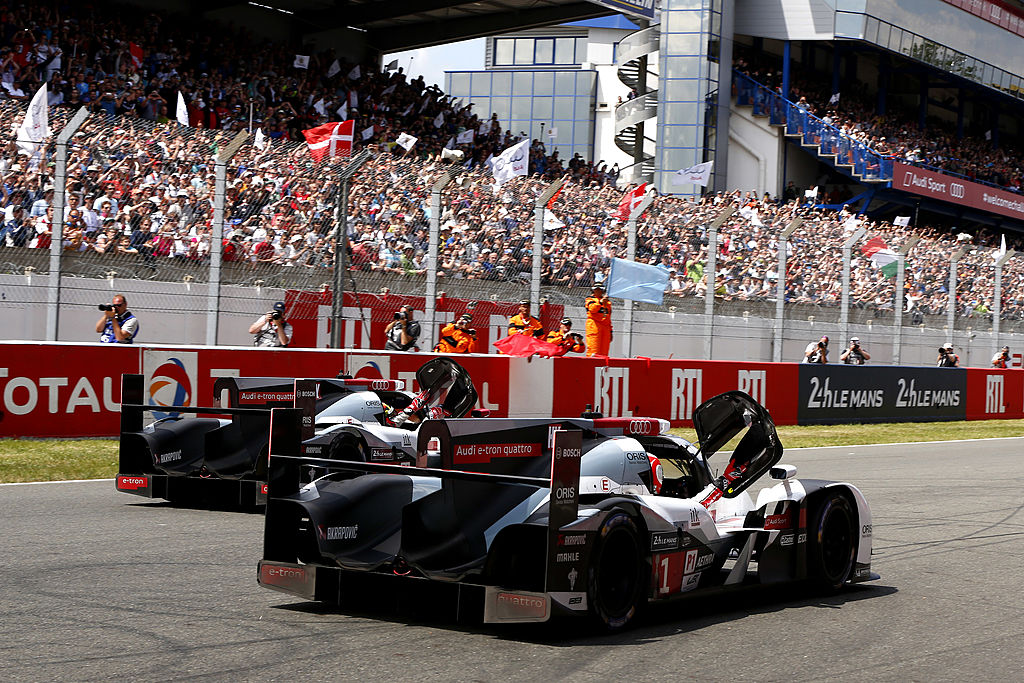 The 2014 Le Mans promised great things. In Audi, you had the established heavyweight. In Toyota, you had the relatively younger upstart ready to win in its third year – as Peugeot had done five years earlier. And in Porsche, you had the returning giant, perhaps not ready in its first go-around but ready to fight.
And that was how it played out. Audi's 2014 win was the third for the Andre Lotterer/Benoit Treluyer/Marcel Fassler trio, but won more on expertise and guile again rather than outright pace. Toyota's chances came undone just before dawn, and Porsche fell off as the race entered its final stages. It would have been impossible to know at the time this would be Audi's last of its 13 triumphs at Le Mans, but indeed it is.
Porsche won in 2015 with the famous third car win of Nick Tandy, Earl Bamber and Nico Hulkenberg. They won again this year after Toyota's final-minute heartbreak; Audi, for the first time in 18 years at Le Mans, was nowhere, and only made the podium thanks to the Toyota non-classification. That these two poor results came following VW's emissions scandal that emerged last fall was poor timing.
The Le Mans history outlined above is but the flagship venue of Audi's successes in top-flight prototype racing, but far from the only one.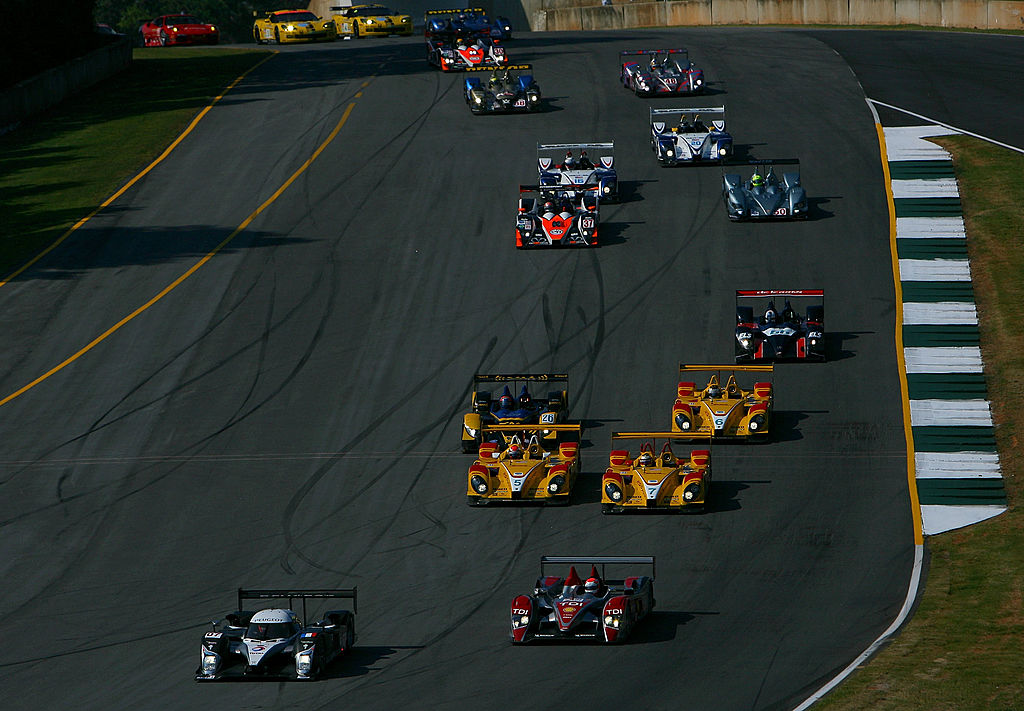 Because of its presence in the U.S. in the American Le Mans Series from 2000 through 2008 – either with the Audi Sport Team Joest or Champion Racing efforts – Audi inspired a generation of sports car fans to start paying attention to what it was doing.
Audi raced hard versus Don Panoz's team with its weird, wacky and wonderful front-engined LMP1 Roadster, the venerable Dyson Racing Lolas, and then, for those few glorious years from 2006 to 2008, the factory-supported Porsche RS Spyder and Acura LMP2 cars from the Penske, Highcroft, Andretti, de Ferran and Fernandez teams.
It didn't matter the tracks; it didn't matter the classes. BoP and driver ratings weren't buzzwords. It was simply about the racing – and seeing the ways the more powerful Audi raced against the lighter, more nimble LMP2 cars in the ALMS at the time was mesmerizing to watch.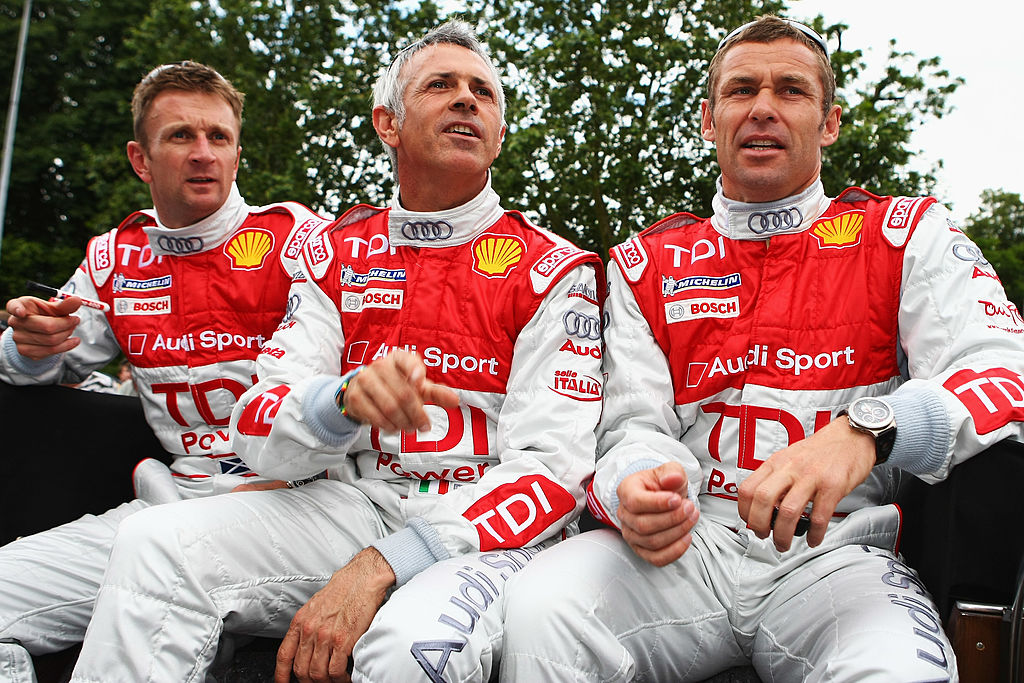 The trio of Allan McNish, Tom Kristensen and Dindo Capello became heroes. Kristensen will go down as the greatest of all-time at Le Mans with his nine wins there. McNish's tenacity and starts were always an incredible sight to watch. Capello was the third tenor, and just as critical to the success by combining the best of both.
These three stood out while others like Emanuele Pirro, Frank Biela and Marco Werner also were among the winners. The Lotterer/Treluyer/Fassler trio stands as Audi's next generation, but their time together figures to come to an end in two races.
They all slowly faded away though. Capello, McNish and Kristensen retired each of the last few years. The Pirro/Biela/Werner trio were there through 2008 before the first real changing of the guard in the driver lineup occurred. Leena Gade, an inspiration in her own right, stepped down after Le Mans this year.
Much as my formative years in IndyCar were built by the Target presence with Chip Ganassi Racing in the mid-1990s, my formative years following and appreciating sports car racing – and Le Mans in particular – was crafted by Audi.
So while the business realities and changing demands of what manufacturers want to pursue for their motorsports program to coincide with their automotive interests is changing, so ends Audi's run of glory at the top level of sports car racing.
This is no doubt a sad day for the sport. But rather than with anger, I'm left only to reflect and say thank you to Audi for making me a fan in the first place.