Announced back at the Watkins Glen weekend in September, Performance Friction Corporation, or PFC, was announced as INDYCAR's new brake partner for 2017 and beyond, replacing Brembo.
Darrick Dong, Director of Motorsports, Performance Friction Brakes, explained some – but not all – of the "bells and whistles" PFC has coming down the line for INDYCAR, and how they were chosen to be the new partner to begin with.
—
MotorSportsTalk: For those that may not be familiar with PFC, its reach and its background, can you summarize all that PFC has been involved in?
Darrick Dong: "Don Burgoon was the owner of the company that passed away on Sept. 12, 2015 in a road car accident in Italy. He really was a true visionary about this particular technology we're using carbon for IndyCar – and it's unique. It's made from a single strand and what this does for us is it's not a laminate that's needled together or a constructed matrix like the current supplier is. Also, most of the carbon that's being sold into racing is actually demilitarized carbon. That's one of the reasons why they can talk about it, whereas we cannot talk about a lot of the details from a technical standpoint because it's actually a current used material. It's proprietary.
"So the key to a single strand carbon matrix is it has a very uniform crystalline structure where the temperature goes through the PFC carbon almost as quickly as it's introduced. Whereas, with the other materials out there, there's always thermal banding and there's a lot of differentials in the temperature profiles of those materials. Because, truth be told, they're 12 plus year-old technologies.
"As you know, the IndyCar community have been fighting some torque variation, erratic wear and erratic behavior, just inconsistencies. So, we did that blind test and essentially there were three suppliers that supplied car sets to three or four different drivers at Mid-Ohio. All the drivers chose us over the other guys.
"We've been continuing testing with the series with the two car sets we gave them at Mid-Ohio. We tested at Road America, Watkins Glen and Sears Point (Sonoma). It's the same two-car sets that we've done that. I think we're up to 11 or 12 drivers now that have actually had chances to put miles on the stuff.
"For all the miles we've put on it with all the different drivers, it didn't pull or do anything unexpected. It may not have as much bite as some would have liked, but then I don't know any driver that didn't ask for more bite. But we were working primarily on the premise that they wanted something that was consistent and had better control. These cars are capable of pulling over a 5g stop now and have over 6,000 pounds of downforce when they're in full aero. So you're going from high downforce to mechanical grip in really less than two seconds."
MST: How different is INDYCAR now versus the last time PFC was involved? Certainly the cornering speeds are significantly higher…
DD: "It's been awhile since I've been playing with the IndyCar guys. We have been a primary source for CART, Champ Car and the IRL series when they were on iron brakes. In fact, in those days when it was open, when they could choose anybody from 1986 through 2011, we had won all the championships and I think we won all the races on our products – with the exception of one or two – through all those years. So it's not like they didn't know who we were.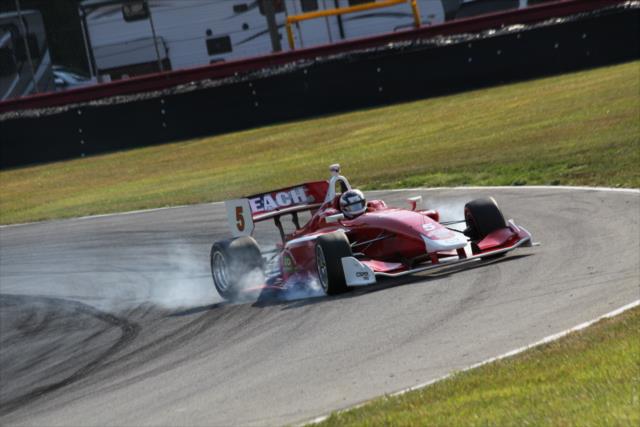 "When they came up with the DW12, we were the last of the two guys standing on supplier for that car, but the (ICONIC) group decided to go with Brembo. So for the last six years, I still have been keeping my ear to the ground and because we're the supplier to the (Mazda) Road to Indy, I've got all the USF2000 cars, the Pro Mazda cars, Indy Lights and the new Tatuus USF-17, so it's not like we don't have a footprint in the garage area.
"It can truly been said that the Road to Indy has been a road to us, for us in getting the confidence of the series! They were pretty gun-shy, as you can imagine, with the problems they had with the current supplier and apparently the same problems in IndyCar has gone to other markets, other series and championships. So, this is rapidly turning into a unique opportunity for us and we'll be able to bring some new technologies and some new ways of thinking on how a braking system can work on an IndyCar."
MST: What do you expect the support system/operations side to look like at the track?
DD: "That's a great question. The series wants us to deal directly with the teams; that's what we'll do. Depending on how the logistics work out, in fact, I've been talking to Haas Auto here about renting a couple cabinets for them – because there's always going to be somebody that needs something. Either way, we're going to have it. What's nice is most of the team managers and engineers they know who PFC is, so we've been part of the canvas now for quite some time."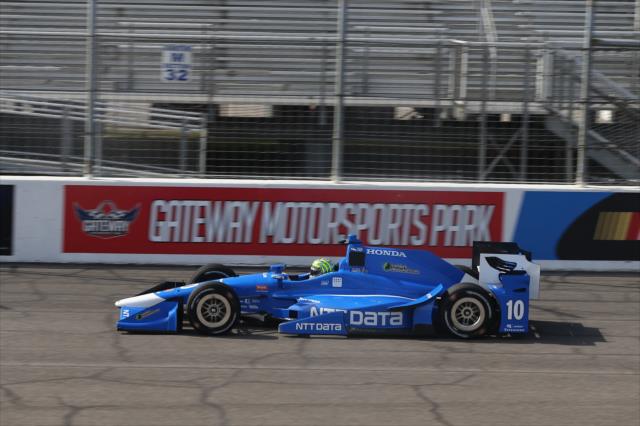 MST: Has the driver feedback you've received thus far – Tony Kanaan being a good example of a driver since he's been around and did the test – been a step in the right direction?
DD: "Particularly with TK, he's very sensitive to this torque variation. One of the things they were able to do, a lot of drivers with the current brake configuration, they have to use the largest master cylinder made to help reduce the locking. With our product, they're able to drop a size down, which gives them a lot more feel for the threshold of grip between the tire and braking capacity. The difference is, that particular change, because they've done it twice now, it stays with the car. The drivers prefer that because now the way the brake pedal is, they have to jump on it as hard they can and then trail off immediately to keep the thing from locking."
MST: How much more difficult is it to engineer now than when there were higher braking rates?
DD: "One of the things that's unique about the PFC Carbon is it's not as sensitive to temperature as most carbon is. So, its sweet spot is about from 100C (100 degrees Celsius) to about 650C. It'll easily go up to 800C or greater. It never fades. The only difference is you'll have higher oxidation or greater wear. But at 100C, it acts very much like an iron brake, so it has more cold bite characteristics, which is one of the reasons the why series liked that characteristic, particularly after they did a dyno simulation between all the different brands, and they realized ours had a smoother, cold, predictable bite.
"So with these high downforce cars, you usually use the brakes primarily to balance the cars. You need to have more drivability, not less, so it's not like an on-off switch like they've got now. Everybody who said it's modulation, that the cold bite – particularly at an oval – is something that will be a benefit to these guys."
MST: The longer-term viewpoint is looking ahead to 2018 and the new aero then. Will you be part of that development process?
DD: "Yeah, in 2018, we'll have calipers on the cars. So we're not only producing the brake pads, the carbon discs and the brake bells and attachment system for the current caliper. And then in 2018, we'll be supplying the teams with new hardware and calipers. Also, we hope to have the design approvals for the series on or before the Indy 500 in 2017. So after the Indy 500, we can concentrate on making sure we get the hardware right for them."
MST: Will you get extra test days?
DD: "I don't know how that's going to work, that's still down the road. Obviously, one thing that's been about PFC is we're one of the few companies that manufacture 100 percent of the hot-end components for the car, including friction components. Because of the complexity, there's not too many companies that recognize what the braking event really is. We have to understand the tire and the interface between the tire, ground and brake torque better than most.
"So most of these other guys, brake pad suppliers, they typically will design the architecture for the caliper, they go buy a disc from somebody else and then they have three or four pad guys build a brake pad for them. With us, we work from the friction out. So, it's a whole different philosophy and makes us in a unique position because we understand the grip model or try to understand the grip model as best as anybody out there.
"Our relationship with the teams have been very, very close. They've freely talked to us because they know we're always working on improvements. That traction circle, particularly with the amount of downforce, goes from here to here in a very short period of time. It's a very small, narrow window."
MST: You had a funny line when you and I chatted at Watkins Glen, that it's taken eight years to become an overnight success…
DD: "For us, our motivation is and always has been that open-wheel racing is in our DNA. It's one of the truest forms of being able to apply all the little nuances that we work on in terms of getting not only the performance and the consistency. We bring quite a bit to the table because even the attachment system for the Indy car will be very unique. I can't talk about all the little bells and whistles that we're going to be throwing at this thing, but I can tell you that when the teams have the opportunity to implement the new program, it'll be a significant moving of the bar.
"For instance, although not too many people know this, PFC is the only North American supplier to Porsche Motorsports. So, going through that Porsche-perfect quality assurance protocols, it's a big deal. And we're putting the same philosophies of what we have incorporated over the years into the IndyCar thing, so the only thing they have to worry about is how to make the car better, not chase the brake ghosts."