It's been a busy week for Flying Lizard Motorsports, with a pair of program announcements. One venerable chassis and two new ones have been announced for the Sonoma, Calif.-based team.
—
Earlier this week, Flying Lizard confirmed the return of its Toyo Tires partnership in the Toyo-shod and liveried No. 45 Audi R8 LMS ultra at NASA's 25 Hours of Thunderhill.
Program manager Darren Law and team veteran Johannes van Overbeek are back, with past Lizard drivers Dion von Moltke and Mike Hedlund set to replace Guy Cosmo and Tomonobu Fujii as the other two drivers.
The Toyo Lizard Audi dominated last year's race, winning overall by some 35 laps.
"We look forward to the challenges of this year's 25-Hours, and are returning to prove once again that Toyo Proxes Slicks are the tires to have for drivers looking to dominate in any form of road racing," said Marc Sanzenbacher, senior manager, motorsports, Toyo Tire U.S.A. Corp.
"The race conditions at this event are notoriously unpredictable and we welcome the various technical challenges it presents our engineers. We have some new cool weather and intermediate rain tire options to evaluate for this event and we look forward to gathering important development data while pursuing another overall victory."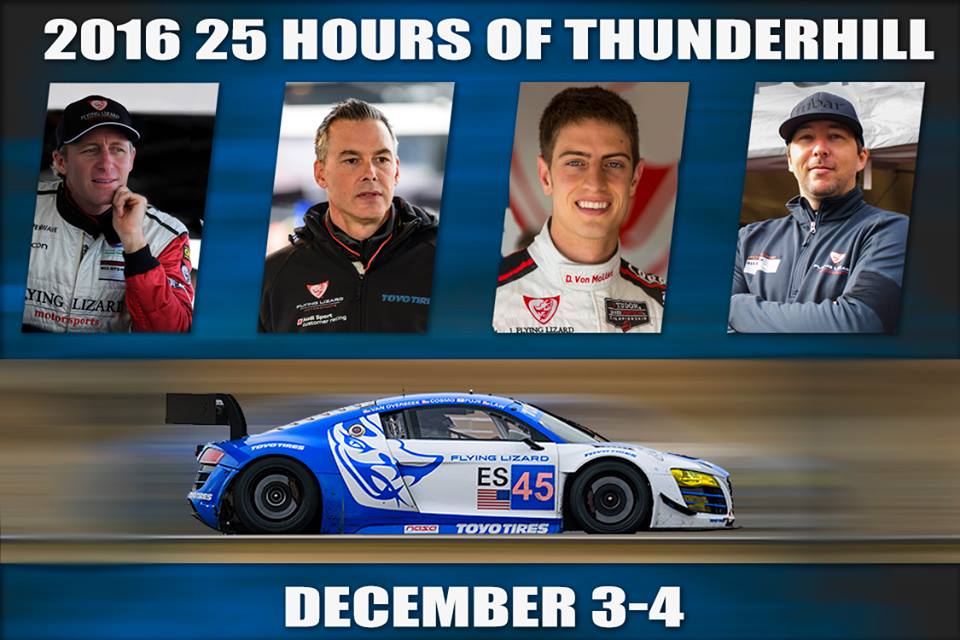 —
Meanwhile on Friday, Flying Lizard has also confirmed a two-car GTS class entry in Pirelli World Challenge with longtime manufacturer Porsche.
As part of that class and series' new GT4-spec wave in the category – it will be all GT4-spec in 2018 with a final one-year run for existing previous non-GT4 machinery – Flying Lizard will run two of the new Porsche Cayman GT4 Clubsport MR entries. Those cars debuted at the season finale at Mazda Raceway Laguna Seca this year with GMG Racing.
Flying Lizard's continued relationship with Porsche Motorsport North America (PMNA) will strengthen the effort, becoming a part of the North American Young Driver Development program.
"This just feels right to see Flying Lizard Motorsports back again with a Porsche program," said Program Manager Darren Law. "We have had so many successful and memorable races with Porsche. Much of my driving career has been with Flying Lizard Motorsports, so I am happy that we will have the opportunity to join forces with Porsche for the upcoming season."