The 2016 Mexican Grand Prix had roughly three moments of fascinating on-track action that interrupted an otherwise lackluster 71 laps.
Yet in all three moments, calls and non-calls related to officiating stole the headlines and the immediate storm of words in the aftermath of the checkered flag.
First under the microscope was the start and Turn 1 itself. Lewis Hamilton got the run he needed after a successful launch from pole position, but the problem was, of course, he locked up going into Turn 1, ran through Turns 1 and 2 on the grass and rejoined at Turn 3.
Behind him, Nico Rosberg and Max Verstappen collided when battling over second. The contact forced Rosberg off the road, onto the grass, but in a turn of good fortune not only was there no damage to Rosberg's chassis, but he resumed in second place no problem.
Hamilton, per Motorsport.com, had sufficiently slowed enough through the grass to have not gained a "lasting advantage" for his off-course excursion. He was not subject to an investigation. The Rosberg/Verstappen contact was, however, investigated and ruled to have no further action.
There were two other contact points on the opening lap. First was the Carlos Sainz Jr./Fernando Alonso contact – Sainz having been ruled to have run Alonso off the road and triggering a five-second in-race penalty. Then there was the Esteban Gutierrez/Marcus Ericsson/Pascal Wehrlein contact that saw Wehrlein eliminated from the race and Ericsson, weirdly, able to benefit after pitting to change his front wing. That was reviewed with no further action.
The second key moment came later in the race, when Kimi Raikkonen and Nico Hulkenberg were battling over sixth. Raikkonen got a run and moved to Hulkenberg's outside entering the left-handed Turn 4, which would set up as the inside for the right-handed Turn 5. There was no contact, but Hulkenberg later told NBCSN after the race he felt Raikkonen turned in on him and spun to avoid contact. This pass was not investigated by the stewards.
The third key moment, and the most dramatic, was the crescendo to the build-up for third place and the final podium position. Verstappen, Sebastian Vettel and Daniel Ricciardo were scrapping over one spot and their tires were at varying stages of degrading (at Lap 69, 56, 36 and 18 laps since most recent pit stops, respectively, with Ricciardo on softs and the other two on mediums).
Verstappen had nearly an identical moment as Hamilton on the opening lap. He ran wide at Turn 1, through the grass. The radio transmission followed – as you might expect – that Verstappen would need to cede the position to Vettel. Perhaps defiant and perhaps smartly, Verstappen decided against it because no official word had come to him from Race Control to do so… as we found out, that came later.
"He has to let me go!" Vettel exclaimed on the radio in the first of multiple bursts. Maurizio Arrivabene was incredulous on the pit wall.
Then on Lap 70, with Vettel understandably irate, Ricciardo got the run on him going into Turn 4, although he locked up into the braking zone. Vettel clearly moved in the braking zone – a clarification that was just installed by the FIA last week in the wake of drivers like Vettel raising of the issue against Verstappen.
Of course, one could also argue, and this was a good point NBCSN pit reporter Townsend Bell raised when talking to Ricciardo after the race, that Vettel could claim here he wasn't moving in reaction to Ricciardo, but instead looking for a gap on Verstappen to try to finish third himself on the road.
As it was, Verstappen and Vettel would now face the wrath of the stewards after the race.  The Vettel/Ricciardo near collision allowed Verstappen to get away slightly, and the Dutchman was able to finish third on the road.
Briefly.
Although there was always going to be a question of when the post-race penalty – if any was applied – would come to Verstappen, luckily it came swiftly.
Stewards decision 33: Car 33 left the track in turn 1, gaining a lasting advantage. Breach of Article 27.4 of the Sporting Regulations. 5 Second Time Penalty imposed after the race in accordance with Article 38.3 (5 seconds added to elapsed race time). Car 33 left the track at Turn 1. The Stewards considered that by leaving the track the driver was able to retain his position and hence, gained a lasting advantage.
Game over for Max, then. "Max Face" was then born in the podium room. Vettel got the call-up for the podium.
And then Stewards decision 34 happened for Vettel. Driver and team representative are to report to the Stewards at 16:00. Alleged Breach of Article 27.5 of the Sporting Regulations and the Race Director's Event Notes item 18.1, by car 5, driving dangerously or erratically between turns 4 and 5 at 14:41.
While the Verstappen penalty was swift, with the five-second time penalty added mere seconds after the checkered flag, the Vettel penalty was not, coming several hours later and with a 10-second penalty added.
It's with all this as a setup that by an inadvertent stroke of luck I'd happened to have a chat with Danny Sullivan last week in Austin, and Sullivan, the 1985 Indianapolis 500 champion and 1983 Formula 1 driver with the Benetton-backed Tyrrell team, was one of the race stewards this weekend in Mexico.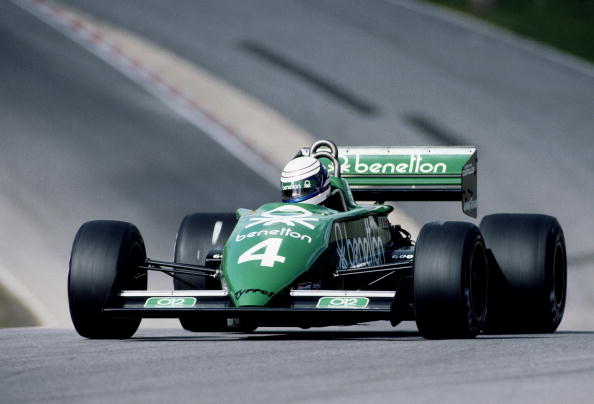 Sullivan has been a steward for sporadic Grands Prix over the last six seasons as part of F1's rotating steward panel – and that's a topic I'll address in a bit.
Here's how Sullivan described the process of Race Control, and how he, as the driver steward, works in tandem with the two other FIA stewards, the local steward, and Race Director Charlie Whiting when it comes to assessing penalties.
"There's four of us in the room, one driver and we have one technician," Sullivan told NBC Sports in Austin.
"So we sit in that room, and Charlie says, 'Take a look at this, and look at this infraction…' and it could be something that's technical too. It could be something after an inspection. It comes into the room. We discuss it. And we determine we believe it was an infraction of X rule.
"A lot of people think we determine what the penalty is. The penalties are pretty much spelled out. There might be an A and a B depending on the severity of something. But we aren't sitting there going, 'We don't like that guy, we're gonna fine him this or that.' It's all pretty much spelled out. We don't go after an infraction. We are only the judges/jury."
Sullivan then also provided a bit of insight into how long the process can take, which as we see from this instance, varied because of the circumstances.
"We try to do it as fast as possible. That depends on if we have to interview the parties involved, then we can't do it until after the practice or race," he explained.
"You see the graphics on the screen. When it's something that goes on in the race, that could perhaps have a five or 10-second penalty, we try to deal with it as fast as we possibly can. So they can build it into their strategy.
"We are not trying to ever, ever, ever influence the championship or anything like that. There's no bias. There's no favoritism. There's four people."
The frustration in the wake of Sunday, then, comes not necessarily with the process – or the penalties that were assessed. By the Sporting Regulations in place, Verstappen and Vettel were appropriately penalized.
The frustration comes with inconsistencies – perceived or actual – about the process itself.
The Hamilton Turn 1 incident is a perfect example. If Hamilton and Verstappen did the same thing, which they did – they both straight lined Turns 1 and 2 through the grass – does it become an issue of penalties being more or less likely to be enforced at different times?
Since Hamilton went off the road and gained an advantage, and even though it was neutralized by the Safety Car, should he have at least been subject to an investigation? Or because this was off the start, at Turn 1, was it right he wasn't? The fact that three other incidents in the first lap were reviewed, with two triggering no further action and the Sainz forcing Alonso off the road triggering a warranted penalty, leaves it questionable that Hamilton got off without at least an investigation, even if it was later determined he warranted no further action. Knowing Hamilton's pace, even with a five-second time penalty assessed, he could have recovered from it.
That also speaks to a track limits issue – although that is a different issue for a different post – about how the modern era of F1 tracks has created this problem. I'll leave it to NBCSN's Will Buxton to explain that here.
The second bit of frustration stems from a simple inconsistency in stewards, and that is no fault of any of the stewards themselves, but the higher decision-makers above them who've determined this system should be used in the first place.
With a rotating steward system comes the lack of cohesion and understanding of ruling principles that come to define Race Control over the course of the season. I've always found it odd that F1 – now – uses a rotating group of stewards underneath Race Director Charlie Whiting and Deputy Race Director Herbie Blash at each race.
It takes time for Race Control as a collective unit to gel, and you simply can't expect a group working together only on a race-to-race basis to have the same process of understanding and application that the same group will throughout a year.
Sure, the penalties are in theory supposed to be the same. But wouldn't it make far more sense if the group determined with adjudicating them was the same all year?
This was long one of INDYCAR's struggles. Scorn often came on longtime Race Director Brian Barnhart and while he made a couple high-profile mistakes, the fact of the matter is he is still well-respected by most in the paddock.
This year, INDYCAR put in place a new panel of three stewards – Max Papis, Arie Luyendyk and Dan Davis – who would serve as the same group all season. Barnhart ran the race, while the stewards were largely consistent in rulings over the course of the year. The only time where Race Control truly came under the microscope this year in a negative light was in Long Beach, and this was in determining when Simon Pagenaud crossed the pit exit line to rejoin the race track, and was assessed a warning.
Long Beach was only the group's third race. But by year's end, the IndyCar paddock was a happier one because there was a clear understanding of how penalties would be applied, what the ground rules are, and most of all, there was consistency.
This weekend's three stewards were Sullivan, Silvia Bellot and Garry Connolly. It was Bellot, Mark Blundell and Paul Gutjahr in Austin. It was Emanuele Pirro, Enzo Spano and Connolly in Japan. It was Tim Mayer, Steven Chopping and Derek Warwick in Malaysia.
You get the point that even though there's a same Race Director and Deputy Race Director, it becomes hard to know quite what will get called how given the officiating philosophies of the stewards depending on the event.
The final bit of frustration comes with the timing of the post-race penalties assessed. How Verstappen's could be reviewed so quickly to ensure "the right" third place man – Vettel – got on the podium now looks laughable in hindsight, because Vettel was later judged to have made a worse move and got docked a greater post-race time penalty.
Ricciardo was right to be as frustrated as he was because for once, he had strategy in his favor, and he could well have utilized it to his advantage after having a front row seat to the Verstappen/Vettel battle ahead of him. He was also smart in how he handled Vettel's move against him; had he kept his foot in it, he could have taken them both out, but instead opted for discretion being the better part of valor.
Officiating in any sport is a thankless job. It's particularly thankless in auto racing because the moves and decisions happen so fast on track.
The positive you hopes comes out of the messy end in Mexico City is that rulings happen fast enough to allow the right driver to stand on the podium, that track limits don't allow one driver to get off without penalty, and that the officials come together and realize that if there was the same group of stewards in at every race, the chances of inconsistencies in penalties popping up will go down.