For several years on the Mazda Road to Indy, Connor De Phillippi was among the star open-wheel prospects-in-waiting. The driver out of San Clemente, Calif. had the theoretical package of combining great talent, speed, marketability, partner relationships and looks in hand – similar to a Josef Newgarden, another past Team USA Scholarship recipient.
Sadly, all the theoretical ingredients and the fact De Phillippi was one of the top drivers who hadn't won a MRTI title didn't mean he had the budget to advance into Indy Lights once his Star Mazda career ended. And when that ended, it meant his open-wheel career did as well, so suddenly, he found himself at a crossroads.
De Phillippi had always been rated highly by American Porsche factory ace Patrick Long, the manufacturer's lone American factory driver. A shift to sports cars would likely end the open-wheel dream but when the opportunity presents itself and you have a chance to follow that road, you take it.
De Phillippi made it to Porsche as a rare American driver selected for the prestigious Porsche Junior program – second only to Long in its history.
Some success followed in the Porsche Carrera Cup Deutschland and ultimately, the flagship of Porsche's one-make series, Porsche Mobil 1 Supercup.
The 2013 season saw De Phillippi claim the Rookie of the Year honors in the series; the next year, in Porsche Carrera Cup Germany, he won twice and finished eighth overall. Once in Supercup, he scored a couple top-five finishes in the deep field.
For the Californian, moving to Germany required a full culture immersion. It meant getting to know Germany families, the language, the lifestyle, the food and the culture – all while also trying to learn the tracks and series he'd be competing in.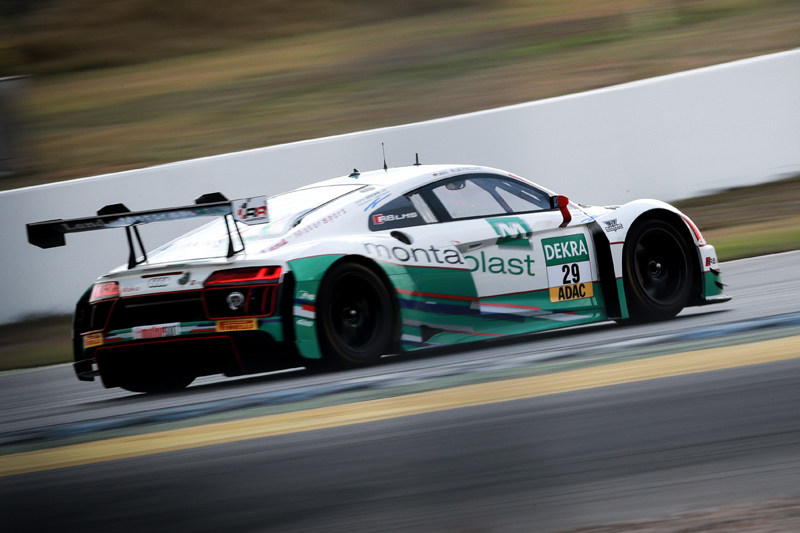 However, once De Phillippi completed his three years as a Porsche Junior through 2015, the opportunity presented itself to switch to another manufacturer within the same VW Group – Audi – and Land Motorsport. And "CDP," who's 23 until Christmas Day, grabbed it with both hands.
A star drive at the Creventic 24H Series season opener, the 24 Hours of Dubai, was a breakthrough performance for De Phillippi on the world stage within FIA GT3-spec machinery, in the new Audi R8 LMS. And as he explained, that singular outing is what put the rest of his season together properly.
The result didn't come by way of a late-race gearbox failure, but the car had built a several-lap lead prior to the retirement previously
"Obviously the news that I wouldn't be continuing with Porsche was not really a shock," De Phillippi told NBC Sports. "I had a tough season and I wasn't in the position or environment to perform my best. The results weren't there.
"Land and the Audi program was a fresh start for me. We have a really good sponsor that allows us to put together a proper program… we had the engineering… and we had the funding we needed to go testing. This is a situation I had never been in before. For me, that's what allowed me to excel. I felt comfortable straightaway. There was no looking back.
"That race was truly the beginning of the whole GT Masters program. It was only supposed to be VLN and a few endurance races. It was a test drive to get along with Chris Mies and Marc Basseng. The Dubai performance went so well, and we didn't expect to be as dominant as we had. That was the first kind of hint showing the potential we had, if we put a program together. We could later enter into GT Masters and the whole program was born from the result of being so strong in Dubai."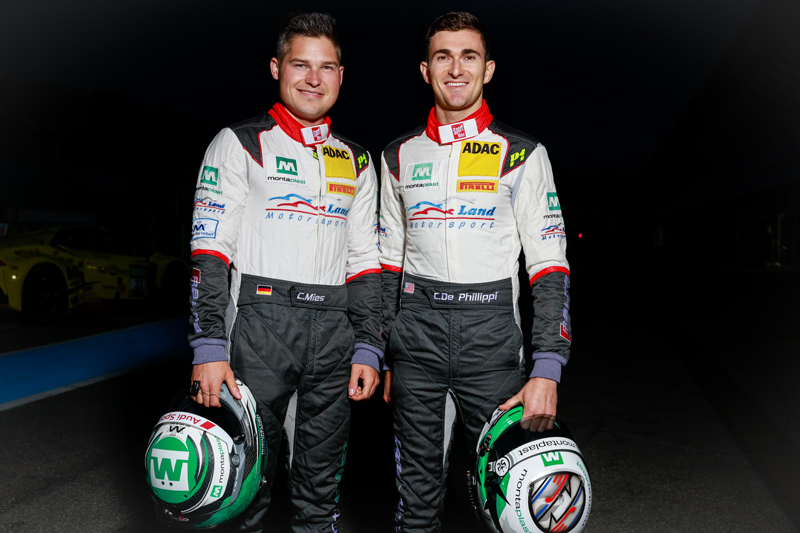 Mies and De Phillippi would share Montaplast by Land's No. 29 Audi for the ADAC GT Masters championship. The series is a seven-weekend, 14-race championship that runs one-hour sprint races with a pit window to change drivers and tire pressures, and the level is pretty high caliber in terms of FIA GT3-spec cars and teams that compete here.
The biggest change other than the manufacturer and type of racing De Phillippi would adapt to for 2016 would be a shift back to living at home primarily in California first, then commuting to the races in Europe, rather than basing himself in Germany as he had the last few years.
With this change in mindset and being around family and friends on a more regular basis, it allowed De Phillippi to flourish.
"I've been living in a small town called Winterberg with a small family," De Phillippi explained. "Most of the season I've been flying back and forth. It's been why my performance has been higher. I'm in a happier place being with family and friends.
"It took a toll on me, and enjoying where you live, and seeing your family is really important. It really affects your performance. Luckily I have the time to go back to California. If I had 2-3 races in a row, I'd stay.
Having Mies, a GT3 veteran and Audi ace help his transition, didn't hurt either. Mies helped raise both drivers' game this year and De Phillippi was quick to extoll him.
"Finding a teammate you get on with on is a needle in a haystack," he explained. "We had a special connection there. I've learned a lot from him this year, especially from the the technical side. He helped a lot with the development of it.
"Really, I've just listened a lot. I had to soak up as much information as I can. Also just with race craft and things like that, I've surprised myself a lot. From the beginning, we've been on the same pace level.
"Overall, when it comes to compromise in teammates, that's the one great thing is finding a happy medium. We like the same car, driving styles so similar, you'd think it's the same driver. It's a unique situation to have so much more about the series. We're a strong pair this year."
The pairing won only once, race two at the Nürburgring, but used consistency throughout the year to win the title by nine points. De Phillippi explained that drive there.
"I would say my best drive was race two at the Nürburgring during GT Masters," he said. "After the pit stop circulation we were in third, and I kind of drove like a mad dog! I passed for second and the lead… that was our one and only win this year.
"We were extremely consistent and always on the podium," he added. "We haven't had the strongest Balance of Performance… but we knew we had to extract the most out of it. We saw it, because if you look at the next closest Audi, it's further down. We did well with what we had."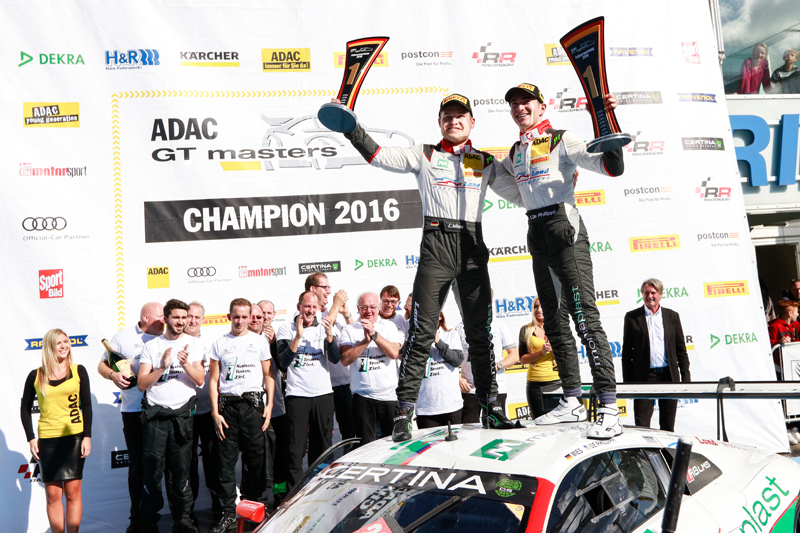 They added another Nürburgring victory – this time at the VLN Endurance Championship season finale – last weekend for good measure (more on this from Audi and The Drive).
De Phillippi is hopeful of continuing with a return to GT Masters and VLN with Land and Audi in 2017, with sporadic U.S. appearances in the endurance races highly likely at this stage.
For the moment though, he's just enjoying the run of having achieved a title after four years of pursuing his dream in sports car racing.
"Racing in Germany is where I started in Europe and it's become my home over here. As far as level of competition in a single country, Germany is the highest," he said.
"As far as the level of this series goes, it's overlooked – even I did at the start of the year. The level has stepped up. We saw that when a team like Zakspeed ran in the Blancpain Endurance race at Nürburgring and ran top-six, top-seven straightaway.
"To see a team can go into BES – and we all know the level of BES – and to be top-five straightaway, really shows the level and caliber we are competing against."