Erica Enders spent the previous two seasons as the queen of the drag racing world, becoming the first woman to win a NHRA Pro Stock championship in 2014, and then making it two in a row in 2015.
En route to both championships, Enders won six races in 2014 and a career-best nine in 2015.
Aspirations and expectations for a three-peat were high when the 2016 season began. Not only did Enders' team, Elite Motorsports, switch from Chevrolet Camaros to Hemi-powered Dodge Darts, five-time Pro Stock champ Jeg Coughlin Jr. came on board as Enders' full-time teammate.
Everyone on the Elite team was poised to dominate the class more so than ever – at least on paper.
But now with one race left, this weekend's season-ending Auto Club Finals at Auto Club Raceway in Pomona, California, Enders can't wait to rip that paper up into little pieces.
After the two greatest seasons of her career, the 33-year-old Houston native is ending the worst full-time season of her career.
And it can't come soon enough.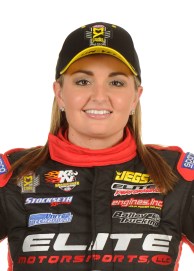 Not only has Enders failed to win even one race this season – the highest she's reached this season has been two semifinals – she's also had 14 first round exits in the first 23 races.
She also barely qualified for the NHRA's six-race Countdown to the Championship playoffs – and then kicked off the Countdown by failing to qualify for the first race at Charlotte.
"It's been a frustrating year for sure," Enders said. "To go from the best two years of your career where everything was so awesome, winning two championships and a bunch of races to struggling like this has been hard on all of us."
With the best Coughlin and Enders can finish is ninth and 10th in the season standings, the overall Elite operation has already begun making changes for 2017.
Testing is a major priority during the off-season. The team is already working on new motors for next season. And new cars are on the horizon: Elite's website is already advertising two of its 2016 Dodge Darts for sale (the listing touts "all the best parts, every option").
And there are rumors of a major announcement coming soon after the season ends.
As trite as it may sound, it is also truthful: the adversity Enders, Coughlin and the entire Elite operation have fought in 2016 has helped bring everyone closer together.
"What I've learned is that my team, this family we have here, they're even more awesome than I thought," Enders said. "It's easy to have fun and get along when everything is going well but not so much when times are tough.
"But no one gave up or bitched. There has been no inner turmoil. In fact we may be stronger now than we ever were."
Not only are they ready to put the frustration of this season in the rearview mirror with grace, they're ready to bounce back in a big way next season.
If anyone thinks Enders' two championships were flukes, wait until she comes back with a vengeance in 2017.
"I can't wait for next year," Enders said. "It'll be great to have a fresh start and we have a plan to get back on top that I know will work."
Follow @JerryBonkowski