Two other quick sports car nuggets to pass along today because we could well get a run on program announcements and more in the coming days:
—
Mazda has formally confirmed it will launch its new Daytona Prototype international (DPi) Prototype at next week's Los Angeles International Auto Show.
Mazda will launch the car Wednesday, November 16, at 12:50 p.m. PT. Those on hand for the announcement will include Masahiro Moro, President and CEO, Mazda North American Operations, John Doonan, Director, Mazda Motorsports North America, Ken Saward, Sr. Manager of Design, Mazda Design Americas, and Mazda Prototype Drivers Jonathan Bomarito, Tom Long, Joel Miller and Tristan Nunez.
With Mazda partnering with Riley Multimatic as a constructor, the public will get to see the car for the first time.
Although not yet publicly confirmed, GM also could launch its DPi car in L.A. next week too. GM's car, expected to feature Cadillac branding and a Dallara chassis, would come alongside.
—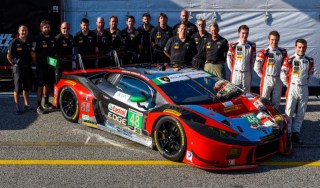 One car that is confirmed and announced features literally no changes from last year to this year, after major upheaval from 2015 to 2016.
Paul Miller Racing will continue intact from 2016 into 2017 with the full-season lineup of Bryan Sellers and Madison Snow in the team's No. 48 Lamborghini Huracán GT3, Bryce Miller as third driver for the Tequila Patron North American Endurance Cup, and a fourth driver to come out of the Lamborghini Squadra Corse stable for the Rolex 24 at Daytona. Andrea Caldarelli is a possibility for that and will test next week.
Miller's full-season pairing came together last year in the Lamborghini after a separate lineup in a separate car ran in 2015 (Dion von Moltke, Christopher Haase in an Audi R8 LMS ultra). Sellers grabbed Lamborghini's first GTD pole and Sellers and Snow its first win at VIR last year in a dominant performance, and the pairing finished third in GTD points.
"There are so many positives to the team continuing in 2017, it's difficult to pick which one to begin with, but first and foremost I think it is important to thank Mr. Miller for making this all happen for yet another year," Sellers said. "Madison and I really jelled over the course of the season and I really enjoyed my time with him. It will be great to be back with someone I know so well and build on that continuity."