A pair of prototype teams – one in the FIA World Endurance Championship and one in the IMSA WeatherTech SportsCar Championship – have firmed up their packages for their respective 2017 campaigns.
Both Rebellion Racing and Visit Florida Racing will be moving from different categories into the aligned LMP2-spec type of car in 2017 after running in LMP1 non-hybrid (privateer) and Prototype (with Daytona Prototype) configurations this year.
—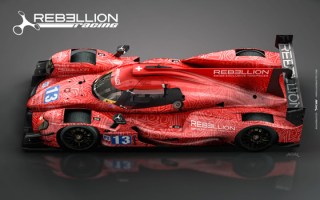 Rebellion, which announced last month it would not be running in LMP1 in 2017 and would instead switch to LMP2, has confirmed a move to the Oreca 07 chassis coupe. The team has ordered two chassis for next season. This replaces the outgoing Rebellion R-ONE AERs which ran in LMP1 in the WEC this year, with the team having cut back from two cars to one after the 24 Hours of Le Mans.
"The 2017 LMP2 races are going to be ultra competitive and that makes choosing the right chassis partner very important," said Rebellion team manager Bart Hayden. "With the R-Ones, we have appreciated the skill of the ORECA designers and we have witnessed the success of their "05" LMP2 chassis, so it was almost a logical choice for us to continue our association together.  We are excited by this new challenge and are looking forward to getting our hands on the first of our new cars."
—
Back Stateside in IMSA, the Visit Florida team has confirmed the purchase of a Riley Technologies Mk 30 chassis with the Gibson engine. As IMSA prepares for the new Daytona Prototype international (DPi) direction, Visit Florida shifts away from the GM presence it's had for years to the new global LMP2-spec platform. The Troy Flis-led team had been a stalwart with the Corvette DP car for the last five years.
"I'm really happy to have these big elements of our program finalized," Flis said. "We did our homework about all the options, and we are very excited to be going this direction. Bill and Bob Riley have an incredible record of success, and the partnership they've established with Multimatic for this project only adds to what they are capable of.
"Having the Gibson and the WEC bodywork means that we've got a lot of options as this class comes to fruition and starts to develop. This is an exciting time for everyone in IMSA, and we are very happy to be this much closer to the 2017 Rolex 24 at Daytona."
Visit Florida did not confirm its driver lineup within this release. Although with Tequila Patron ESM coming back to IMSA with a Nissan DPi program and Ryan Dalziel having driven for both teams this year – Visit Florida in IMSA and ESM in the WEC – he'll be unable to drive for both again in 2017.