After being nipped and bitten more times than he can remember over the last 30-plus years, Jerry Savoie finally bit back Sunday.
Let's explain that a bit more:
During the week, Savoie wakes up every morning around 4:30 a.m. and begins a usual 10-12 hour workday on his Louisiana farm, about an hour south of New Orleans.
Now that may not seem very unusual for a farmer until you consider the "crop" that Savoie "grows" is alligators.
Yep, the things with the long tails, spiny backs, big mouths and deadly teeth.
And Savoie's "farm" is 20 acres of the most pristine swampland you will find in the Louisiana bayou. He keeps the water heated to 90 degrees year-round and has a fleet of 10 airboats and a helicopter to keep an eye on his herd.
And here's the best part: farmers that raise cattle or hogs maybe have a couple hundred members of the herd. Not Savoie, he has 60,000 'gators on his farm.
Not only that, he collects between 6,000 and 30,000 alligator eggs each year when its time for the annual gator "harvest."
Savoie has done this routine day after day and year after year, takes very few holidays and has built his business into one of the largest in the industry over the last three decades.
"Pick up the eggs, hatch 'em, raise 'em, kind of like a chicken farm," Savoie said. "They're all in water. The water is actually filtrated 24 hours a day.
"As they get bigger, different size for different markets, you harvest the gators, sell the skin, meat, head, feet. Everything's sold. 12 percent of what you hatch, 12 percent goes back to the wild at four feet. So you replenish the marsh, so that keeps everything going."
Chances are if you eat alligator meat or buy alligator shoes or purses at some of the highest of high-end stores in the U.S., it's likely come from Savoie's farm, which does in the high seven figures of sales each year.
But for 24 weekends a year, Savoie can be found not chasing gators, but rather he's chasing the quickest elapsed time and fastest speed on a Pro Stock Motorcycle in National Hot Rod Association national events.
Click here to see a NHRA video of Savoie in action both on his 'farm' and the racetrack.
This year, after six years of trying – first part-time and then the last four seasons full-time on the NHRA circuit – the 57-year-old Savoie earned the ultimate prize by winning the Pro Stock Motorcycle championship.
And just like his day job, there's a few real good back stories about his "hobby."
First, Savoie was a budding drag racer in Cajun country in his teens and early 20s. But one day, he walked away from it all, deciding to focus on both growing a family, as well as growing his alligator farming business.
Then, more than 30 years later, he climbed back on a drag racing motorcycle at the age of 52, went to the George Bryce racing school and began essentially a second adulthood of sorts.
Despite not riding a bike for 30 years, Savoie appeared as if he hadn't forgotten anything when he began his comeback.
"Once a drag racer, always a drag racer," Savoie told NBCSports.com. "Even though you don't continue racing, the fire continues burning in your body.
"I always wondered if I was ever good enough. It played a toll on me, 'Was I as good as Angelle (fellow Louisianan and multi-PSM champion Angelle Sampey)?'
"Angelle was a young girl growing up, she baby-sat for me. When she came up, I was like, I would only dream of doing something like that.
"I didn't sit on a motorcycle for 32 years. Later in age, worked really hard, was able financially to put together a team. A friend, Paul Miller, I went and talked to him and asked him if he thought I was any good. He said, 'Absolutely. It's never too late.'
"I went and called George Bryce, who I went to school with. George put his hand on my shoulder, and he said, 'Brother, if you ride like that on race day, I promise you you're going to win one of these races.'"
Admittedly, Savoie's dream was small at first. All he wanted to do was win one NHRA PSM race and he would figure his racing career and comeback was complete.
"My goal was only to win one (race)," Savoie said. "My dream never was ever, ever, even last year, to win a championship. It was just to come out here and compete, beat up on people, try to be the best."
But when he finally earned that first win in 2014, he decided to go for another.
And another. And yet another, to the point where he won six races in the last three seasons, including three in 2015 and two this season.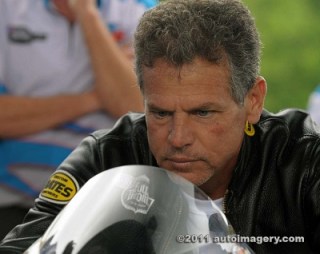 Next to his new championship, Savoie's biggest career win came at last year's U.S. Nationals — the biggest race of the season in NHRA.
And he did it a week after a gator bit three fingers on his right hand — the one he uses to control the accelerator on his bike — a mishap that Savoie casually called "nothing."
Then, seemingly out of nowhere, the driver/owner of the White Alligator Racking Suzuki roared through the PSM ranks this season and ultimately toppled multi-champions Andrew Hines and Eddie Krawiec to become the 2016 champion.
To think that Savoie did what he did at an age when most drag racers have either retired or are closing in on it, he's seemingly just getting started. And if any of his fellow competitors think Savoie is a pushover because of his age, he'll quickly show them up on the dragstrip.
Frankly, the nips and bites he's suffered at the hands of some of his gators is nothing compared to his own competitive bite against his fellow competitors on two wheels.
And even though he has the trophy and the winner's check that says he truly is the 2016 NHRA Pro Stock Motorcycle champion, Savoie still is having a hard time believing it himself.
"Reality is just setting in," he said. "I mean, everything happened so fast that it only takes a few days, but if you think about all the events, the way it turned out, there's a lot of things to talk about.
"It's just amazing, man, that this could possibly happen. God has blessed me in so many ways. It's an amazing thing."
Savoie is one of the nicest and most humble and soft-spoken racers in the NHRA, thankful for all that he's achieved in his life and is never one to take anything for granted.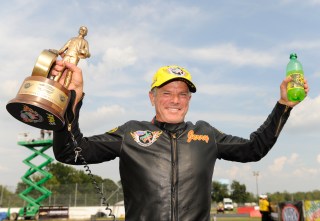 "I appreciate all you guys (media), all the fans, my people in Louisiana," he said. "Don't ever think that Jerry Savoie doesn't take it to heart about the way people feel, what they say, the way he treats people.
"Drag racing is in my blood and it's in my heart. We all one big family. I love everybody."
And after this championship season, there's a lot more fans that love Savoie in return.
Why, it wouldn't be a surprise if even his gators down in Cut Off, Louisiana (yes, that's really his hometown's name) show him more respect fitting of a champion by not trying to bite or nip him as much because now they know that when he climbs on his two-wheeler, he can bite back!
Follow @JerryBonkowski