Jason Line and Greg Anderson were both in a very bittersweet spot during the 2016 NHRA season.
Not only are they good friends, they're also longtime teammates on the KB Racing/Summit Racing Equipment squad.
To complicate matters even more, they were both the winningest drivers in the Pro Stock class, each driver earning eight wins this season – a combined two-thirds of the victories in the 24-race season.
Both drivers wanted to win the championship, but at the same time, they were also pulling for their teammate to do it – if they couldn't.
As it turned out this past Sunday in the season-ending Auto Club Finals in Pomona, California, Line got the better of his four-time champion teammate and went on to win the third championship of his own Pro Stock tenure.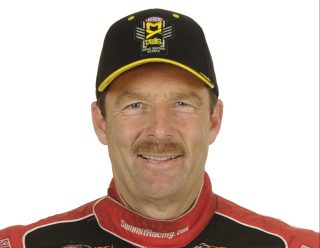 Sometimes, beating your teammate is harder than beating other competitors because of the close bond and relationship forged over the years.
And even harder is cheering for yourself while hoping you have just enough to get past your teammate for the title, even though you are also wishing him the best at the same time.
It's hard to separate the friendship from the will to beat your buddy for the championship.
"I don't know that you can," Line told NBC Sports in an NHRA teleconference on Wednesday. "It's a strange dynamic, to say the least. I don't know if we were pulling for each other or not.
"Obviously the selfish side of you wants to win. Make no mistake about it, racers are selfish folks. You have to be somewhat in order to win. It's just kind of the nature of the sport.
"It's tough. We've been together for 14 years, which I think has got to be some kind of record. Usually it's very difficult. We all have big egos. It's very difficult to survive that, especially racing each other, knowing that really the person who stopped you from winning more this year is also somebody who helped you win as much as you did.
"It's hard to take an objective look at it. At some point it's difficult to separate heart from head. It's a tough deal. I think we handle it better now than we did 10 years ago. There was no fighting. We didn't come to blows or anything. There were no foul words said at all. We both realize at this point that it is bigger than just the two of us. It's important that we win as a group.
"That being said, it's still hard. Each one of us wants to win. I know he's disappointed, as I would have been, as well."
The battle between Line and Anderson carried through the whole season. But just as dominant as that duo was, equally surprising was how arguably their top competitors – Elite Motorsports and drivers Erica Enders and Jeg Coughlin Jr. – had such a rough season.
Enders came into 2016 having won the last two Pro Stock championships, while Coughlin, a five-time champ, returned to full-time racing for the first time in several years.
Elite also made a surprising switch from Chevrolet to Mopar power and Dodge Dart chassis. Their overall record was the direct opposite of Line and Anderson. While that pair won a combined 16 races, Enders and Coughlin both failed to reach victory circle even one.
The hardest part of that failure was Enders won six races in her first championship season in 2014 and nine in 2015. To go from nine in one season and 15 in two seasons to zero is not only a hard pill to swallow for the team, it also baffled the competition, as well.
"I can certainly empathize," Line said. "It's not easy, especially when both those two are used to being up near the top. Erica has certainly had more bad times than him. Yeah, it's tough to take.
"Winning masks a lot of issues. When you're not doing well, it tends to bring out either the best or the worst in you. I'm sure they had a lot of very trying moments over that. I don't know. I tried not to pay attention to it, just worry about our own deal. But it was a tough deal (for Enders and Coughlin), there's no question about it."
It was so tough that Elite Motorsports announced Wednesday that it will be parting ways with Mopar and Dodge, with a likely return to Chevrolet power and Camaro bodies for 2017.
MORE: Elite Motorsports parts ways with Mopar/Dodge after just one season
Line admitted that he had little inkling that he and his teammate would be so dominating this season. Not only did they each reach the winner's circle eight times apiece, Line led the Pro Stock point standings for 22 of the 24 races of the season.
But once things got going, Line and Anderson knew they had something special.
"We knew pretty early on that we had a little bit of a magic there that they didn't," Line said of his fellow competitors. "I really still couldn't tell you what or why that is.
"I'm glad that we found it. Obviously we chose to work in the right areas over the off-season. It was a lot of effort, for sure. It always is. Obviously we worked on the right things, and that made all the difference in the world.
"But the second half was very close. We got a little bit better as it went on. Obviously by (the season finale at) Pomona, it felt like we had a little bit of an advantage. It was a great season. I guess we got tired of losing."
Follow @JerryBonkowski