Throughout motorsport, there are circuits and races that command high esteem and respect from drivers as a result of their significance and the magnitude of the challenge at hand.
If you asked drivers to name the events at the top of their career hit list, the same races are likely to come up time and time again. The Monaco Grand Prix, the Indianapolis 500 and the 24 Hours of Le Mans are probably the biggest three, making it only right that they should form racing's Triple Crown, an honor only Graham Hill has won.
For juniors making their way up the motorsport ladder, winning such prestigious and historic races at an early point in their careers is unrealistic. However, they are able to check off another – and, arguably, even more testing – race before graduating to the upper echelons of motorsport: the Macau Grand Prix.
Taking place on the streets of Macau, a peninsula off mainland China and the most densely populated region in the world, drivers blast around the tight course that has it all: fast corners, slow corners, elevation changes, heat, humidity; you name it.
The race originated as a sportscar challenge back in the 1950s before growing into a single-seater event, eventually being run under Formula 3 rules from 1983. Ayrton Senna was the first winner of the Macau F3 event, the victory acting as an important step on his route to Formula 1. Legends may be made around the streets of Monaco and in the dark of Le Mans, but the first signs of greatness are sown at Macau.
Besides Senna, the likes of Michael Schumacher, David Coulthard, Ralf Schumacher, Takuma Sato, Lucas di Grassi, Mike Conway and Antonio Felix da Costa have all won at Macau, while in recent years, Max Verstappen, Jean-Eric Vergne, Valtteri Bottas and Felipe Nasr have also entered the race.
No driver has won the F3 race three years straight, but that could be set to change this weekend. Sweden's Felix Rosenqvist has spent the majority of his career in F3, winning the FIA title in 2015 as well as taking a second Macau win that year. Despite moving into Formula E and spending time in Indy Lights in 2016, when the chance came about to return to Macau with Prema Powerteam, Rosenqvist couldn't say no.
"Already from the beginning of the year I was quite clear that I was interested in doing it if the opportunity came," Rosenqvist explains. "Then when Lance [Stroll] wasn't doing it, I think I was first on the list to take the seat. I think also to go with Prema, I had such a good memory with them last year. It's just one of the things you can't say no to."
Alongside the F3 event at Macau, the GT Cup for GT3 cars, the TCR International Series for touring cars and a motorcycle grand prix will run. Both the F3 and GT Cup events enjoy world cup status, a first for the former, while the latter features another driver chasing a 'three-peat': Maro Engel.
Engel raced in the F3 event back in 2006 before making the career shift to touring cars, and is a Mercedes factory driver, as well as racing for Venturi in Formula E. The German won the Nürburgring 24 back in May, and has won the previous two GT Cup races at Macau. Although he would not be the first driver to score a GT hat-trick at Macau, it would still be a huge achievement.
"Going there the aim is clearly to defend the titles. I think the pressure is no different than going there last two years where the aim was to try and win the race," Engel says.
"It would certainly be something special to make it three in a row. We'll push hard and come as prepared as we can, but obviously our opponents are probably going to push as hard as they can too.
"I think just approach it with the same we approached it the past two years, try and get the best out of myself and out of the car, and the team, and then we'll see where we are on Sunday afternoon. Certainly we feel confident going there."
Despite standing on the brink of history, Rosenqvist also doesn't feel under any pressure. Instead, he's relishing the chance for another opportunity to tackle Macau.
"Obviously many people look at it like I have everything to lose. I think already winning twice is already something really rare, but as I said, that's not really the focus for me," says the Swede.
"It's more about having fun. I actually don't really feel any pressure at all to be honest. Even if I wouldn't win, I would be just happy to be there. I think anyways I have the best chance to win and be with a team that won last year and I won last year as well.
"I don't see any reason why I would not be up to speed in F3. Obviously everyone would expect me to win, so let's see."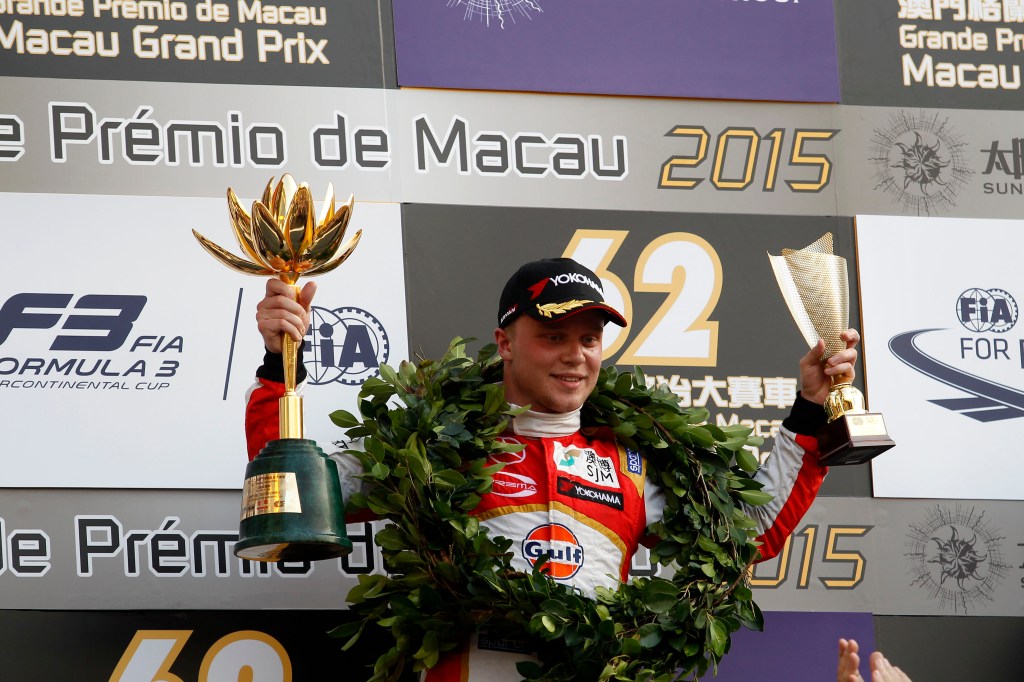 Both Rosenqvist and Engel are rookies in Formula E this year, with the all-electric series' calendar featuring nothing but street circuits, designed to bring racing to the world's biggest cities. By cutting their teeth on Macau, making the transfer to Formula E's comparatively tame layouts will become much, much easier.
"The experience of street tracks is going to help as Formula E is only on street tracks," Engel says. "The format I have to say is not too dissimilar in GTs because you don't get a lot of running time in Macau. You get two 30-minute sessions and then you need to be there, which is quite similar to what we have in Formula E. So I think it's definitely good practice.
"But then obviously in GT3, it's a different beast to a Formula E car. Both great cars but obviously completely different, so in that respect maybe Felix has a bit more to draw on, because I think Formula E is a lot closer to a Formula 3 car."
Rosenqvist has proven himself to be a street course specialist throughout his career, as evidenced by his victories at St. Petersburg and Toronto in Indy Lights earlier this year. However, nothing can prepare him for what Macau offers.
"This year I gained experience with some new street circuits in America in St. Petersburg and Toronto, which was very challenging but in a very different way," Rosenqvist says.
"It didn't really require bravery, it was more technical in terms of being very bumpy. I think it's a bit more similar to what you have here in Formula E. Macau itself, it's not so bumpy, it just requires so much commitment and bravery. When you really go for that qualy lap, it's like the walls close in and go by so quick.
"You need balls," he adds with a smirk. "It's also technical for sure but not in the same way as something like this."
So where does Macau stack up against other tracks? Is it the toughest street course in the world?
"Yes," is the immediate response from Engel.
By a long way?
"For myself anyway," he replies. "I've raced quite a few. I've raced at Pau and in the V8s in Australia, but Macau is just something else.
"There is a reason why all the drivers say Macau is the ultimate challenge. It just combines so many factors into one track. It's probably the longest street track by a long way, with lots of up and down variations, speed variants from Melco hairpin, which is probably the slowest corner in motorsport, to Mandarin corner which is one of the quickest in motorsports. There's everything there."
Despite neither the F3 or GT3 races forming part of a world championship, victory at Macau ranks highly in both the careers of Rosenqvist and Engel.
"Maybe winning the F3 title was more important, but from my point of view, Macau is the one I'm most proud of, especially winning two times," Rosenqvist says. "I would really put that on top of my list."
Engel concurs: "I think winning the Nurburgring 24 Hours this year was extremely special and the way in which we did it, but winning Macau is just indescribable.
"For me it's definitely the highlight of my career. Being able to go and win it twice is very, very special."
As the ultimate challenge in motorsport, Macau is a race that all the drivers want to win. Engel and Rosenqvist have enjoyed successful seasons thus far, but to cap 2016 off with a third victory around the famed streets would surely see both reach a new high in their racing careers.