This weekend saw SCORE International Off-Road Racing's marquee event, the 49th Baja 1000, take place in Baja California, Mexico and for the third straight year one of off-road racing's aces, Rob MacCachren, took the overall win.
MacCachren shared the No. 11 Rockstar Energy MacCachren Motorsports Ford F-150 SCORE Trophy Truck with Jason Voss en route to the win. The two completed the 854.50-mile (1,374-plus kilometers) course, which was a loop race that started and ended in Ensenada in 17 hours, 12 minutes and 58 seconds, averaging 49.63 mph.
MacCachren had co-driven with Andy McMillin to win in the last two years, before the two went into separate trucks this year. McMillin finished seventh, co-driving with the winningest driver in Baja history, 13-time champion Larry Roeseler.
The teams of Carlos "Apdaly" Lopez/Juan C. Lopez and Troy Herbst/Ryan Arciero completed the Trophy Truck and overall podium, and were also the only three teams of the 270 starters who finished the race in under 18 hours.
A key pass of both trucks when they were making pit stops helped net MacCachren the lead, proving unassailable as he took the BFGoodrich-shod entry to another win. BFGoodrich, which celebrated its 40th anniversary of off-road racing at Baja this year, was a popular choice among most of the field.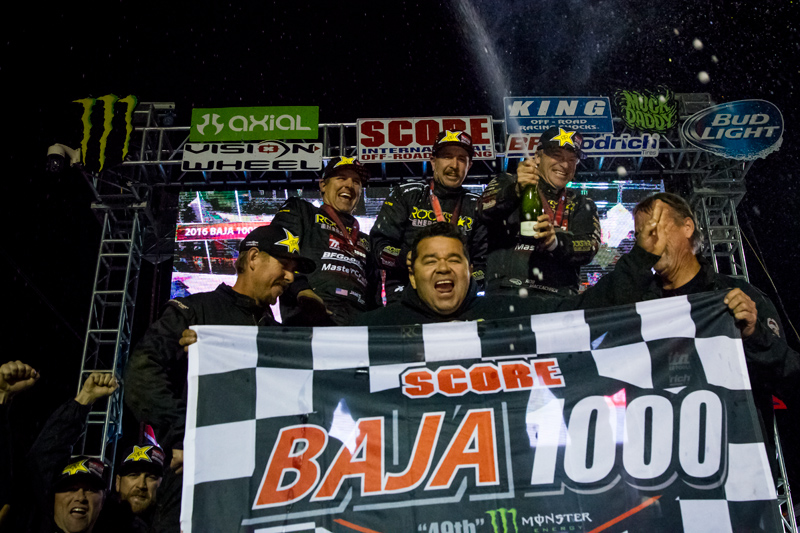 "We had a flawless day with 854 miles of the most brutal desert in Baja," he said after the race. "We had over 80 people down here helping us with this race. We had 11 chase trucks and four fuel stops and lots of people at home rooting us on. It was a really good day. We qualified fifth, hung out with everybody in the race and it slowly materialized. When we were first on the road we had an alternator wire that had broken off so we had to get that fixed. That put us down for about nine minutes. After that we were fourth on the road and we started working our way back up.
"Around mile 475, the Riviera truck and one of the Herbst trucks was still in front of us but they pulled over to pit so we went on by. I gave the truck to Jason at mile 498. He was first on the road from there and just nailed it. He went across the crossover road and gained five minutes on everybody. We felt really good but nervous wondering if the truck was going to make it. The competition is so tough that you've got to push the truck and cross your fingers that it is going to make it."
MacCachren reflected on the achievement of the three-peat in the punishing, brutal, yet immensely rewarding race in Baja.
"Larry Ragland won three SCORE Trophy Truck races in a row and he was always somebody I looked up to and respected. I saw him this morning and I shook his hand and said, 'I've been thinking about you all day because of the three-peat and I hope I can do that.' I've wanted to do that for a long time and we got it done.
"It makes me hungry to win another one now. As every win happens you want another and next year being the 50th anniversary, winning that one would be special. My first Baja 1000 win was in 2007 and that was the 40th anniversary. Strategy starts 365 days before the race but I can say that before this race even started I was working on my 2017 plans. We already have our motel rooms done here and in La Paz. I've already spoken with Jason about helping in 2017 so hopefully that happens."
MacCachren's win was not the only one at Baja, of course. With 270 starters and a wealth of other classes, here's the roundup of winners. I was in Baja for this race last week, hence why I was offline for a few days. Reflections on what is simply a surreal and incredible event will come in the following days here.
—
SCORE TROPHY TRUCK (Unlimited Production Trucks)—1. 11 Rob MacCachren, 51, Las Vegas/Jason Voss, 29, Cupertino, Calif., Ford F-150, 17:12:57 (49.63 miles per hour)
CLASS 1 (Unlimited single or two-seaters)—1. 138 Ronny Wilson, 54, Long Beach, Calif./Randy Wilson, Long Beach, Calif./Brian Wilson, Lakewood, Calif., Jimco-Chevy, 19:21:07 (44.16 mph);
TROPHY TRUCK SPEC (unlimted Truck/SUV, stock, sealed V8s)—1. 277 Rod Lewis, 62, San Antonio, Texas/Clint LaRue/Eric Jacobs/Justin Hermann, Jimco-Chevy, 21:58:53 (38.87 mph);
CLASS 2 (Unlimited Open-Wheel, car/truck, 3.6-Liter Turbo or supercharged)—1. 2001 Jeff Proctor, 38, San Dimas, Calif./Jason LaFortune, 37, Upland, Calif./Jeff Mortise, Honda Ridgeline, 27:09:13 (31.47 mph). (1 Starter, 1 Finisher)
HAMMER TRUCK UNLIMITED (unlimited Rock Crawler/Hammer Truck)—1. 4405 Shannon Campbell, 46, Gilbert, Ariz./Wayland Campbell, Custom-Chevy, 22:12:20 (38.49 mph);
CLASS 10 (Single or two-seaters to 1650cc)—1. 1085 Justin Davis, 23, Chino Hills, Calif., Custom-Chevy, 21:01:27 (40.64 mph);
CLASS 8 (Full-sized two-wheel drive trucks)—1. 808 Rick Sanchez, 41, San Vicente, Mexico/Enrique Lara, Colonet, Mexico, Chevy Silverado, 25:35:03 (33.40);
CLASS 1/2-1600 (VW-powered, single or two-seaters to 1600cc)—1. 1609 J. David Ruvalcaba, 43, Ensenada, Mexico/Esteban Cruz, Ensenada, Mexico/Marcos Nunez, Ensenada, Mexico, VBR, 24:23:53 (35.02 mph);
SCORE LITES (VW-powered, Limited single-1776cc-or two-seaters-1835cc)—1. 1208 Rich Roberts, 58, Prescott, Ariz./Kirk Kontilis, 53, Blythe, Calif./Rob Martensen, 43, Phoenix, Foddrill, 26:07:42 (32.70 mph);
CLASS 5 (Unlimited VW Baja Bugs)—1. 500 Victor Cesena, 29, Cabo San Lucas, Mexico/Gerardo Iribe, Santa Ana, Calif., 24:46:46 (34.48 mph);
HEAVY METAL (Open Production Trucks, V-8 engines)—1. 8013 Ivan Rivera, Mexicali, Mexico/Marco Rivera, Mexicali, Mexico/Javier Pacheco, Mexicali, Mexico/Jorge Rivas Jr, Mexicali, Mexico, Chevy Silverado, 29:47:57 (28.67 mph)
Trophy Lite (Unlimited Mini-Truck, 2.2/2.4-Liter Ecotec engine)—1. 6077 Ryan Lewis, 22, Nashville, Tenn./Brad Pace/Casey Adkisson/Eric Sheetz, TrophyLite-Chevy, 28:58:38 (29.49 mph)
CLASS 7 (Open, production mini trucks)—1. 704 Aaron Celiceo, 44, San Diego/Kevin Adler, 50, Hawthorne, Calif./Adrian Celiceo, 46, San Ysidro, Calif./Mario Melgar Sr, 52, San Ysidro, Calif./Pedro Mercado, San Diego/Mario Melgar, Jr., Toyota Tacoma, 26:29:28 (32.26 mph);
PRO UTV FI (Forced Induction, 4-wheel Utility Vehicle)—1. 2913 Branden Sims, 30, Prescott Valley, Ariz./Justin Krause, 31, Prescott Ariz., Polaris RZR XP4 Turbo, 22:33:51 (37.87 mph);
PRO UTV (Naturally Aspirated, Stock 4-wheel Utility Vehicle)—1. 1967 Rhys Millen, 44, Huntington Beach, Calif./Stephan Verdier, Polaris RZR XP1000, 22:06:46 (38.64 mph);
CLASS 5-1600 (1600cc VW Baja Bugs)—1. 578 Gustavo Avina, 44, Ensenada, Mexico/Gabriel Avina, 24, Ensenada, Mexico/Gustavo Avina Jr, 21, Ensenada, Mexico/Erik Rivera, 31, Ensenada, Mexico, 26:31:53 (32.21 mph);
CLASS 3 (short wheelbase 4X4)—1. 302 Donald Moss, 53, Sacramento, Calif./Ken Moss, 49, Bishop, Calif., Ford Bronco, 34:54:42 (24.48 mph).
BAJA CHALLENGE (Spec, Subaru-powered Baja Touring Cars)– 1. BC2 Bill Weber, 63, Las Vegas/Jay Jakupa, Greenville, S.C./Rich Minga, 55, Fallbrook, Calif./Mike Johnson, Glen Allen, Va./Larry McRae, St. George, Utah/Lance Clifford, St. George, Utah, 28:06:29 (30.40 mph);
STOCK FULL (Stock, Full-sized Trucks)—1. 8101 Rod Hall, 79, Reno, Nev./Chad Hall, Reno, Nev./Frank DeAngelo, Greenville, South Carolina/Shelby Hall, Reno, Nev., Hummer H1Alpha, 32:13:59 (26.51 mph);
CLASS 11 (stock VW sedan)—1. 1103 Noe Gutierrez, 32, Ensenada, Mexico/Sergio Fabela, 31, Ensenada, Mexico/Oscar Beltran/Jorge Maldonado, Ensenada, Mexico, 31:56:53 (26.75 mph).
SPT UNLIMITED TRUCK—1. 1444 Jim Bunn, 68, Bristol, Va./Raymon Fernandez, 40, Ensenada, Mexico/Thomas Fernandez, 42, Ensenada, Mexico, Chevy Silverado, 27:26:49 (31.13 mph).
SPT UNLIMITED BUGGY—1. 1504 Ricardo Rodriguez, Ensenada, Mexico/Ramon Ortega, Ensenada, Mexico/Luis Magana, Ensenada, Mexico/Rogelio Robles, Ensenada, Mexico, Custom-VW, 35:59:37 (23.74 mph).
PRO MOTO UNLIMITED (450cc or more)—1. 1x Colton Udall, 30, Yucca Valley, Calif./Mark Samuels, 27, Yucca Valley, Calif./Daymon Stokie, Australia/Justin Jones, Murrieta, Calif./David Kamo, Boise, Idaho, Honda CRF450X, 18:16:42 (46.75 mph);
PRO MOTO 30 (Riders over 30 years old)—1. 321x Benjamin Petter, 34, Renton, Wash./Reid Edwards/Kyle James, KTM 500XCF, 23:41:50 (36.06 mph);
PRO MOTO 40 (Riders over 40 years old)—1. 404x Jano Montoya, 45, Winter Garden, Fla./Francisco Septien, 41, Ensenada, Mexico/Gerardo Rojas, 45, Vicente Guerrero, Mexico/Kirk Russell, KTM 450XCW, 20:44:12 (41.21 mph);
PRO MOTO LIMITED (449cc or less)—1. 101x Mark Winkelman, 58, Cedar Hill, Texas/Jim O'Neal, 70, Simi Valley, Calif./ Austin Miller, Austin, Texas/Grant Statley, La Jolla, Calif./Schuyler Shoonmaker, Alpine, Calif./Mark Bradford, Santa Clarita, Calif./Ricky de La Pena, Rancho Cucamonga, Calif., Husqvarna 350, 20:55:34 (40.83 mph);
PRO MOTO 50 (Riders over 50 years old)—1. 507x Mark Winkelman, 58, Cedar Hill, Texas/Lou Franco, Sherman Oaks, Calif./Jim O'Neal, 70, Simi Valley, Calif./Jeff Kaplan, Thousand Oaks, Calif./Andy Kirker, Irvine, Calif./Flipper Manchester, Reno, Nev./Bryan Campbell, Bakersfield, Husqvarna 350, 25:39:17 (33.31 mph);
PRO MOTO IRONMAN (Solo Riders)—1. 702x Tony Gera, 21, Santa Cruz, Calif., Honda CRF450X, 25:01:28 (34.15 mph);
PRO MOTO 60 (Riders over 60 years old)—1. 625x Mark Hawley, 65, Anaheim, Calif./Robert Koch/Dennis Greene/Dennis McLaughlin/John Marshall/Ropert Hanson, Reno, Nev., Honda CRF450X, 32:24:58 (26.36 mph)
PRO QUAD (450cc or more)—1. 1a Javier Robles Jr, 26, Guadalupe Victoria, Mexico/Josh Row, El Cajon, Calif./Felipe Velez, San Felipe, Mexico/Jose Meza Velez, San Felipe, Mexico, Honda TRX450R, 20:49:12 (41.04 mph);
SPT M/C—1. 235x Fernando Barbosa, Miami/Fernando Ferreyra, Miami/Alberto Ruiz/Alejandro Holguin, Honda CRF450X, 23:27:33 (36.43 mph);
SPT QUAD—1. 103a Greg Delgado, 41, Chino, Calif./Oskar Espinoza/Hector Orozco/Heriberto Marquez, Honda TRX450R, 22:40:12 (37.69 mph);