Life is about lessons learned, and James Hinchcliffe has had more than his share of life lessons in the last year and a half.
Sure, many will immediately define his racing career by how he almost died in a crash, to triumphantly coming back a year later to earn the pole position for the 100th running of the Indianapolis 500, before ultimately finishing seventh.
But that's merely part of an ongoing evolution of how the Canadian IndyCar driver continues to learn about himself as a person.
For example, when the suburban Toronto native was first approached earlier this year to appear in Season 23 of of the hit ABC TV show "Dancing With The Stars," he was a bit apprehensive.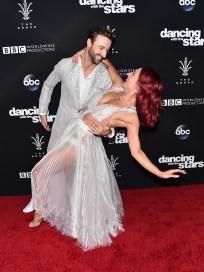 But the challenge of doing something he had never done – much like the comeback to racing that many thought he might never be able to do after his crash – proved to be a challenge Hinchcliffe couldn't pass up.
It's not surprising. That's the kind of Type-A personality the self-described "Mayor of Hinchtown" has. He's always ready and game for new experiences and new life lessons.
Sure, when he joined the DWTS cast, he learned about things like the foxtrot, waltz, rumba and tango.
But more importantly, he continued his ongoing process of learning even more about himself, and how if he could come back from near-tragedy, a mere dance contest would be a piece of cake.
And in a strange twist, Hinchcliffe's journey to finish runner-up in DWTS actually began with his admission of how he cheated death when he survived a horrific wreck while practicing for the 2015 Indianapolis 500.
Going through a tremendous battle to recover helped the Canadian native not only become a better person, it also helped give him the fortitude to take a chance he might not otherwise take, such as being part of DWTS.
"It all came from a comment that Dr. (Tim) Pohlman (Hinchcliffe's surgeon) made," Hinchcliffe said. "He firmly believes there was a point where subconsciously I made a decision to fight for my life.
"In the immediate aftermath of that accident, the chance of survival was very low. A lot of people wouldn't have made it through. He firmly believes that it was because of some sort of fight inside me that helped him do his job and ultimately get me through that.
"Sharna (Burgess, Hinchcliffe's partner on DWTS) started asking me questions about that. I obviously have no memory of that. That's not something that you do consciously. It's a subconscious thing. So from somewhere in the time from when I lose my memory to when I wake up, that happened, that decision to fight happened.
"(Burgess) saw that was a very, you know, important moment. That's what she wanted to create. For me there was kind of a gap in the story because I had not really thought about that, whether it was a subconscious or conscious decision. She so beautifully built that part of the story for me.
"Now I have a visual reference to what I think happened and how that went down inside me. It was a very cool process to be a part of."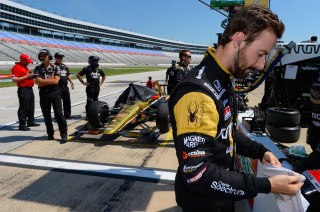 Hinchcliffe ultimately finished runner-up in the overall DWTS competition to 16-year-old Olympic Gold medal-winning gymnast Laurie Hernandez.
But no matter how he finished, the Schmidt Peterson Motorsports driver said the experience was much about life as a whole.
While certainly not as serious as recovering from his crash injuries, to put himself in front of millions on TV – and particularly with no prior dancing experience – took a lot for Hinchcliffe to do. And in a unique fashion, it may ultimately make him a better driver, he said.
"I think just being able to overcome the kind of fear, being outside of your comfort zone in front of such a large audience in the room and on TV," he said.
"It will help anytime I find myself in a situation where I am nervous or anxious about going into a race or making the move or whatever.
"Any kind of opportunity to flex your mental muscles in that sense and have that kind of experience will pay dividends in your own sport."
While the process of taking a self-professed guy with two left feet and turning him into the Fred Astaire of IndyCar racing was a challenge, it also changed Hinchcliffe's personality for the better.
"What it's really done for me is reinforced a belief that I had beforehand, which was that you can do anything you put your mind to," he said. "I came into this competition obviously with zero experience in the craft, a lot of apprehensions at doing it.
"Once I committed, I focused and put 100 percent of my effort towards it. … To finish runner-up to someone that is an Olympic gymnast I think is a pretty impressive feat for someone who sits for a living."
In yet another analogy that parallels his recovery from the 2015 career-worst wreck and the resulting love and support from around the world he received, Hinchcliffe received considerable support during his DWTS quest from many of his racing peers, including 2016 Indianapolis 500 winner Alexander Rossi, Conor Daly and former DWTS winner Helio Castroneves.
"Honestly, the support from the motorsports world was incredible," Hinchcliffe said. "Alex and Conor were at the first show. They made it to a couple throughout.
"Charlie Kimball was there (on) the last night. The amount of tweets of support from guys in the IndyCar paddock, guys in the NASCAR paddock, guys overseas, it was overwhelming. It was great to get that feedback and see that, A, they were watching, and B, they were supporting."
And as for Castroneves, who won DWTS in 2007, Hinchcliffe expects some good-natured ribbing coming up.
"I'm never going to hear the end of this from him, I'm well aware of that," Hinchcliffe quipped. "That's fine. He did a tremendous job. He did what he had to do. He was able to walk off with the trophy.
"We were not quite able to do that, but I was at least up at the sharp end, so we can still be proud of the effort."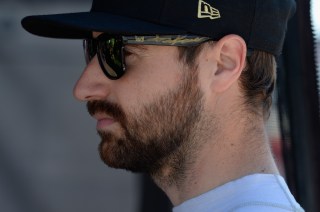 A further illustration of how competing in DWTS mirrored other elements of his life, including his development as a racer, Hinchcliffe gained confidence with each passing week of the dancing competition – even though he still asked himself at times, "How did I get here?"
"The nerves never fully went away," he said. "You certainly get more confident with the process, knowing what to expect in certain situations. That helps. Ultimately it was all still very new to me, even right through to the end."
Not only did Hinchcliffe experience a whole new set of life lessons during the nearly three-month run of DWTS, he also experienced a transformation in himself.
"It was a lot of hard work, I won't lie," he said. "It was not something that came naturally. (Burgess will) be the first to tell you that every Tuesday morning when we're starting from scratch, it was pretty rough.
"But by putting in the hours, not being afraid of a little hard work, some long sessions, late nights, repeatedly watching videos trying to improve, it's amazing what can happen."
Hinchcliffe came into DWTS thinking it'd probably be a one-and-done situation in more ways than one. He didn't think he'd get past the first elimination, and yet he made it all the way to the finals before coming up just a bit short.
When the contest was finally over, again, many thought it would be a one-and-done deal for Hinchcliffe. But just like he surprised by taking on the DWTS challenge, he surprised just as much with his response on whether he would try to go through the whole process again in the future.
"It's funny, when we were about halfway through the competition, I thought to myself, if for whatever reason I was asked to go again, I probably wouldn't," he said.
But …
"With what I've learned, how far I came as a dancer in that sense, then how close we came to the top spot, I think I probably could be talked into it again," he said.
As Hinchcliffe puts the DWTS mirror ball in his rearview mirror, he goes forward having made a number of new friends from the show, including competitors who said they will visit him at upcoming races in 2017, including the 101st running of the Indianapolis 500 in late May.
Now it's back to his day job of being a race car driver, looking ahead to offseason testing and then the opening of the new season in March.
"Obviously I put 100 percent of my effort into my day job, into racing," he said. "There's no need to re-convince myself that working hard and giving 100 percent is the right way to go about that.
"But certainly not being afraid to kind of tackle new things even within the sport, whether it's racing different cars in different series, trying to match a teammate in a certain corner with a certain setup. It's really just about making sure that you give yourself enough credit for what you're capable of doing."
Will the whole DWTS experience ultimately make Hinchcliffe a better racer?
"There's not a whole lot from a physical point of view that translates," he said. "Maybe my feet will be a little more gentle on the throttle, but that's about it.
"(But) there were a lot of parallels in the sense in how I wanted to make myself better as a dancer and how I would do the same thing on a race weekend as a driver."
Yet if he drives victory lane at any of the upcoming 17 IndyCar races in 2017, particularly the Indianapolis 500, you can bet one thing.
He may be driving behind the wheel, but his feet will definitely be dancing in celebration, yet another life lesson learned.
Follow @JerryBonkowski