When you think of NHRA drag racing and the name Force, you are most likely to first think of 16-time champion John Force.
But let's not forget about the future of the sport, and that certainly encompasses the racing fortunes of John Force's daughters, Top Fuel driver Brittany Force and Funny Car driving sibling Courtney Force.
The 2016 NHRA Mello Yello Drag Racing Series was one filled with highlights and career bests for both of the Force girls, including:
* They both finished sixth in their respective racing classes.
* They both won races, each led the point standings of their respective classes at some point in the season and each was in contention for the championship of their respective divisions.
To say the least, while disappointed at not winning the championship, both Force daughters are happy to have 2016 behind them and are looking ahead to 2017.
As for season highlights, Courtney Force called her win in the Traxxas Nitro Shootout the biggest achievement in 2016.
"We won that event against seven of the top Funny Car teams that were the most competitive last season," she said. "To know that you have a team capable of rising up for the moment really gets you motivated for future success."
Brittany's breakout race was her first career Top Fuel win at Gainesville, Florida, in early spring.
"I had been chasing that first win since my rookie season in 2013 and finally capturing that is something I will never forget," she said. "That day is one of the proudest moments in my career and was also (John Force Racing's) first Top Fuel win and first ever double-up win with teammate Robert Hight."
Both Force teams had major personnel changes heading into the season.
Courtney's team promoted Dan Hood (husband of another Force daughter, retired racer Ashley Force Hood) and Ronnie Thompson as co-crew chiefs on her Funny Car, while 11-time NHRA Top Fuel championship team owner and master engine tuner Alan Johnson was brought in to direct Brittany's dragster effort.
"The entire team really gelled together starting in (preseason) testing and by the end of the season we were all working great together," Courtney Force said. "We might not have won the championship but I think everyone on my team knows we have a great foundation to move forward into next season and beyond."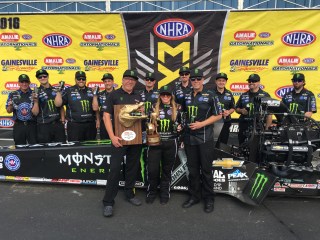 Added Brittany Force, "We made quite a few changes at the beginning of the year but this team learned to immediately adjust to it so well that we were able to bring our first win home just three races into our season."
But now that 2016 is behind them, Courtney and Brittany are both ready for 2017 to begin – even though they will have to wait two-plus more months to pick up where they left off from last season.
"We were No. 1 (in the standings) for four consecutive races (and) picked up a win early in Houston so we just need to get our routine down better and be more consistent," Courtney said. "That is what we are going to push for in testing over the off-season.
"That gets us excited for next season because we have a great team, a fast car and now we have a better handle on the new Chevrolet Camaro body. We are going into next season all together and we don't have to adjust much. We can roll into next season with some momentum and consistency."
As for Brittany, she noted: "Looking into the 2017 NHRA season, I am most excited to see how much our team will advance in comparison to previous years. I always set goals and push to improve each year and looking back on an impressive season I'm confident we will go further next season. We plan to win more races and go after that championship."
Brittany Force ultimately won not just her first career race last season, but added two other victories as well. You can almost immediately tell the difference in her confidence going forward.
"I am more confident in myself and my team that nothing is out of our reach," she said. "We will push harder and push for more because we all want that number 1 on the side of our car."
As for 2017 goals, Courtney Force says she wants to qualify again for the NHRA's six-race Countdown to the Championship playoff, to win the U.S. Nationals for the first time, and of course, to win the overall Funny Car championship – even if it means beating out dear old dad.
"I feel like we have a team over here that could really take that dream home," she said.
Not surprisingly, Brittany's goals are similar.
"I plan to improve in areas that I struggle with as a driver," she said. "I want to finish this next season a step ahead of where I am now. As a team, our goals are to win more races and go after that championship title."
Follow @JerryBonkowski