"So, this one time, at Baja…"
Most stories about the Baja 1000 begin with this phrase or a variation of it. And yes, sometimes it does take a turn down a road you don't expect, similar to Alyson Hannigan's "Michelle" character goes in the teenage cult classic American Pie.
But what makes Baja great is not necessarily the racing, or the cars. It is more the stories; the experience; the perseverance; the triumph of human emotion and the human spirit over the elements that make this race unlike any other in the world.
Forget the tired "man vs. machine" cliché when describing Baja. When you think about this race, think of it as an immaculate Mexican dinner combination. In this case, the quesadilla, taco, rice and beans are the people, the cars, the elements, and the race against time.
The 49th edition of the SCORE International Off-Road Racing-sanctioned event at Baja from November 16 through 20, and the 40th year for one of the race's iconic tire partners in BFGoodrich Tires, was all of that and then some.
PRE-RACE PREP WORK
Baja is not unlike the 24 Hours of Le Mans, arguably the greatest endurance race on the planet, certainly for sports car racing if not overall.
The Mexican peninsula city transforms from a quiet town drawing tourists by boat into a metropolis featuring huge displays, passionate fans, cars and teams of all shapes and sizes, into a party zone.
The preparation work begins with the previous year's race, and transitions into the pre-runs on this year's course.
Baja is either a loop race or a point-to-point, with the point-to-point from Ensenada in Baja California further south a significantly tougher logistical challenge. This year's race was a loop, so it was "only" 854 miles and change, over 1,000 kilometers.
While this behemoth of a race starts on Friday morning, just two days before, the mood is a relaxed one at La Fonda restaurant, about halfway down from the U.S. border just south of San Diego to Ensenada and the race's starting point.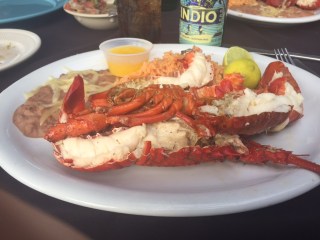 You're in Mexico? Kick it off with margaritas, beer and fresh lobster. And then talk tires.
The introduction of engineering to this race has changed the game. Figuring out what tires will be best over the punishing terrain is the challenge for the overall win contenders, the SCORE Trophy Trucks. Meanwhile for cars as aging and decrepit as old Volkswagen Beetles, surviving is the only goal.
Competitors young and old, experienced and rookies, are all brought together a few hours later at the BFGoodrich pit meeting. There's more than 100 vehicles of the 260-odd entries that are running on BFGoodrich. All are treated equally, with as much dedication provided to the two-man team as there is the top Trophy Truck entrants (the full post-race release and details is linked here).
"The crowd in here is the heart and soul of this sport," says Chris Baker, motorsports director, Michelin North America and BFGoodrich. "Without the people in this room, where would we be?"
Frank DeAngelo is the company's longtime off-road leading man, having probably forgotten more about Baja than most of us will ever know. If you had to describe him, he's the off-road version of "Moonlight" Graham from Field of Dreams – short cut white hair, a perfect mustache, and a twinkle in his eye emerging beyond his glasses.
For the first time, DeAngelo isn't just heading up the pits and explaining to all those competitors how to keep in contact. He's driving in the race, himself, in the Full Stock class (lightly modified full-size pickups/4x4s).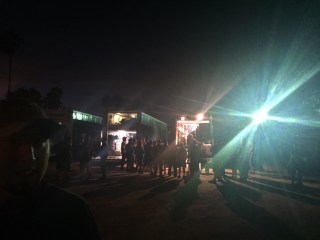 Once the meeting is over and the first round of discussion exchanged, we then see the full set-up operation outside the room.
There's at least three full rigs. The crew – most of them volunteers – will do anything they can to weld and fix broken, battered machinery as they hit the pits… within reason.
"There's some, shall we say, 'creative engineering,' that goes on," I overhear from one of the crew guys.
A dinner that night was meant to feature a race team, although that fell through at the last minute. But a couple videos that highlighted BFG's contributions to the race, and a mariachi band that I still can't get out of my head weeks later, made up for it.
YOU WANT ME TO DRIVE?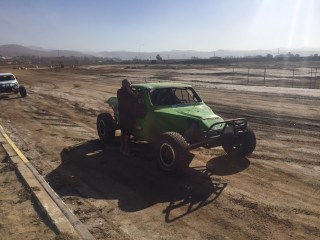 The immersion experience continued Thursday morning. Forget the fact we're racing in not even 24 hours; we're instead at the Hotel Estero once again, on the dirt short course used for off-road trucks.
The Baja Challenge vehicles are here, ready for the BFG contest winners to take hot laps with the BFG crew who's on site and some of whom will be racing this weekend. These vehicles will also be raced as one of the many classes in the race itself.
"If you relax yourself, you're going to love it. If you tense up, you're going to hate it," I hear when I get my ride-along with Brian Finch, out of Hermitage, Tenn.
Of course, me thinking I'm going to get tossed around like peppers in a scalding hot dish of fajitas does me no favors going into it, and naturally, I tensed up. Then a lap passed, I relaxed myself, and I loved it. It was almost like Finch knew what he was talking about…
Following that though, the other journalist along for the ride (Mike Sutton of Car & Driver) and I had debriefed with Baker and a couple others. The words that followed next – "You're going to have a drive in these buggies" – were utterly terrifying.
The reason motorsports journalists are motorsports journalists is because we're failed racing drivers. For me, my sign I knew I wasn't making it was when I damn near killed myself in a church parking lot in a go-kart. Of course, that's when I thought to myself, "There has to be another way…"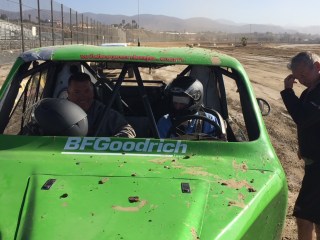 Anyway, inspired by at least a slight bit of confidence from my first real race driving experience earlier in November (more on that to come in another piece), I guess I figured "How bad can I be?" Finch was braver being in the passenger's seat.
The clunky bit first: I stalled the car twice leaving while adapting to the BTC-Subaru's standard 4-speed, H-pattern. That produced expletives from the driver's seat, laughter from the peanut gallery. But third time being the charm, I got it going, and then took Finch's earlier advice.
The first two laps were about getting comfortable; the third is when I finally got the hang of it. Hitting those jumps at speed was pure bliss – and that mere taste gave me a glimpse at what warriors these drivers are doing this for the entirety of a race.
Once I pitted, I actually got applause and plaudits from the crew… I'm not sure whether it was because of my lap three improvement or because I hadn't barrel rolled. Either way, mission accomplished.
It was at that point I learned more about the soul of Baja from a race veteran named Bob Bower, a 38-year veteran of the race. Co-driving with Robby Gordon, he won the race in a Ford Pickup in 1989.
"Here's the thing about Baja," he said. "If I had a memory then, I'd have remembered all the incredible things I saw. You're young enough to where take a minute to breathe, pause, and soak this thing in."
It was almost as though Bob had been hand delivered to me in that moment as my personal Baja Sherpa. It's not that I hadn't been taking things in before, but I was determined to do even more from there.
THE ENDURANCE RACE BEFORE THE ENDURANCE RACE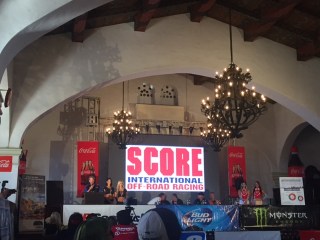 What they don't tell you about Baja is that the Thursday press conference might be more of a marathon than the race itself. And I say that having covered more than 10 series this year, none having put on a press conference as painfully long, arduous and repetitive as this one.
It's the mix of dignitaries, key event officials, drivers and the event race girls – now Bud Light girls owing to a change in beer sponsorship from Tecate – and none of them look happy to be up there.
My press conference experience was at least made easier by the fact I was seated next to Mark McMillin, the de facto "godfather" of his McMillin Racing team, who have made a tremendous impact on Baja over 40 years. For reference, these guys are the Team Penske or Hendrick Motorsports of Baja, leaving no stone unturned and no detail uncovered in their preparation for the race. A seemingly endless array of folks came by to say hi to McMillin and thank him for his contributions, and see how he was doing. As I'd later see first hand with the team from Friday, the plaudits were deserved in every facet.
CONTINGENCY – SPANISH FOR CRAZY TECH LINES AND FAN TURNOUT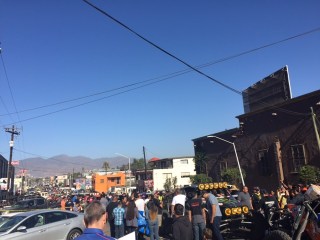 Le Mans has scrutineering. Baja has contingency.
Both are downtown technical inspections where race officials examine all vehicles, thus giving the fans – and competitors – an open look at every car in the race.
The scene is mental. For blocks upon blocks it's people surrounding cars, loud music playing in the background, street vendors coming at you with either food, souvenirs, or food souvenirs. There is no escape; you're just swallowed, and yet you wouldn't want it any other way.
A lunch break took us to El Corralito afterwards. This place is another one of those, "Only in Baja" type of joints. Populated in large part by visiting Americans, the décor is filled with dollar bills that have been put on the walls over the years. There's race pictures and tires in the restaurant.
And then there was the size of the tortas, the Mexican sandwich. That thing weighed as much as one of my past colleagues at Michelin did, and when he started eating it for lunch, we wondered whether he'd finish first or the race would. My chicken mole, meanwhile, was dynamic…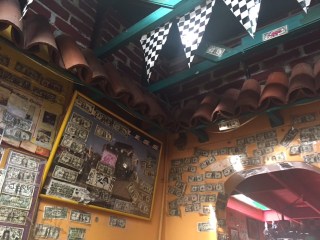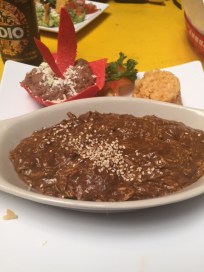 THE FINAL NIGHT OF PREP
Much like other endurance races, you're not doing a ton in the day before the race, but resting up early knowing that you're likely going to be up north of 24 hours from Friday morning. So my BFG colleagues Alex (torta man) and Tom and I went to a taco stand within walking distance from the hotel. This was just what I was craving. And, weeks later, I think my mouth is no longer on fire from the salsa…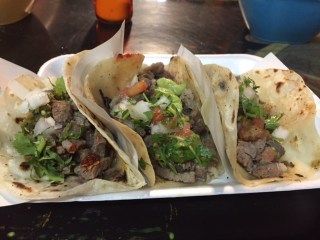 RACE DAY
I'll break this out into a separate post, as I was embedded with the McMillin team in a chase truck from start to finish. But a few Cliff notes of what to expect in that are below:
The first message of inspiration from the team: "Get where you need to go first, then dick around." So much of off-road racing and Baja in particular is "hurry up and wait," and in this case, it's important you're ahead of the curve before your vehicle arrives.
The fans are INTENSE. This could be where kids come running up to your truck looking for stickers; you'd better come prepared. Or, it could be when someone decides to flash or moon the cars… heavy concentration is required. We only stopped at one checkpoint where there were a ton of fans before the pits. But in that checkpoint, we saw how insane it is and what fans are doing when cars come through.
The contrast between towns where there's people and isolation is mammoth. When you're surrounded by people, you're inspired to race faster and harder for them. When you're out in the middle of nowhere, which you are for way more of the race, you're thinking about one thing and one thing only: survival.
Finishing isn't everything, it's the only thing. If you aren't the overall winner, or within the overall top 10, then the only thing that matters is finishing. Standing by the checkered flag, waiting for other teams to finish, provides that sign of relief as you're just so happy they made it. For the teams and drivers that fail to finish, the allure of trying again next year is the drug they inhale.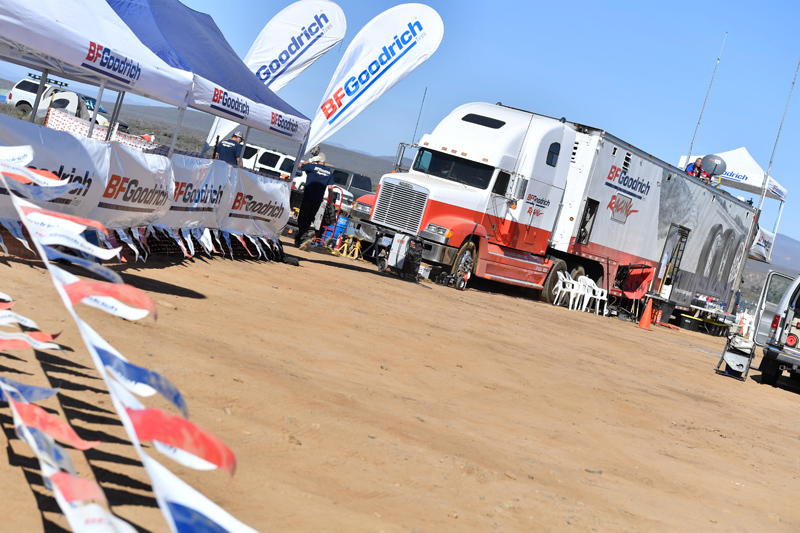 The BFGoodrich setup. Photo: Art Eugenio/GetSomePhoto
THE EXPERIENCE AS A WHOLE
The word that I couldn't get out of my head all week in Baja to describe the experience is authentic.
Authentic sums up the care BFG has for all its competitors and the race itself.
Authentic describes the food at every opportunity, and the people who are so dedicated to making it.
Authentic nails the passion the fans have for every vehicle in line, whether in contingency, at the starting line, around the 854-mile circuit, or back at the finish line anywhere from 17 to 36 hours later after starting.
Authentic hits the surroundings. You know you're in Mexico when you're down there. When you see McDonald's and Starbucks, you're offering quizzical looks because it's not a Pemex, a taqueria or a llanteria (tire store). The ambiance is quintessentially Mexico.
And authentic summarizes the fact that no matter how many times you go to Baja, you will learn something new every year. There will be no two Bajas exactly the same.