IMSA's Prototype Challenge presented by Mazda series will be one to watch in 2017 with the introduction of LMP3 cars to the championships, joining the existing Prototype Lites cars which will be fused into a secondary class next season.
What was initially called PC1 and PC2 will now be rebranded as more accurate LMP3 and Mazda Prototype Challenge (MPC) classes. Continental Tire earlier this week was confirmed as the series' exclusive tire supplier, replacing Cooper Tires.
This is a natural expansion of Continental's relationship with IMSA; Continental Tire serves as exclusive provider to the IMSA WeatherTech SportsCar Championship's Prototype, Prototype Challenge (class) and GT Daytona classes and the Continental Tire SportsCar Challenge series, as well as entitlement sponsor of said series.
"We're thrilled to announce the integration of the Prototype Challenge series into our portfolio of racing properties," said Travis Roffler, director of marketing for Continental Tire. "We're honored to increase our partnership with IMSA to include this series and we look forward to showcasing our abilities on a global platform like the Prototype Challenge stage."
There will be a dry and a wet compound provided in each class. The tires will be part of Continental's ExtremeContactTM line of tires, similar to the ExtremeContactTM Dry Race and ExtremeContactTM Wet tires seen in the IMSA WeatherTech SportsCar Championship. These tires were designed to have high levels of grip throughout a full fuel stint and will help maintain peak performance to make it fun for the drivers and entertaining for the fans.
"IMSA continues to enjoy a strong and mutually productive partnership with Continental Tire," said David Pettit, IMSA vice president, marketing. "We appreciate Continental increasing its already deep commitment to our sport through this new agreement. The exciting competition coming in 2017 and beyond in the new-look IMSA Prototype Challenge presented by Mazda platform will be enhanced by the consistent durability and performance of state-of-the-art Continental tires."
**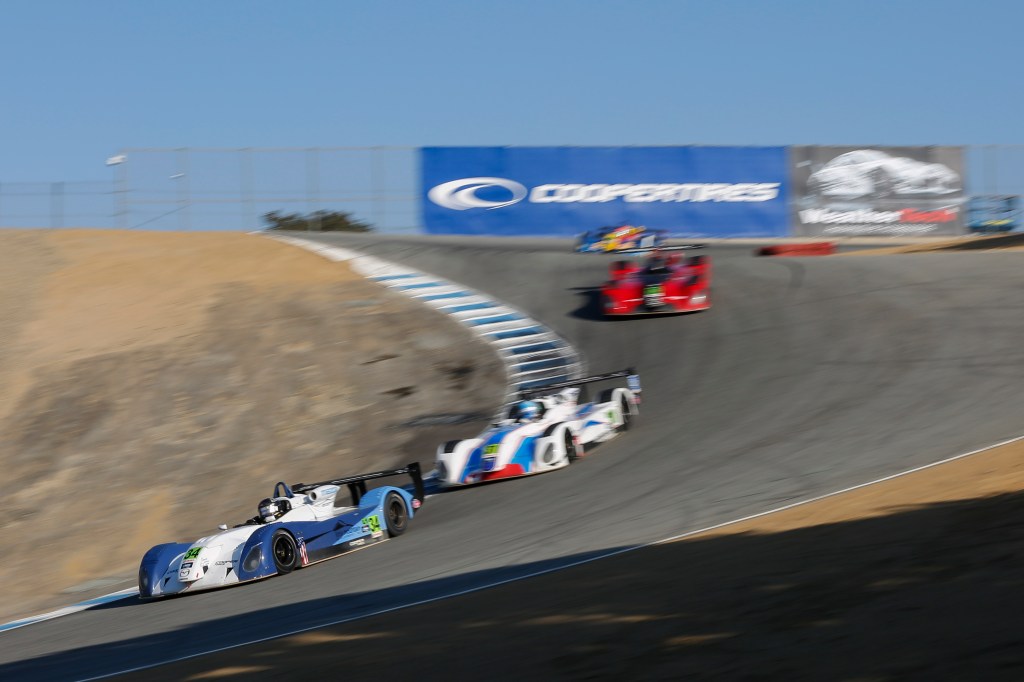 While the Continental deal continues with this expansion, it's worth noting the Cooper and Mazda relationship remains as strong as ever, following conversations with both manufacturers – even though this tenure with those two united under IMSA sanction is temporarily at an end.
The series name has changed from Cooper Tires Prototype Lites presented by Mazda, to Mazda Prototype Lites presented by Cooper Tires, to now its new name of Prototype Challenge presented by Mazda in the last three years.
"Most relationships are always deeper than a piece of paper," John Doonan, director of Mazda Motorsports North America, told NBC Sports. "Many are years long, and with Chris (Pantani), we have one of those with Cooper.
"With (IMSA) Prototype Lites, we wouldn't be involved if it wasn't a long-term platform of developing young talent.
"IMSA has great relationships and after the RFPs were put out, this decision was made. While change may be difficult, we remain confident in IMSA continuing to develop the Prototype Challenge series as a place where drivers can gain experience in a good platform."
"There was a lot we did to help support the series, with help with the technical inspection area, and help with ups and downs of the fields. We believe in drivers and teams to move on up for their sports car careers. We were happy to be part of it," Chris Pantani, Director of Marketing, Event Marketing and Motorsports at Cooper Tire & Rubber Company, added to NBC Sports.
"Both David Pettit and Brandon Huddleston of IMSA kept us informed throughout the entire process. We have nothing but high regards for them. We appreciate them. And we may come back around."