Last month, I had the opportunity to take in my first SCORE Baja 1000, the 49th running of the off-road classic. Trying to chronicle the experience took a bit more time than just doing a day-of report.
In part one of my reflection, I looked back at the event itself on the whole. In part two, I'll reflect on my ride-along in a chase truck with McMillin Racing, one of the preeminent teams in Baja history. Sincere thanks go to to the team and to BFGoodrich Tires for making this all possible.
And now, without further adieu, part two…
—
Imagine for a moment you're embedded with Team Penske at Indianapolis. Or Porsche at Le Mans. Or Hendrick Motorsports at Daytona.
Except you can't really imagine it, because unless you're either a wunderkind who is the best 20-something prospect out of university or a grizzled veteran with enough years experience to make it into arguably the crème de la crème of any of these teams, it's probably not going to happen.
Such a tantalizing and unattainable prospect though is turned on its head when BFGoodrich Tires tells you, "you're going to be embedded with McMillin Racing at the Baja 1000."
This is the off-road equivalent of getting your masters' degree at the legendary university that is Baja.
And when I heard I'd be embedded with these guys for this year's race, my already stoked, piqued interest was taken to the next level.
BACKGROUND ON "BIG BLUE"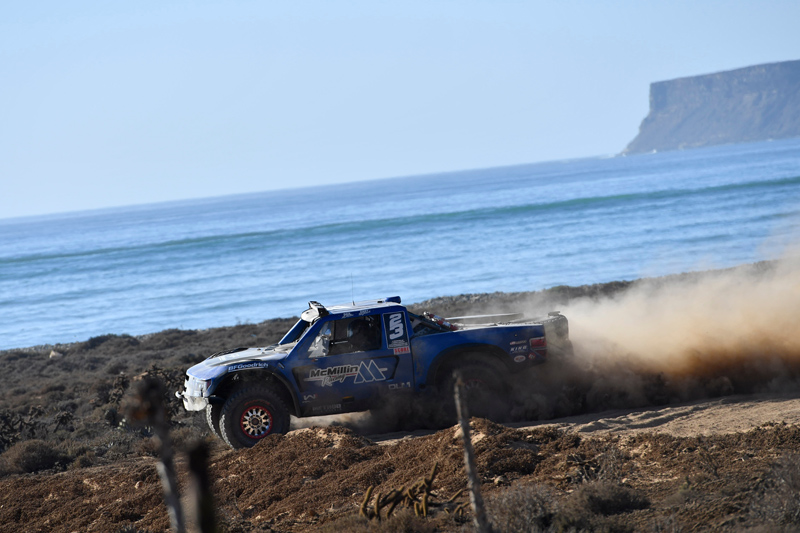 There is so much more to San Diego than its mere inclusion in Anchorman, with Ron Burgundy's rather legendary/infamous description of the town far from giving the town justice.
While it's an incredible city filled with great beaches, food and culture, it's not particularly known for racing – at least circuit racing.
But this is the city where the McMillin family laid its roots and began its conquest. From when Macey "Corky" McMillin began to explore the local deserts near his home, they figured out very quickly this was a terrain to be conquered.
And when McMillin started a small construction company in San Diego, it wasn't just a construction empire they built. It was also an off-road one.
This year marked BFG's 40th year at Baja but for the McMillins, this year also held that same 40-year significance.
From the humble beginnings in 1976, for more than 30 years, McMillin and the desert have been synonymous with success. No, they weren't the only team of dominance but they're one of the legendary outfits.
As of 2014, the team had 667 total race entries with 303 races entered. In that span, there were 236 class podium victories, 100 race class victories, 45 overall race victories, and 40 team owned or prepped race vehicles.
The story began with an "old" hi-jumper class 9 1200cc VW Type 1 buggy in 1976; today, McMillin Racing is known for its Trophy Truck presence for third generation drivers Dan and Luke McMillin. It's a custom tube frame truck from Racer Engineering, with a Kroyer Ford V8 engine under the hood. It exudes power and strength at every opportunity.
The unofficial "godfather," as you were, is their father Mark McMillin, who was a standout driver and Baja winner in his own right and is now the team principal. In just a three-day period, I got to see firsthand the level of dedication to his team, his craft and his people. It was one of the most engaging experiences I've had in 11 years reporting and in 21 years in motorsports since I first became a fan.
Much more can be found about the team's history in the "Big Blue" book, which does over 500 pages of storytelling. Without even really getting going, I'm already just at over 500 words here in building up the intro.
RACE DAY LAUNCH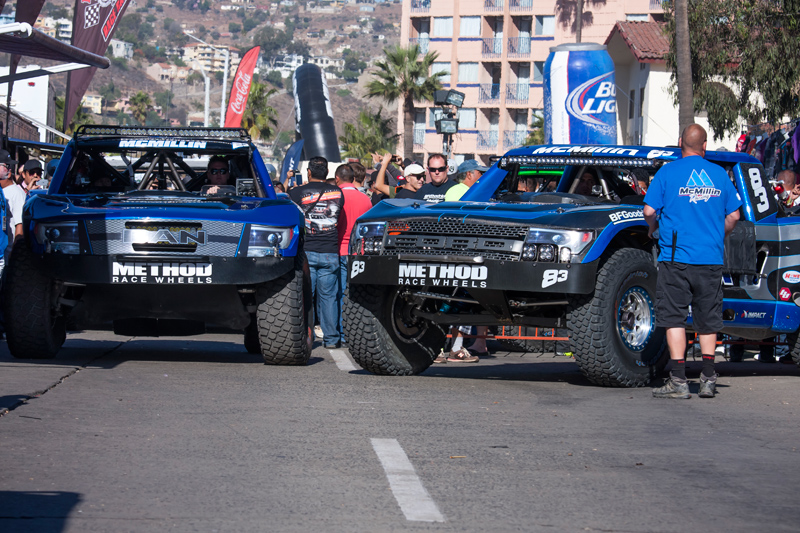 So when you're embedded with a race team at Baja, you become one of the crew. With a team of 53 people at this year's Baja, I'm treated no differently than any of McMillin's full-time crew, or its volunteers – this is to say that I'm already part of the family almost from the off.
I met the guys I'd be riding with on Thursday at contingency. The order was simple; get yourself to our hotel before 8 a.m. on Friday, race morning, and we'll take it from here.
Race day dawns. It's weird, first off, that you're going to a hotel first and not to a track. Everyone loads up here and then heads out to our first checkpoint, which the trucks won't be hitting for several hours.
"HURRY UP AND WAIT"
"Get where you need to go first, then dick around."
This is the first lesson of race day at Baja. When you're in a chase vehicle such as the Ford F-150 Raptor we were in, your goal is to get to your checkpoints before the truck arrives. If ever you are behind, this is bad.
I was in a truck with our driver, Shawn Huddleston, with support from Steve Schuler (co-driver, passenger's seat) and Tom Calhoun riding with me in the backseat. In the truck, we have all sorts of supplies. It's primarily parts for the trucks to ensure we've got whatever they might need out on the course, but it's also parts for us, most notably lunchmeat and desserts.
"You're going to be eating on the fly, and possibly doing other things on the fly, so get ready for that," Shawn says.
The race doesn't begin for the trucks until 10:30 a.m. local time, but the race morning preparation is already well underway hours before that.
Mark, who'd offered me a ride with the crew in a helicopter (I declined, because doing my first off-road race was enough before adding yet another variable), set off in the helicopter at 8:21 a.m. to get in position. The two chase trucks left the hotel at the same time.
More importantly, I devoured my first Clif bar.
The glamorous food you get in Mexico ends when the race starts. It's a steady diet of 'Merica from there.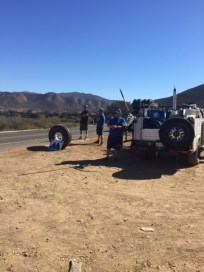 We arrive at our first checkpoint at 9:30 a.m., slightly more than an hour after we left the hotel. In that time, we'd passed a military checkpoint, saw the bikes that were racing (they start earlier), while a car behind us honks its horn. Yes, because we were going to go ahead while the police – who were directly ahead of us – were holding us.
Once to "La Grulla," the first checkpoint, the reality of how vastly different Baja is compared to any other race sets in.
You're not watching a race. You're watching men push carts trying to sell you various chotchkies or food while standing inches away from early 1990s Ford Pintos or equivalent cars. You're watching to make sure none of your newly discovered friends are using the support truck as a temporary restroom. You're talking politics.
At 11:30 a.m., we get our first radio call that Car 23 – Dan McMillin's truck – was already at mile marker 20 at 11:02. Luke McMillin is in truck 83. We're at mile marker 80 and change. So they're on target to get here within an hour or so, likely a little longer. Things are going to plan.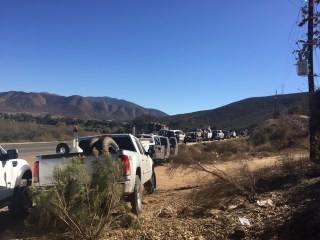 Just under an hour later, our "pit" has grown as other support trucks keep parking on the side of the road. Pitting now is bad, because the race has only just begun. At this point, you're just hoping the trucks blow past with no issues.
12:25 p.m. "Car 23, Mile 70. Everything OK." These are the standard radio messages. If it's anything different than this, you have a problem. If it's the same, just with the mile marker updated, you're good.
12:47 is when everything springs into action. Both the 23 and the 83 trucks fly by, the eighth and ninth trucks on the road, and mere seconds after they're through the four of us scramble and jump back in the truck for our next chase to the next checkpoint.
Everything is good through checkpoint one. Of course, there's still another 16 hours and change to go, but that's irrelevant at this point.
THE CHASE BEGINS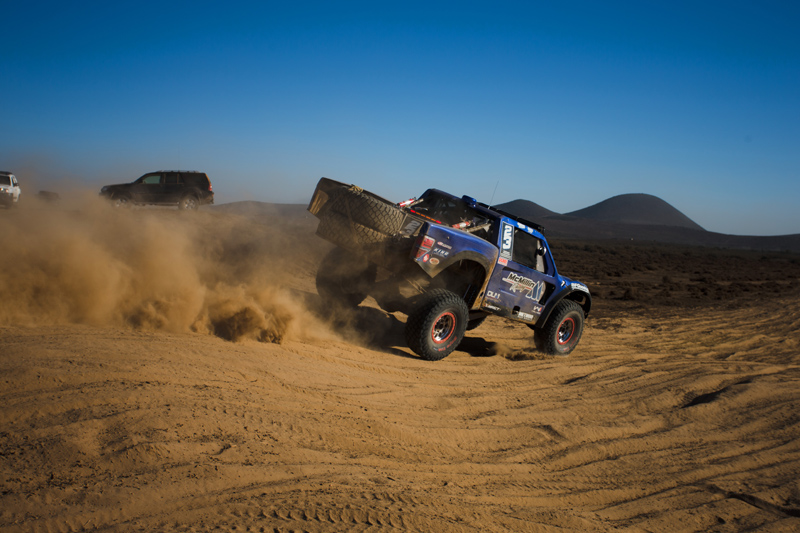 At 1:06, we've long shifted from typical speed into "Chase Speed." What this means is that we're driving safely – but as quick as safely possible – through dirt roads, twisty uphill sections, some with barriers, some without, to get to the next checkpoint.
Laser focus is engaged by all four of us. The small talk stops.
This is what Baja means.
1:25 p.m. "Car 23, Mile 120. Everything OK."
1:26 p.m. We've hit our first town of note, called San Vicente. The fish taco stands along the route are calling my name. Yet we cannot stop, no matter the lure of the pesca. The chase rolls on.
At 1:57, the team hits its first proverbial speed bump of the race. You'll have issues in Baja – it's just a question of what it is, and how or when it will hit. Luke's truck, the No. 83, has had a flat tire and lost a brake caliper.
It's important to note here Dan's truck, the No. 23, runs on 39-inch BFGoodrich Tires, and have red-rimmed wheels. Luke's are on 40s, and have blue-rimmed wheels. So we have to be extra careful to ensure the right size tire goes on the right truck.
By 2:06, the 23 was clicking along at Race Mile 160. The 83 had lost six minutes but completed a successful change of the tire and wheel.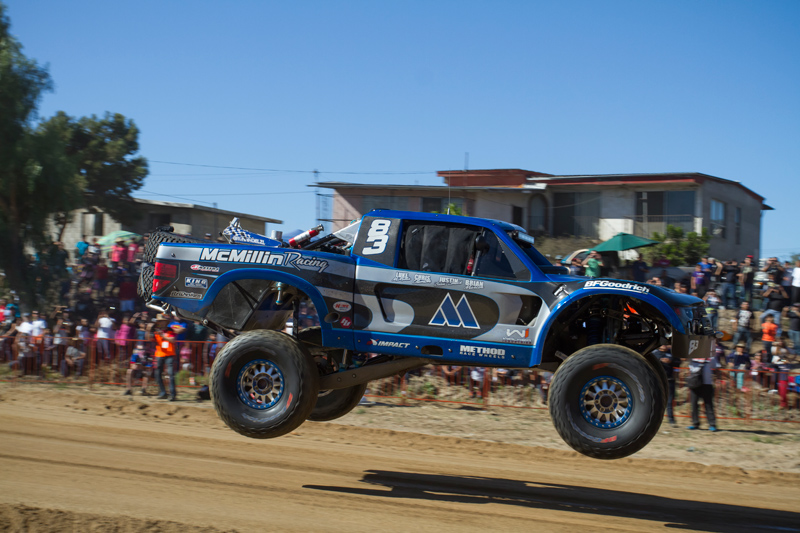 Just over an hour later, the first official pit stop beckoned. This required us to veer off the highway onto the dirt area where the pits are set up, and where we saw the rabid Baja fans in person. The noise of the fans screaming is as loud, if not louder, than the trucks. Both the 83 and 23 trucks came through.
This offered the rare opportunity to scramble into the cooler in the back of the truck, then grab the lunchmeat, mayo, waters and soda. We had to complete this task in under a minute, because the race wasn't stopping for us to do our best Dale Jr. mayo-and-banana sandwich imitations.
At 3:26, we witnessed the first instance where our chase would put us directly behind the No. 23 truck on the highway itself, thus watching its progress and reporting back to the co-drive inside the truck. Everything was OK.
THE RUN FROM DUSK TO DARKNESS
As the sun started to set, my note detail started to set along with them.
4:10. 83. 260. OK. 23. 280. OK.
Why write more if you don't need to?
That brevity was briefly interrupted by my own stupidity.
When we'd made a stop along the road, I got back in the truck only to feel that my foot had an inadvertent sharp "resting pad" underneath it.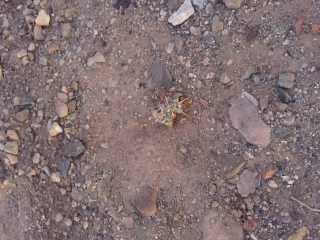 The note here reads: 4:31: Discover you stepped on a cactus.
Now the concern isn't just whether we'll get to our next checkpoint before sunset. It's whether I'll have the opportunity to take the damn thing out of my shoe in time.
Many things are changing at this point, as the race had been going about six hours or so. The temperature is dropping along with the sunset; it had been in the mid-to-high 70s ambient but was now 65. The specter of reliability issues and with most of the race run in darkness began to rear their ugly head. At least if you go out early in an endurance race, you don't have the heartache that exists the longer it goes.
At 4:56, we'd stopped to ensure our trucks were going strong as the night was about to be long, at the southernmost tip of our journey. I used a rock to remove the cactus and by 5:00, we were set to turn around and head back north for the chase.
THE DARK RETURN HOME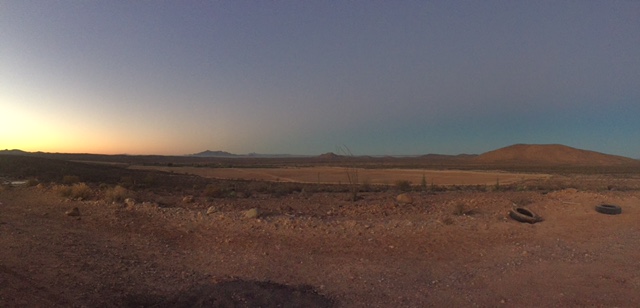 Maintaining focus and composure as the night falls is extra important. We refuel as a team at 6:04 at a Pemex for gas, food and more, and are back on the road shortly thereafter. At 6:21, the 83 was at Race Mile 350, with the 23 at 380. Almost halfway in this 854-mile marathon.
Why is focus so hard to maintain? When at 6:51, your note reads of a Seinfeld distraction: "The Big Salad" spotted in San Quentin.
At 7:16, it becomes apparent that Dan's truck, the 23, is actually in with a shout at winning this thing. "23 P4. +11 (minutes) to leader. 415."
Billy Joel's line from "Summer, Highland Falls" on Turnstiles enters my head a few minutes later.
"It's either sadness or euphoria."
The high of the 23's potential win hopes start to erode at 7:36. The report is that the truck's water temperature is running warm at over 250 degrees. The concern is there's a voltage issue or a serpentine belt stalling out.
This is the mystery of Baja. Because you have no way of seeing what's happening to the truck, you're left to know only via radio – which you may or may not have considering you're out in the middle of freaking nowhere and it's pitch black out – you have to rely on whatever little information you get to ensure the truck is running well.
A mix of brief relief and new concern comes on the next transmission. "23 voltage good. We're at 420 Race Mile. Transmission temp at 153. Possible cooling issue."
But the 23 presses on. By 7:45, the gap is closed to just 7 minutes to the leader at Race Mile 438. The temps are a little better, but there's a report that dirt might be creeping in. The radiator will need to be checked at the next stop.
THE LONG STOP OF DOOM FOR THE 23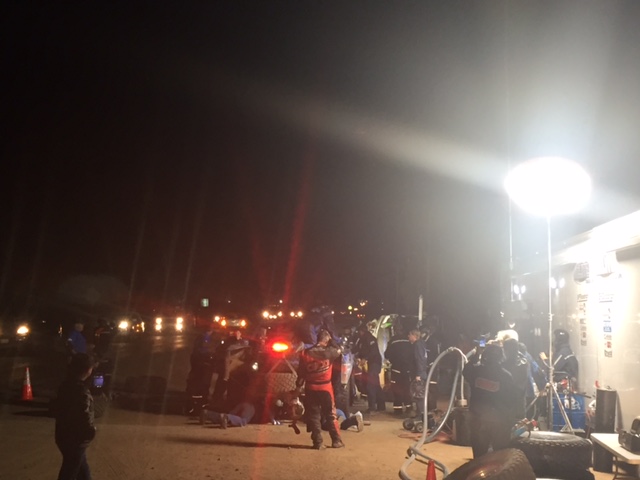 At 8:44, the dream for Dan's No. 23 team at this year's Baja ends.
A theoretical normal stop is taking much longer, and the water pump is leaking. Meanwhile, the McMillin team has to ensure enough space is cleared for when Luke's No. 83 truck pits not much longer afterwards.
We watch the truck numbers 3, 91, 11 and 200 go past. No. 11, Rob MacCachren's truck, is the ultimate race winner. Even though they're flying, the passes happen in slow motion.
At 9:03, Dan climbs out of the No. 23. The truck is taking in too much water. The hood has climbed back off.
Mark, who's long since landed in the helicopter a few hours earlier, calls us to check the status.
It's game over at 9:11. The note in the notebook? 23 – SHE DONE. Ouch.
BAJA GIVETH, BAJA TAKETH AWAY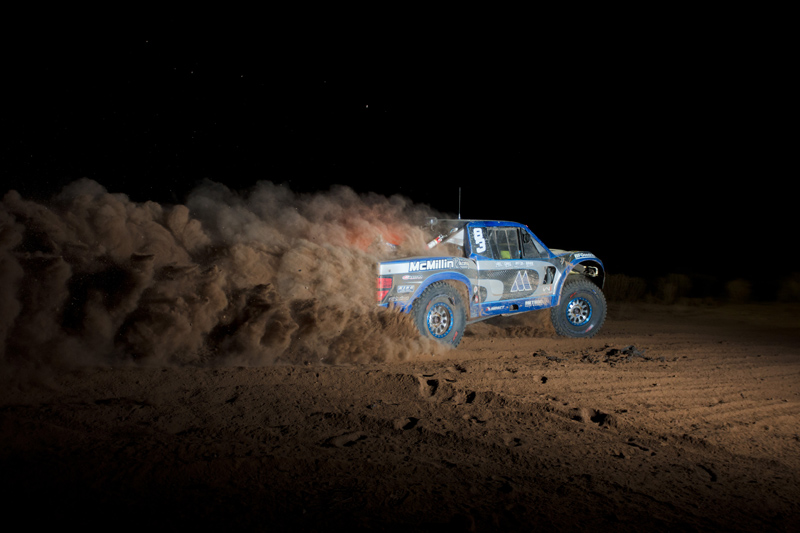 At this point, we make a crew switch in the chase truck. Tom Calhoun is moved over to the transporter that's set up where the No. 23 truck is parked, while Cameron Parrish, a likable, humorous and tall individual who's the co-driver of that truck, will now chase with us for the remaining No. 83 truck.
Cameron is known as an eating machine around these parts, and Shawn advises me to tell him we don't have much food left in the truck for that reason.
At 9:24, Luke's No. 83 truck arrives in the pits. Three other trucks – the Nos. 6, 15 and 31 trucks – pass on the road. All hands are now on deck for the No. 83.
Cameron's a mix of winded, exasperated and devastated all at once when he steps into our chase truck.
"Baja… she's so cruel, but you just can't quit," he sighs, at a higher than normal octave level for a sighing remark.
EXHAUSTION TAKES OVER
Cameron makes a phone call, looks at his GPS coordinates, then passes out in the backseat.
I'm told going into the race that if you need to rest, rest, in the backseat of the truck. Having covered both Daytona and Le Mans' respective 24-hour races, rest is part of the program there. But I was determined to make it all the way at Baja and I…
ZZZZZZZZZ
The next note in my notebook I think read, midnight: back in Ensenada, headed to Highway 3. Then ZZZ.
At this point we had to head East from the starting and ending point in Ensenada, where the course continues.
I wasn't sure whether it was 1, 2 or 3 a.m. from there, depending on what state I was in.
Anyway, 3 a.m.: 83. 755 miles. 3:01: 83. 770. OK.
3:40: A Jar Jar Binks voice comes out. Why remains a mystery. It's 36 degrees and freezing.
In no other race can you manage to weave in cactus, Seinfeld and Jar Jar Binks.
THE FINAL RUN TO THE LINE
The radio call comes at 4:51 a.m. "Car 83 is at the finish line."
We didn't know if we were sixth or seventh, but we did know we'd made it.
Cameron, much like Cameron in Ferris Bueller's Day Off, reflects a bit on his life at this moment of glory.
"There's another two weeks of my life, gone," says Cameron.
"And that's with another two weeks of pre-running and prep. So that's three or four weeks a year for maybe 15 years."
"That's a year of my life I've spent chasing this damn race."
I ask in my somewhat awake, mostly asleep stupor whether he'd had enough of it.
"This race, you never get enough," he replies. In that moment, Cameron Parrish is my Baja spirit animal.
Additionally, Shawn and Steve deserve thorough shoutouts at this point. Shawn he drove all 19 hours himself with no relief drivers. Steve stayed awake all 19 hours to navigate and communicate on the radio.
THE GLORY OF FINISHING
Finishing the Baja 1000 isn't everything; it's the only thing.
Because there's more than 260 entries into the race, roughly half finish. And if you're not in contention for the overall win, finishing is the singular goal.
After attempting to sleep, I stumbled back down to the finish line around 3 p.m. on Saturday afternoon.
Seeing more vehicles roll in, including a couple of the Baja Challenge entries, was the pinnacle of seeing Baja at its zenith.
A chat with stunt man, tire genius and wheelman Andrew Comrie-Picard, better known as "ACP" in BFG circles, revealed the raw emotion of what finishing this race means.
His team of drivers had all got sick at some point, and their bodies were turned upside down, inside out and sideways over the near entirety of the treacherous off-road terrain.
Yet seeing his colleagues with him up there on that stage, all having given their all for each other and in the pursuit of finishing, spoke volumes of their dedication and their desire to bring it home.
His team was but one example of what it means to finish at Baja… there are many different examples.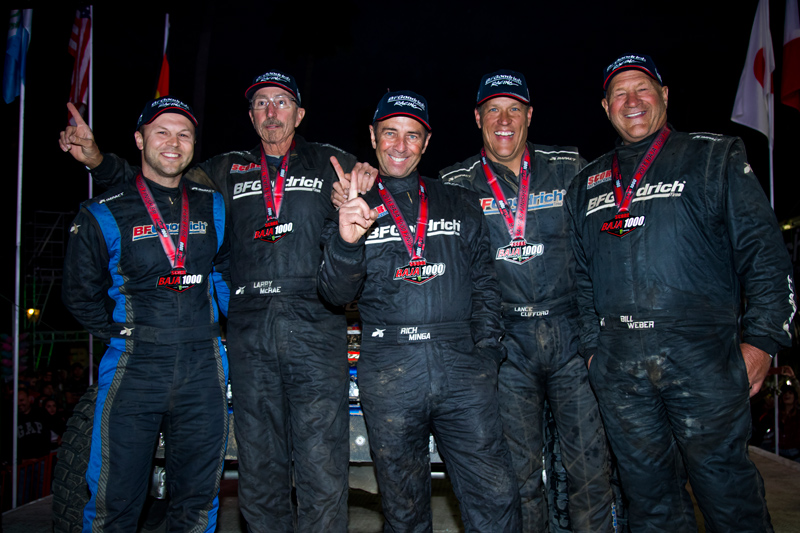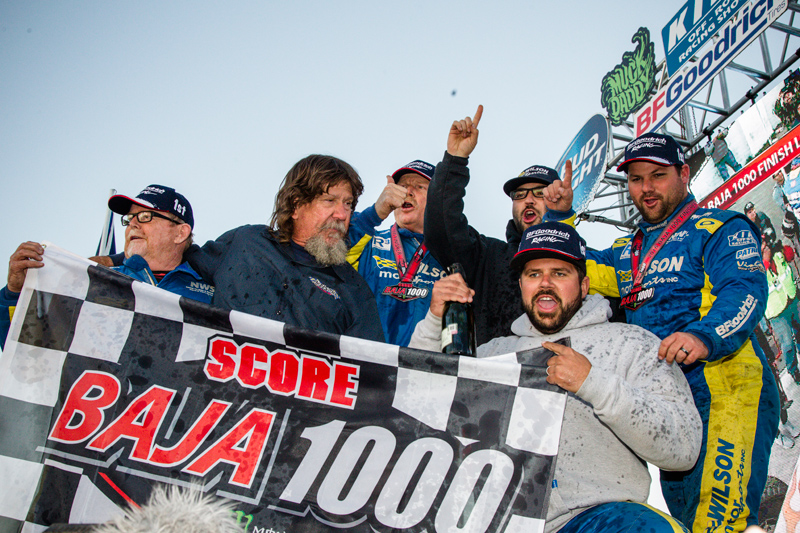 The glory and pursuit of Baja is what keeps you coming back, or piques your interest for more.
Watching a team as prepared as McMillin undertake it gives you a sense of the operation it takes to win. Yet watching the smaller outfits finish and cross the line hours later is part of the soul of the event.
Baja will thrill you, inspire you, cut you and break you all at once.
All the while, it's daring you to get more notebooks for the next time you head back down.