If you've made it to the top level of open-wheel racing – Formula 1 overall and worldwide or the Verizon IndyCar Series in the United States – you'll have done something right from a preparation, persistence and performance process to get there.
However, navigating your way to the top weeds out a ridiculously high percentage of drivers, who don't make it for either the lack of opportunity, timing, results or budget – or some combination thereof.
One of the ways Honda Racing/HPD is working to develop young drivers is via a new five-part video series that will launch at the start of next year, created in partnership with the Derek Daly Academy.

Daly, who raced in both F1 and IndyCar before becoming a broadcaster in both championships, and himself having helped guide a number of young driver careers, is seeking to reduce the confusion and provide more clarity for how young drivers can make it to the top in what's a complex labyrinth of an industry to attempt to navigate.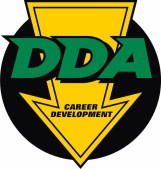 "We'd had the academy in Las Vegas, with when it was still Barry Green and Team KOOL Green in the 1990s, and we'd put 44 young drivers through the program in two years," Daly told NBC Sports.
"All of them are different people with different styles. Then I had it myself, with my son Conor starting to come through the ranks, and I had parents ask me, 'How do you do it?'
"I realized very early on we have a very unstructured sport. Stick-and-ball sports feature talented athletes, scouted from the early days in high schools, then into college, and then they get drafted into the pros. It has all the finances and coaching right there, and it's a completely structured sport. We don't have that."
Daly explained that making it to the next step of competition beyond a driver development program or ladder series requires foresight and the five-year model, which is where the video series and the "X Factor" comes into play.
The "X Factor" targets grassroots racing in particular, aiming for young drivers to build their resumes and their accolades early on so they're a well-rounded driver after five years.
The breakdown is talent and matrix for year one, technical and funding in year two, communication and branding in year three, marketing and mental growth in year four, and finally sponsorship and physical strength in year five (see visual of it below).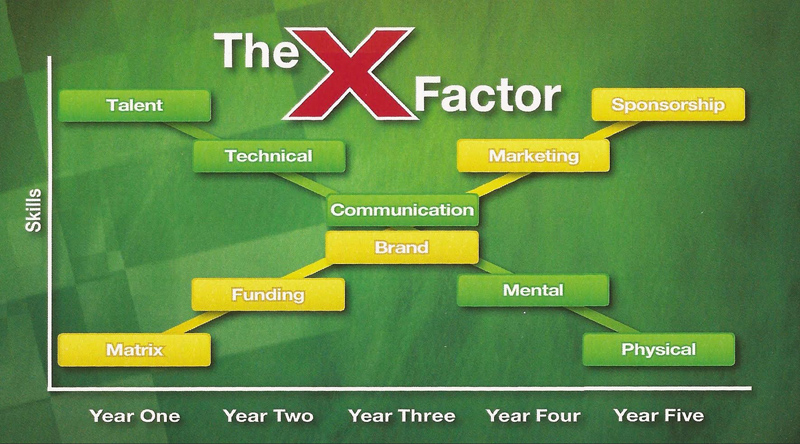 "You have to figure out early on to ask the question of how you're going to raise the money," Daly explains. "Figuring out the structure of approaching people to convince them to support your racing program early on is key. You need to have the driver skills, but you also need the support skills; that's how the whole 'X Factor' came about, before they converge down the road. It took on its own natural growth."
One of the areas I wondered about – and I'm sure others do as well – is whether "branding" has taken precedence over performance for younger drivers trying to stand out in a crowded marketplace. Not so, Daly says, because in his view it's highly challenging to become a "brand" without having the results on track first.
"To me, branding… is part of the peripheral. It's still talent and winning races that drives everything," Daly explained. "That's why my concentration is more on becoming the fastest possible driver. That drives everything.
"You have to get yourself started. Your on-track success drives your off-track success. In that order! Most think it's off-track driving the on-track. But without the on-track, you can't drive your off-track, because you haven't got any results. Most people mix that up."
The video series is targeted to hit the natural progression of growth over five years.
Concentrating on hitting the ground in the first year then shifts to a greater technical understanding of the car and focusing on raising money from friends and family. By year three, with the building blocks from the previous two years, interacting with engineers becomes the start.
Daly would like to see new parents understand the racing business and environment better, for them to appreciate the experience as much as their kids can.
"It's a huge guessing game, because it's so unstructured," Daly said. "But Honda have become more and more invested and more interested in, 'How do we give grassroots families a realistic chance to get their highest return on investment.' Let's face it: families are the first investors in these careers. The hope is whatever you invest, there's good value in it.
"So the goal for us is, 'How do we lay a platform for a family to understand the basic high performance principles?'
"The X Factor got developed into something real, and with the video series, they can sit here and say look, here's the steps it takes."
A pre-release of the video screening is part of Daly's annual "What If It's You?" seminar, which will be Saturday, December 10, at 8 a.m. in Room 244 of the Indiana Convention Center. The seminar is free of charge and requires neither a show credential nor pre-registration. This year's seminar focuses on budget raising.