It's no secret in racing circles that if you are selected as a Team USA Scholarship recipient, odds are good you're going places. It's easier to pick out the list of young American drivers who haven't gone onto bigger and better things in their careers.
So when Oliver Askew and Kyle Kirkwood were selected as this year's winners, revealed at Petit Le Mans in early October, few could have foreseen what would come next – particularly for Askew, who's since embarked on a whirlwind tour of events en route to turning 20 on Monday.
Askew began his karting career at age 8 in his hometown of Jupiter, Fla., and became something of a karting star over the last decade or so. His shift into cars has come swiftly and quickly, and what's followed since Petit has been a bit crazy.
Askew tested at the Chris Griffis Memorial Mazda Road to Indy Test at Indianapolis Motor Speedway in the old/existing Van Diemen chassis for Cape Motorsports with Wayne Taylor Racing, which was a precursor to going off to Europe and participating in the Formula Ford Festival and the Walter Hayes Trophy.
This gave Askew and Kirkwood a chance to prove themselves in the battlefield of young international talent from around the world (Askew's and Kirkwood's driver blogs for Team USA Scholarship are linked here). Askew considers Kirkwood, a fellow Jupiter native, a "brother" because throughout their growth and development they kept "one-upping each other."
In the Formula Ford Festival, Askew ran as high as third before retiring from a puncture, while Kirkwood finished seventh. Fortunes changed a bit in the Hayes, as Askew won his heat race and finished second in the final, while Kirkwood rallied from several poor starting positions after earlier struggles to eventually come home fourth in the final.
While both trailed Irish winner Niall Murray, these two stood out for their progression and performance in the Cliff Dempsey Racing-prepared Ray Formula Ford cars.
For Askew, who had even less formula car experience than Kirkwood, an F4 U.S. Championship regular this year, the European trip was a chance to prove himself the next level up after karting well there.
"I've been to Europe before. I spent the season there last year racing karts," Askew told NBC Sports at last week's PRI Show. "The culture wasn't really too different than what I was used to. The biggest thing is the racing over there was a bit of a shock. But I adapted to it, I prepared myself as much as I could, I learned a tremendous amount and definitely used that knowledge going into the Mazda Road to Indy Shootout the past week.
"To come in second at the Walter Hayes, that was my first rain race. I didn't really know what to expect, I just kind of had adapt and learn as the race went on. But what a way to cap off a month there."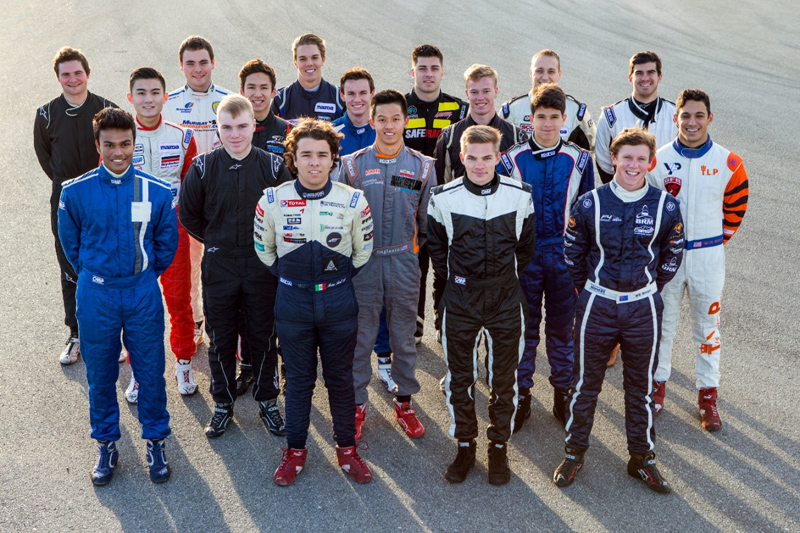 Askew and Kirkwood were then two of the 18 championship drivers eligible – following more than 400 who raced in 20 open-wheel series worldwide – for Mazda's $200,000 scholarship shootout to gain an entry into the Cooper Tires USF2000 Championship Powered by Mazda in 2017. The showdown took place last week at Mazda Raceway Laguna Seca, featuring Ray GR-RSC open-wheel cars on Cooper Tires from the Lucas Oil School of Racing (more on them to come in another piece this month).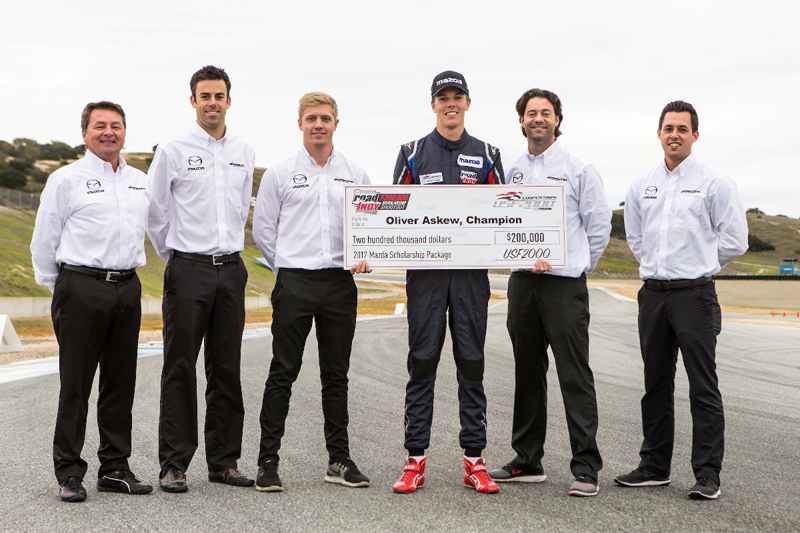 The shootout was a mix of on and off-track performance, with this field of winners needing to impress the seven-man judging panel of factory Mazda drivers Joel Miller, Spencer Pigot, Jonathan Bomarito and Andrew Carbonell, former IndyCar race driver turned ABC/ESPN color analyst Scott Goodyear, Kimball and Jim Bowie, owner of Brandrenaline, Mazda Motorsports' Agency of Record in the U.S. and Canada.
The Formula Ford Festival with similar Ray chassis helped, but was not directly comparable to the Lucas Oil cars. Askew explained the difference when it came to stepping into the Lucas cars at Mazda Raceway.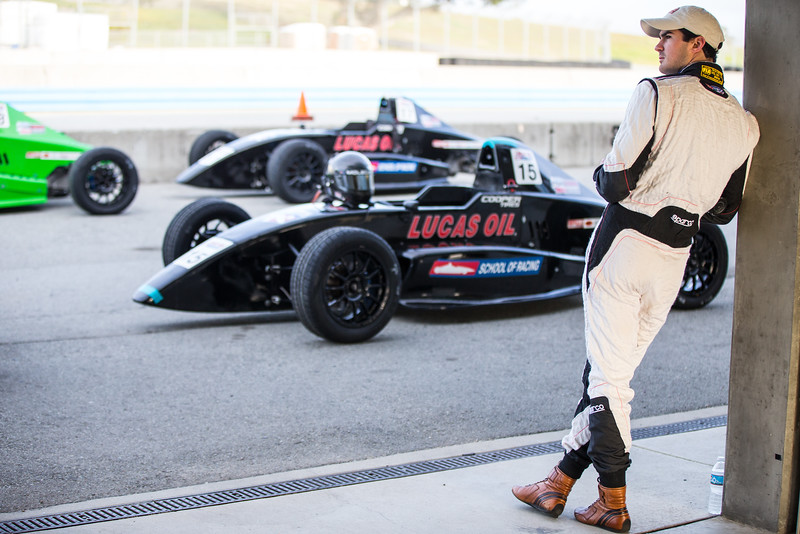 "It was very similar to the car I drove in England actually, the Ray chassis," Askew explained. "The ride height was a bit higher, less horsepower and a little bit less grip in the tires maybe, but very similar driving style and I definitely took my knowledge into that, also.
"Coming from karts, I spent so much time in a race car the past three months or so, I just feel like every time I get into the car, I feel more comfortable and it's a great thing."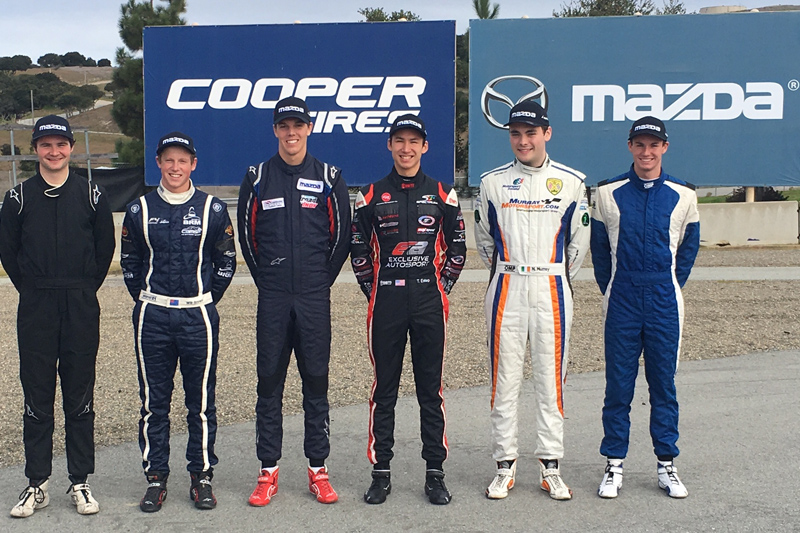 Of the 18 drivers eligible, the field was trimmed to six finalists who'd participate in the final race. Askew, Kirkwood and Murray made it in along with Will Brown (Australia), Oliver White (England) and Trenton Estep (San Antonio, Texas).
The final race saw each driver switch cars from where they had been. From those who were there, the final was an epic battle between the pair of Olivers – Askew and White – with Askew edging ahead for the win in the race and the scholarship (full report from shootout here, via USF2000 website).
Askew was almost speechless in the moments afterwards and probably was still in a bit of shock when he arrived at PRI, given everything he's been through over the last couple months.
"Oliver White and I have a lot of respect for each other and I think that showed during the race. We were side-by-side and interlocked wheels for like six corners coming down to the end of the race. I had a great time, one of the best races I've ever had. I could have raced him all day. It was really fun," he said.
"Two months ago, I would have never guessed this was all going to happen, before the Team USA thing. I have to thank Jeremy Shaw for giving me all of these opportunities. He's the reason why we got a chance to go to the Shootout in the first place. Hats off to him, for sure, and I really still can't believe it."
The next step for Askew, now that he's set in USF2000 for 2017, is determining his team of choice. The new Tatuus USF-17 chassis should level the playing field after Cape has won the last six series championships.