MotorSportsTalk continues its season-ending reviews of the top drivers of the 2016 NHRA Mello Yello Drag Racing Series season.
From Dec. 12 through Jan. 4, we'll feature one daily in-depth review of a driver that finished in the top-five in each of the four professional classes (Top Fuel, Funny Car, Pro Stock and Pro Stock Motorcycle), as well as a compendium of select other drivers that did not finish in the top-five.
The list of drivers we've already posted is below. Today, we feature Funny Car driver Jack Beckman: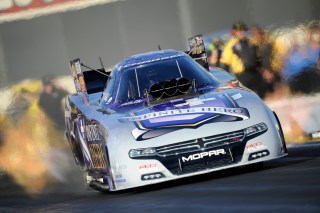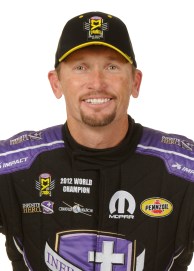 Driver: Jack Beckman
Age: 50
Hometown: Norco, California
Team: Don Schumacher Racing
Sponsor/car: Infinite Hero Dodge Charger
Crew chief: Jimmy Prock
2016 season finish: Fifth in Funny Car.
2016 season statistics: 24 races, 2 wins, 3 runner-up, 4 semifinals, 10 quarterfinals. No. 1 qualifier 6 times. Round-by-round record: 35 wins, 22 losses.
Career statistics: 252 races, 24 wins, 25 runner-up, 45 semifinals, 73 quarterfinals. No. 1 qualifier 21 times. Round-by-round record: 332 wins, 221 losses. 7 DNQ. Won the 2012 NHRA Funny Car championship.
What went right in 2016: Beckman was one of the more consistent drivers in Funny Car, reaching the quarterfinals or higher in 19 of the season's 24 races. … Lived up to his colorful nickname of "Fast Jack" by exceeding 330 mph several times during the course of the season. … Was one of the most consistent qualifiers with 19 times qualifying sixth or better, including six No. 1 qualifier positions.
What went wrong in 2016: If there was any part of the schedule that Beckman would like to have back, it's the six-race stretch from Denver through the start of the Countdown to the Championship in Charlotte. After winning at Chicago, Beckman suffered first-round exits at Denver, Indianapolis and Charlotte, and quarterfinal exits at Sonoma, Seattle and Brainerd. Ironically, he then came back to win the race after Charlotte – at St. Louis. … But then he suffered quarterfinal losses in two of the four remaining Countdown races, dropping him from a potential contender to an ultimate fifth-place finish.
What to look for in 2017: Rumors continue to fly that crew chief Jimmy Prock will return to John Force Racing, which if true means Beckman will have to find a new crew chief for 2017. … Beckman is one of the toughest competitors in Funny Car. The biggest key will be to get off to a strong start in the first six races (from the season opener at Pomona through Houston). In that same stretch in 2016, Beckman quickly fell behind and dropped to seventh in the standings before bouncing back to second after reaching the finals four times in the following seven races (1 win, 3 runner-up finishes). If he can get off to a stronger start in 2017, it could set the tone for the remainder of the season.
Season reviews already posted:
Follow @JerryBonkowski