MotorSportsTalk continues its season-ending reviews of the top drivers of the 2016 NHRA Mello Yello Drag Racing Series season.
From Dec. 12 through Jan. 4, we'll feature one daily in-depth review of a driver that finished in the top-five in each of the four professional classes (Top Fuel, Funny Car, Pro Stock and Pro Stock Motorcycle), as well as a compendium of select other drivers that did not finish in the top-five.
The list of drivers we've already posted is below. Today, we feature Pro Stock driver Vincent Nobile: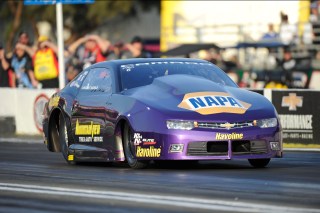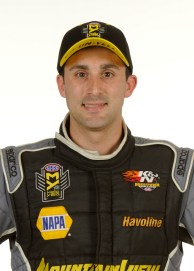 Driver: Vincent Nobile
Age: 25
Hometown: Melville, New York
Team: Elite Motorsports
Sponsor/car: Mountain View Tire Chevy Camaro
Crew chief: John Nobile/Nick Mitsos
2016 season finish: Fifth in Pro Stock.
2016 season statistics: 24 races, 1 win, 2 runner-up, 5 semifinals, 11 quarterfinals. No. 1 qualifier 3 times. Round-by-round record: 31 wins, 23 losses.
Career statistics: 145 races, 10 wins, 10 runner-up, 31 semifinals, 50 quarterfinals. No. 1 qualifier 7 times. Round-by-round record: 182 wins, 131 losses. 4 DNQ.
What went right in 2016: After earning three runner-up finishes – but zero wins – in 2015 – Nobile finally got back on the winning track in 2016 for the first time since 2014 with his triumph at Reading during the Countdown to the Championship. … Ironically, Nobile was the top-performing driver for Elite Motorsports: two-time (2014-2015) Pro Stock champ Erica Enders failed to win even one race, while five-time PS champ Jeg Coughlin also went winless in 2016. Enders finished ninth and Coughlin 10th in the Pro Stock final standings.
What went wrong in 2016: Nobile struggled to get past the quarterfinals in nearly half of the season's 24 races, being stopped 11 times. Had he been able to reach more semifinals or runner-up finishes, he potentially could have finished even higher in the rankings.
What to look for in 2017: At 25, Nobile is both a savvy veteran and one of the most promising young drivers in the sport. He's been in the Pro Stock ranks since 2010, when he was just 19. He's finished in the top-10 in each of the last six seasons. If anyone is to give 2016 Pro Stock winner Jason Line and runner-up Greg Anderson the biggest battle in 2017, it's likely to be Nobile.
Season reviews already posted:
Follow @JerryBonkowski