The second half of the 2017 Dakar Rally kicks off today with the seventh stage of competition, from La Paz to Uyuni. Stage six, scheduled for Saturday, was cancelled due to miserable weather.
Videos from NBCSN's coverage from the weekend are linked in this post. The next Dakar Rally show is Monday at 6:30 p.m. ET on NBCSN.
In the 12-stage rally, the contenders for the win are starting to become clearer. How those listed below rise or fall over the next few days of competition will determine if they bring home a win.
—
CARS
Defending Dakar champion Stephane Peterhansel looks to extend his record run of double-digit Dakar wins, but will have to fend off two of his Peugeot teammates to do so. Sebastien Loeb, meanwhile, is poised to capture his first overall Dakar win and will look to overcome an achievable gap of just over one minute. Nani Roma (Toyota) boasts the best chance of those not driving a Peugeot trying to win.
Of note, Orlando Terranova ranks seventh in the MINI originally scheduled for American Bryce Menzies. Giniel De Villiers is eighth in another Toyota, and Romain Dumas sits 10th in a Peugeot.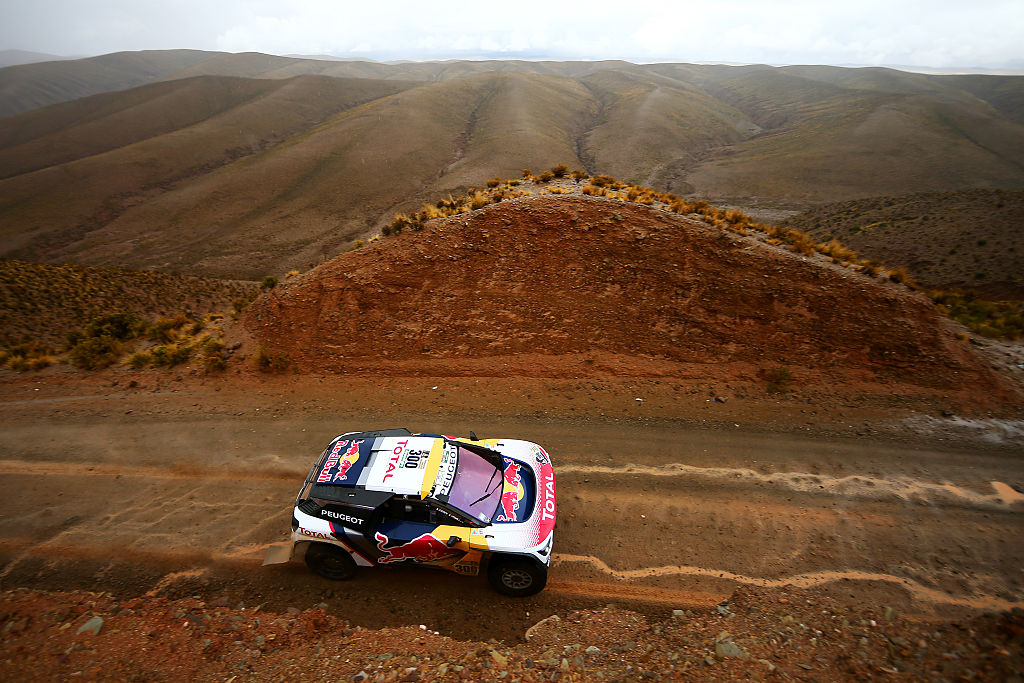 1. 300-Stephane Peterhansel, Peugeot, 14:02:58
2. 309-Sebastien Loeb, Peugeot, +1:09
3. 307-Cyril Despres, Peugeot, +4:54
4. 305-Nani Roma, Toyota, +5:35
5. 303-Mikko Hirvonen, MINI, +42.21
—
BIKES
The bike rally has almost been a process of elimination with Juan Pedrero, Joan Barreda, American Ricky Brabec and defending champion Toby Price all falling from contention and in Price's case, dropping out entirely with a fractured left femur. Seeing the competitors rally to support Price as Price has offered updates on a quick recovery has been one of the Dakar's highlights this year.
Among those who've rallied to Price is Sam Sunderland, the Englishman who's currently the rally leader on bikes by 12 minutes over Pablo Quintanilla.
Of note, Brabec sits 21st in the rally, more than an hour behind. Barreda has fallen to 11th, and Pedrero down to 24th. Others who've factored in the early stages – Xavier de Soultrait (sixth), Paulo Goncalves (ninth) – are also out of the top five.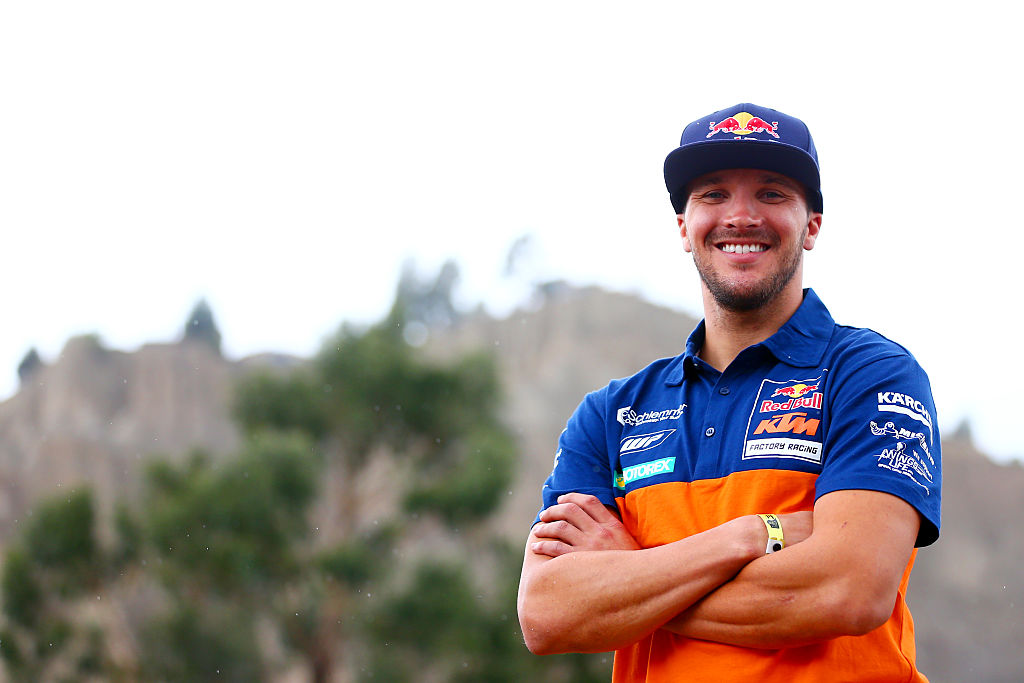 1. 14-Sam Sunderland, KTM, 15:22:05
2. 3-Pablo Quintanilla, Husqvarna, +12:00
3. 6-Adrien Van Beveren, Yamaha, +16:07
4. 8-Gerard Farres Guell, KTM, +20:57
5. 16-Matthias Walkner, KTM, +29:01
—
QUADS
Simon Vitse leads what is at the moment a 1-4 sweep by Yamaha, with Daniel Mazzucco fifth in the first Can-Am at 47 minutes, 32 seconds in arrears.
1. 279-Simon Vitse, Yamaha, 19:32:22
2. 254-Sergey Karayakin, Yamaha, +8:14
3. 280-Axel Dutrie, Yamaha, +10:35
—
TRUCKS
Gerard De Rooy keeps one red, white and blue flag (Netherlands) ahead of a trio of drivers with another red, white and blue flag (Russia) in the truck category.
1. 500-Gerard De Rooy, Iveco, 14:06:07
2. 505-Eduard Nikolaev, Kamaz, +2:23
3. 513-Dmitri Sotnikov, Kamaz, +6:36
—
UTV
Leandro Torres leads this class by more than two hours.
1. 351-Leandro Torres, Polaris, 25:22:24
2. 342-Mao Ruijin, Polaris, +2:34:04
3. 374-Li Dongsheng, Polaris, +2:47:25
—
STAGE RECAPS
Stage six (cancelled due to weather)
Stage five (shortened due to weather)
Stage four and (VIDEOS)
Stage three and (VIDEOS)
Stage two and (VIDEOS)
Stage one and (VIDEOS)