While popular racer Bryan Clauson was tragically taken from us in 2016 in a racing accident, his spirit and legacy continues to grow.
A longtime resident of Indiana, Clauson is serving as the inspiration for a joint partnership between the Indiana Donor Network and Clauson-Marshall Racing to promote organ, tissue and eye donation, and transplantation through the Driven2SaveLives initiative.
Driven2SaveLives launched prior to the 100th Running of the Indianapolis 500, a race that Clauson competed in. The organization spawned from a partnership between Indiana Donor Network, Stefan Wilson and KV Racing Technology to honor IndyCar driver Justin Wilson, who was killed in a racing incident in August 2015 at Pocono Raceway.
Justin Wilson was a registered organ donor and his death allowed five individuals to receive his organs to save their own lives.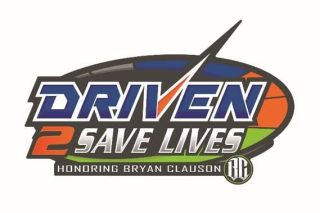 Now, with its new partnership with Clauson's old racing team, Driven2SaveLives is moving into dirt track racing.
The announcement came Tuesday in Tulsa, Oklahoma, which this week is hosting the 31st annual Lucas Oil Chili Bowl Midget Nationals.
Clauson-Marshall Racing will have six drivers competing in the Chili Bowl and will carry branding on cars and fire suits by Driven2SaveLives. Those drivers are Ricky Stenhouse Jr., Tyler Courtney, Shane Golobic, Jason Johnson and Donny Schatz. The sixth driver has yet to be named.
On August 7, Clauson, a four-time USAC champion, succumbed to injuries suffered in a crash the night before in a USAC race in Belleville, Kansas.
Clauson was a registered organ donor and, in death, provided organs to save the lives of five strangers who suffered from a variety of life-threatening conditions without organ exchange.
"While Bryan was known for his on-track persona, the decision he made to be an organ and tissue donor will forever be his legacy," said Tim Clauson, Bryan's father and co-owner of Clauson-Marshall Racing. "As a family, we are humbled to honor Bryan and his donation decision through Driven2SaveLives and the racing community we love.
"What donation did for our family – the light it provided us in our darkest hours – will stay with me for a lifetime. I will be forever grateful."
As such, Driven2SaveLives representatives will be on hand at a number of dirt track races around the country.
Indiana Donor Network is one of nearly 60 organ procurement organizations in the U.S. and will activate Driven2SaveLives in dirt racing along with Donate Life America.
"The work we do within the donation and transplantation community is both a privilege and a responsibility – we get to make a difference," said Kellie Hanner, president and chief executive officer at Indiana Donor Network. "Driven2SaveLives gives race fans a platform to talk about donation and transplantation. This means that everyone who helps to spread this campaign's message not only gets to honor the donation decision but also gets to be a part of Bryan's lasting legacy."
Here are some facts about the importance of organ donation from Driven2SaveLives:
* More than 120,000 people nationwide are waiting for lifesaving organ transplants.
* One person is added to the transplant waiting list every 10 minutes in the U.S.
* Each day, 22 people on average in the U.S. die because a donated organ wasn't made available in time.
* Approximately 90 percent of Americans support organ donation, yet only 50 percent are registered.
Follow @JerryBonkowski