Tony Kanaan turned 42 on December 31, but is doing the opposite of slowing down. He's speeding up and intensifying what was already serious dedication to his craft.
Since the Verizon IndyCar Series season ended on Sept. 18, Kanaan re-signed with NTT Data Chip Ganassi Racing, has tested twice in the team's now Honda-powered car (Gateway in October, Sebring last week), been confirmed for the Race of Champions (Jan. 21-22) and the Rolex 24 at Daytona (Jan. 28-29), and welcomed another new son – Max – into the world (October).
So much for a break in the schedule.
"It's been great to me," Kanaan told NBC Sports. "Obviously, hard work pays off. People definitely see my potential I guess, otherwise I wouldn't be around for this long and I wouldn't be doing the races I do.
"I'm excited about it. I planned my vacation and the only thing I had to do in January was a test in IndyCar and the Race of Champions on the 21st and 22nd, and then all of a sudden my month filled up completely, which is a good problem to have! I'm excited."
Kanaan made his debut driving the Ford GT for Ganassi's IMSA WeatherTech SportsCar Championship effort at last weekend's Roar Before the Rolex 24 test.
Kanaan said last year he was keen on eventually getting the chance in the GT, making his confirmation something of a bucket list item. He actually made his Rolex 24 debut in a Tom Gloy-owned Ford Mustang Cobra in 1998, and now is coming around full circle to the GTE-specification beast this year.
At the test, Kanaan only got five laps in Friday's first session, and a total of 59 for the weekend. Although test times are largely irrelevant, Kanaan got with the program pretty quickly. A 1:44.645 best lap time was third among all drivers in GTLM for the test, only behind his Ford Chip Ganassi Racing teammates Ryan Briscoe and Scott Dixon.
Kanaan has more Daytona race experience than do his teammates in the No. 69 Ford GT, Andy Priaulx and Harry Tincknell (Tincknell's a rookie, while Priaulx has raced at Daytona each of the last three years), and won the race overall with Dixon, Jamie McMurray and Kyle Larson in 2015. However, Kanaan will be drawing on the FIA World Endurance Championship pair's car expertise to learn the rest of the way.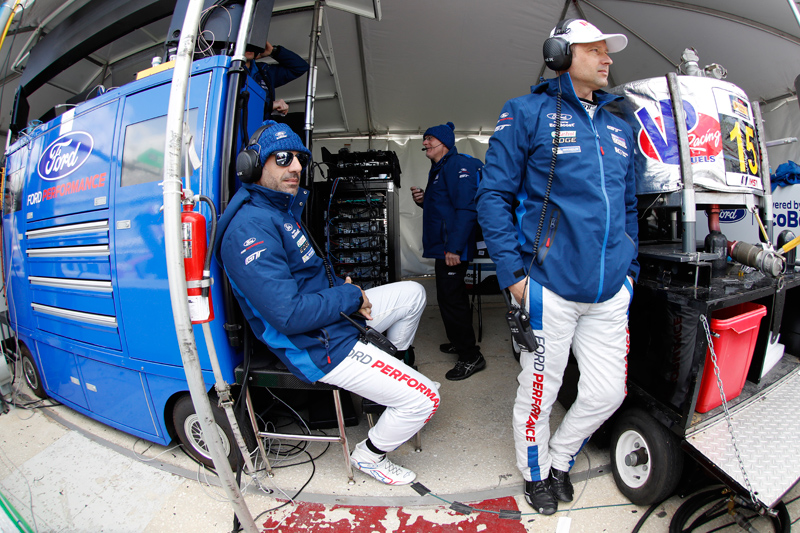 "When you're sharing a car like this, it's never going to be enough laps," Kanaan explained. "I'm here to learn. What I do have, is probably more experience at Daytona than my teammates, which I can help them with that. If they have more than me, it's more hours in the car. Having done this race for so long, you have to get in the right mentality here. It's not only your car and it's not only your time. You have to work as one team and make sure we're here to win the race."
"The 69 car I'm driving was the backup car for Ganassi USA team and got put on track and we ran the entire session right away. So that tells you that the preparation here has been very good."
Kanaan is set for at least the 2017 campaign in IndyCar with the goal of extended that beyond into 2018. While he sees an eye for racing in more sports car races down the road, he doesn't want to do so until the end of his IndyCar career, which this year celebrates its 20th season after his debut back in 1998.
"I think it's in my future. I'd probably say it's in my near future at some point because I'm not that young anymore," he admitted.
"I'm going year by year in IndyCar. Of course, I still feel I'm very competitive where I'm at, but this will be the next step for sure. With the right opportunity at the right time, I'm pretty sure this is what I'll be doing in the next chapter of my career. I love this, I love the tradition, I love cars. IndyCar is a race car, but this is like cars you have on the street, some of these cars I own, some are ones I drive every day, so this is something I'll do, for sure."
There have been many presents for Kanaan this offseason but the Ford GT call, which came two days before Christmas, was one he truly appreciates.
"I was about to post something to Instagram (before interview) and my caption was a picture of me inside a Ford GT and I said, 'Life is about challenges and I'm fortunate enough to have the opportunities I got and to do what I love.'
"This was definitely the best Christmas present I got. I got the call two days before Christmas for me to do this. I wasn't planning on it.
"Of course, I follow it closely because this is home and seeing my teammates at Le Mans last year and the team winning Le Mans. As a driver, you want to be part of it. Winning Daytona two years ago with Ganassi was awesome for me and I secretly wanted to be part of it. I always made sure I told Chip that. With the relationship with Ford, by winning Daytona with the EcoBoost on the DP Prototype a few years back, I think it counted.
"Larry (Holt) of Multimatic and my teammate on the 69 car, Andy (Priaulx), they pushed for this.
"It's a dream come true, to be honest. The car is a legend itself, it's part of motor racing history. To be able to drive that and to be able to say this is what I've driven, I've won Daytona – whether this time or not – but just to be part of this program, it's awesome. I'm extremely excited.
"It's funny, the life of a race car driver, we had a vacation planned with the kids. We weren't doing Daytona this year so let's take it easy. But the family, I had to jeopardize a little bit, but we'll do vacation in Daytona – in the infield!"