The old adage in sports writing is that the reason sportswriters are sportswriters, is because they're failed athletes. In motorsports journalism, the same is true.
My racing career as a driver ended before it ever began, following a go-kart incident in a church parking lot in Arizona as an eight-year-old. The natural follow-up question is, "why are you driving a go-kart in a church parking lot?" but that's neither here nor there.
The bottom line is, like most youngsters, my interest in the sport was founded by my parents' interest. Because interest, talent and funding wasn't there for me to make it as a driver, it became obvious there had to be another way.
Luckily, putting pen to paper – or fingers to keyboard now – was the next best and most cost-effective option of figuring out how to stay involved with this sport I love.
But in the back of my mind, there was always a small hope that one day I'd actually be behind the wheel of a proper racecar. Even for just a day or two.
In early November, that opportunity arose.
It was time to go back to school: in this case, the Lucas Oil School of Racing.
—
Sebring International Raceway's short course is where champions are born. It is the single most unsung circuit layout in this country, because teams and drivers in open-wheel and sports car racing spend so many days and hours stuck in the usual Orlando-to-Sebring drive down Highway 27, then pounding around the track's 1.53 miles in the pursuit of ultimate performance and reliability. Indianapolis may be the "racing capital of the world" and Daytona may feature "the great American race," but Sebring is undoubtedly the "winter home of motorsports."
Once you arrive at the Lucas Oil School of Racing, founded by Neil Enerson in late 2015, it's apparent that the preparation and dedication to the customer is such that you feel as though it's the first step in your racing career for however far you go.
And for two days, we're going to be pounding around in the school cars on the short course, forgetting everything else in the world around us in that same pursuit of perfection.
—
INTRO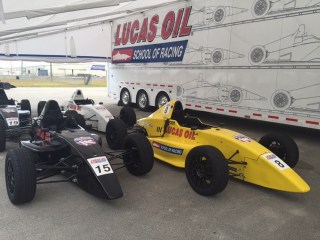 The first thing of note is the cars themselves. The Lucas Oil School has three fully loaded transporters with 20 of the Ray Formula Cars GR11, powered by an Elite Engines 2.0L 4-cylinder (produces about 140hp), Sadev sequential gearbox that has paddle shifters (this will come in handy) and runs on street Cooper Tires.
All those bits work in unison to create a fun driving experience that gives the driver all the comfort in the world without worrying about the shifting and much clutching, and the grip level in the tires is such that they force you to go deeper in the corners on braking as you build confidence. They want you to work hard.
The setup is also first class. You feel as though you're walking into an IndyCar-team level setup, as the crew puts together the two awnings from two of the transporters, and houses all the cars there. The crew ensures you're all good to go with the cars once you get going.
And then there's the feedback, which is off the hook. More on this will come throughout, but the dedicated one-on-one time from the instructors will only force you to be better as the time goes on.
With this also only a two-day school rather than a three-day one, it's also more cost effective for those customers or business folk who now need less time to take off work. You'll go through a laundry list of items in the two days, but there is not a moment that is not well spent.
—
LEARN THE CAR, THEN GET GOING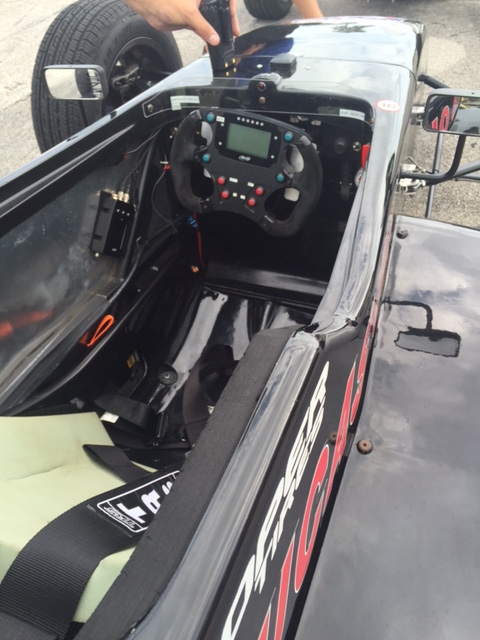 Todd Snyder, a past Barber Dodge series champion and veteran driver in the Continental Tire SportsCar Challenge, had long been an instructor at Skip Barber. Snyder serves now as the Lucas Oil School's Chief Operating Officer and for our school, was lead instructor.
So on the morning of the first day, you're given the whole lowdown on the car itself, where all the various switches and gauges are and how you'll feel once on board.
And then, boom. You're into the car for the first time. The first running is done on a modified version of the short course, using the short course pit lane before coming onto the track at Cunningham Corner (Turn 10), through the left-hand sweeper and back into the pits. This exercise is done specifically to get you comfortable with the car, and start to get a feel with it.
Naturally, nerves took over for me at this point. But once going, it only took a couple laps for the crew guys to be putting their hands down as I was coming through a right-hand kink to say "slow down!" This was already fun and only going to get better.
The first classroom session followed. A number of driving tips are applied here, but we're taught to spend a lot of time thinking about braking. Passing instructions, meanwhile, for the purposes of the school are to let drivers by on the right first.
For the second session, we did a lead-follow with RC Enerson in one of the school cars. That allowed us to get a sense of the racing line and where to optimally brake. As you get the car up to speed, you then progressively learn how to brake later and later as you grow more confident.
The key, of course, is not making too big a leap at any one time.
—
THE FIRST AND ONLY "HANG ON, BROTHER" MOMENT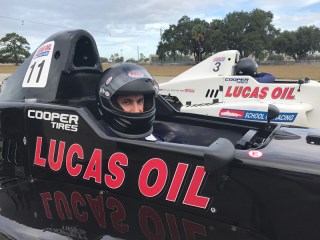 Radio feedback is applied from the coaches – in this case, Snyder, Enerson or Jonatan "JJ" Jorge of JJRD, Inc. – telling you where you're struggling and where you need to improve.
One of the challenges here is when you're starting to get in a rhythm behind the wheel, you don't want to break your habits because you're comfortable. The drive to be better and brake later comes once you know how hard you have to mash the brakes, at a certain psi amount. The preferred psi amount is 400psi.
Cunningham Corner, mentioned earlier, is a 90-degree, right-hand, third gear corner that comes after the second longest straight on the short course. Ideally, you're at about 105-110 mph entering it here before braking. As part of the braking technique, cones are outlined from four cones at the first braking point to three, two and one respectively.
The feedback I'd received to that point was that I wasn't hard enough on the brakes, and was easing into the corner. So I'd been giving up a lot of time as a result.
What should have followed was a gradual step of moving from the four cones to the three cones. My inner Italian side came out as I went from four to two… and naturally, the heavy lockup and avalanche of expletives came along with it.
Fortunately there's a pavement runoff area, and I slid off. Even more fortunately, I got the thing stopped before hitting the tire barrier. So you're helpless at this point, with a local yellow out and RC needing to come over to assist, to get the car back in gear and allow you to get going.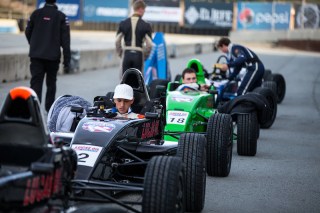 It's perhaps even most fortunate lunch followed shortly thereafter, with Coney dogs a highlight of the experience. The hospitality is great, as Neil came through to check in with everyone to see how it was going and offer insights about the school, the program and the future goals. Already, the school has a successful race series that runs at a number of tracks (2017 schedule out late Tuesday night) and had its cars showcased at December's Mazda Road to Indy $200,000 scholarship shootout for the USF2000 series in 2017 (right).
In the background, we'd heard a thud and then saw track safety vehicles dispatched. One of the school's lapping drivers had binned it at Cunningham, as he hadn't downshifted correctly upon braking, and backed it in. He was OK, but his confidence was as dented as the left rear suspension.
I will say that having that moment I had was good, because getting back on the horse and back behind the wheel for the afternoon sessions was vital to ensuring my own confidence wasn't sapped.
—
A DEVILISH 1.53 MILES TO MASTER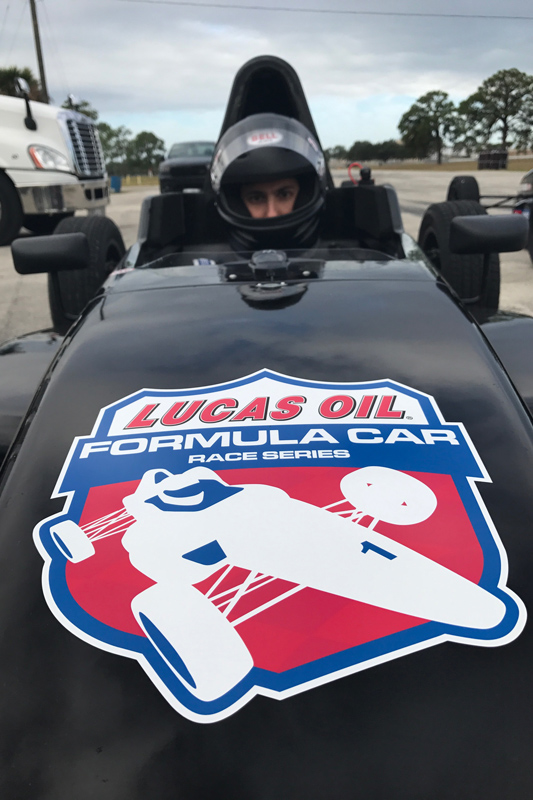 Sebring's short course is fascinating, again, because even if you excel at certain parts of the track, there's others you're missing.
Starting from pit out, you head into a right-hand kink, then into Water Tower, the first of consecutive 90-degree right-handers. The following right-hander, I loved, and felt most at ease. But winding it back up and then rejoining the full course, at the right-handed kink into the left-handed sweeper called the Carousel, proved a challenge throughout the two days. The Carousel then launches you onto the fastest part of the short course, the following right-hand sweeper down the straight and into the Hotel hairpin – the hardest braking point on the circuit. You then hit the apex there on the 45-degree right-hander and accelerate hard out, right, then left, back onto the straight before braking at Cunningham. You hit that right-hander hard, then accelerate through the left-hand sweeper back to the right-hand kink, and you're at Water Tower again.
Snyder's instruction was great because he gave us specific reference points to aim for. Water Tower, for instance, has a "T" in the center of the road. Ensuring you're putting your right front tire on that "T" guarantees the ideal apex for the corner and sets you up for a faster exit. The Carousel, however, I couldn't get right to save my life.
The feedback from JJ and RC was consistent about my braking, but once they noted how you want the front tires to "squeal" – the ideal braking pressure before locking up – I searched harder for that and felt that I got there. What was great about all three of them was their calmness and gentle pushing it took to get better. It's not "in your face" at all; it's designed purely to help, and the way they expressed it built my determination.
Trail braking is a good thing to master and that was one of the key takeaways.
—
GOOD DAY ONE FEATURES MOTIVATION FOR DAY TWO
In the morning of day two, you get the data and telemetry from your first day at the office. This was the real eye opener. Tracing your data up against sports car veteran, Lucas Oil School coach and general good dude Gerardo Bonilla shows just how and where you're losing time. With my best time a pedestrian 1:25 and change to Bonilla's 1:17, there was plenty of time to be gained.
Understanding and interpreting data is one of the keys to success in modern motorsport, and using that data can fuel your performance to get better. The fact this is offered to you out of the gate shows the school's dedication to your understanding of all facets of racing.
—
RACE PREP!
The morning sessions featured two lapping runs, and with the data at hand I immediately located where I needed to be better. With each passing lap, I felt more confident, and I started to see how with preparation and feedback, I could get better.
One of the day two elements is a "mock race," where RC or JJ drove their street car as a pace car and you line up alongside your fellow school drivers in the cars to practice a two-by-two start, then run down to the first turn (again, Cunningham in this case).
We get two cracks at it. I took both cautiously on purpose, first lining up from pole and the second from third on row two.
A single-file restart then produced another element of learning for yours truly: how to avoid a collision.
Following the single-file restart I intentionally let a couple cars past, because I wanted to go at my own pace and avoid being too close to others. As it turned out, one driver made a dive-bomb attempt at the hairpin and consequently took another car out, and I had a front row seat to all of it. That brought out a yellow flag to end that session.
—
GETTING BETTER ALL THE TIME
With a 1:23 and change done in the morning, by the two final afternoon lap sessions, I'd got down to a 1:21.07 (best on video is a 1:21.23, shown above), so had shaved more than four seconds off compared to day one. I still couldn't quite get the Carousel right. You have to enter at driver's left, come across at the kink and then stay right at corner entry before powering through and getting back on the gas. Corner exit speed is everything, because it sets up the straightaway terminal velocity.
The final session, fatigue began to set in. And rather than keep going, I parked it a few minutes early. Better to end on a high note with everything still in one piece. A graduation process follows at day's end. All the while, I also began to bond with the other drivers who took this school. Fellow writer Miles Branman was a natural and seriously impressive, the true standout among our peers.
—
A LEGEND I MISSED
Irishman Tommy Byrne's junior career marked him as a standout to watch on his path to Formula 1, with pure talent and no cash helping to carry him up the ladder. But his intense partying lifestyle away from the track didn't mesh with the largely corporate world of F1 and outside of a pair of starts with the Theodore Racing team in 1982, his flameout from that world followed.
Byrne reinvented both his life and his career as a racing instructor, with longtime work at the Mid-Ohio School and now joining the Lucas Oil School. At the Sebring full course, where the final race series event of 2016 took place in mid-December, competitors were treated to not just Byrne's instruction but a viewing of the all-too-real, outstanding Crash and Burn documentary that's the film version of his "Crashed and Byrned" autobiography. Yes, it's a racing film but it's just as much a film about life.
—
SUMMING IT ALL UP
The school is two days that features eight on-track sessions (roughly 2.5 hours per day on track), four classroom sessions, two breakfasts and lunch, and countless tips of advise.
It was hard to describe then, and even reflecting back on it a month or so later now, how much these two days meant to me.
As someone who has lived this sport for the better part of 20 of my 27 years, to have the chance to drive a racecar and temporarily be a race driver was something I could have only dreamed of.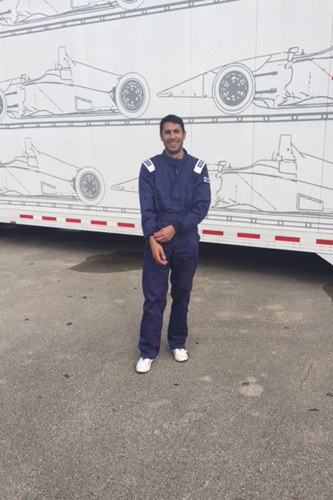 It also taught me a ton. You think you know a lot about what drivers and teams go through on a race weekend. But the amount of information these drivers have to retain and be ready for at a single moment's notice is unreal. These cars are simple enough to where it's not overwhelming, but they're also sophisticated enough to give you a sense of a proper formula car at a bargain rate.
The feedback is sensational. The fact coaches take such a hands-on role with you over the course of the two days shows how committed they are to seeing you improve at your craft. Four seconds improvement day-to-day on my end is statistical proof of that.
And then there's the emotional and spiritual side of it. When you're in a racecar, nothing else matters. That desire to push for that extra tenth or hundredth, that thrill of clicking off another flier, or the relief of saving the car from a big accident all sends chills down your spine. You get out and of course you're smiling.
For two days, pounding around Sebring, I had that feeling that perhaps I could be driving for real. I loved every second of it.
And then I remembered why I got into writing in the first place, because it's cheaper, and I love the sensation of capturing the moment just a little bit more…