The question often asked of Kevin Buckler and TRG in the early-to-mid-2000s as the team built up its brand, arsenal and fleet of Porsche 911 GT3s for the Rolex 24 at Daytona was rather simple.
How many Porsches are you racing this year?
For a team that once ran as many as six Porsches in 2005, with two Riley-Pontiac Daytona Prototypes added for good measure to make a race record total of eight entries from one team, TRG enters this year's Rolex 24 in a different position: as a team with just one car only, and one of the five Porsche 911 GT3 Rs on the grid.
It's fair to say even though the 2017 model of TRG is an underdog compared to the usually stacked two or three all-pro TRG cars of yesteryear, and overall within the 27-car GTD field, the TRG Porsche now represents the manufacturer's most prepared bet in the IMSA WeatherTech SportsCar Championship GT Daytona class this go-around.
Here's the reasoning. Few doubt CORE autosport's endurance expertise – they've won at Daytona and Sebring before – but to expect everything to go swimmingly for the team's first race with its new 911 is unrealistic. Park Place Motorsports has been frequently unlucky at the Rolex 24, having not even cracked the top-10 the last few years. Alegra Motorsports' lineup has a wealth of youngsters high on upside, while the Manthey Racing customer entry is primarily stacked with gentlemen drivers.
In TRG's five-driver lineup, there's Porsche factory veteran Wolf Henzler, sports car veteran Jan Heylen, and past Nissan driver Pablo Sanchez set to lead and two capable Bronze-rated drivers in Mike Hedlund and Santiago Creel.
Despite a lineup that includes proper pro-am drivers (some teams have stacked the deck), Buckler and TRG have enough experience from 20-plus years, four past Rolex wins (all with Porsche, including its famous overall win in 2003) and strategy to contend and surprise if the car makes it through the night unscathed. The team is back with Porsche after several years with the Aston Martin V12 Vantage GT3, with the team fully branded under the TRG-AMR moniker.
"It just feels right," Buckler told NBC Sports. "We were talking about this a month and a half ago, whenever it started, having a good conversation with my friends at Porsche and having been with them so long, we felt not only is it a feel-good story, but with all the factory efforts you have over here in GT.
"Even though we're probably the most successful in the engines (with Porsche), we're a total underdog and I love that. We're going to have to fight against these big factories, and who better to do that with than the team, the car and company I know best.
"Not only that, it was really fortunate that there were a couple of great Porsche guys that were available, so we've taken our best of the best and combined it with some of the best guys out there and hopefully we have a shot at being competitive. That's the whole idea.
"But getting the band back together was exactly it. Like I've said many times, don't bet against a Porsche in a 24-hour endurance race."
The new 911 GT3 R impressed in its debut last year and came up just short of a class win in the hands of Black Swan Racing.
Porsche's GTD effort is entirely customer-driven, unlike some of the other manufacturers in class, notably newcomers Acura and Lexus. Factory drivers are peppered in throughout all of the nine manufacturers entered in GTD.
The evolution of the race has also changed to where GT is now firmly featured given that level of investment. The new Prototype cars (DPi and 2017 LMP2 chassis) will be focused but with half the field, GTD is going to be where a lot of action – not just among itself, but potentially the leading classes – will take place.
"If the game was juggling more plates, we'd win every year. We've been really good at that," Buckler explained.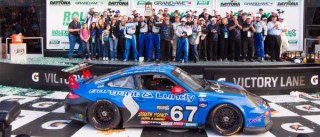 "But I've been beating the GT drum for 25-plus years, and for many years, GT was supporting the race, but they always promoted the prototypes.
"Now we see all this factory involvement, it's professional sports car racing, it's GT racing, you recognize the brands, you recognize the cars. I love it, I love being part of it and having helped shape it to an extent, even in a small way.
"It's real awesome because I'm involved in a lot of partnership and sponsorship deals with companies that would be looking at golf or tennis or stick and ball sports, and now they're hear with us, participating. That's very refreshing."
RingCentral, Crowdstrike, LaSalle Solutions, Cavall 7 and Buckler's Adobe Road Winery are among the partners on the newly renumbered No. 991 Porsche 911 GT3 R. The usual No. 66 or 67, TRG hallmarks of its Porsche past, are unavailable with the two Ford GTs having those numbers. Buckler's Le Mans-winning No. 81 was also unavailable with DragonSpeed running it.
"We went with the 991. It's a brand new car for that chassis number. That was no real significance for that number, but it was the best number we had. The full completion of the band would have been the 66 number," he said.
Buckler hopes to have his full-season Silver-rated driver alongside Henzler sorted by February, with a couple options percolating. Craig Lyons and Kris Wilson will share an Aston Martin Vantage GT4 in the Continental Tire SportsCar Challenge GS ranks and Buckler expects to have multiple entries in Pirelli World Challenge SprintX.
Trying to star as a one-car, fully privateer entry in IMSA's changing GTD arena is a challenge Buckler and TRG are relishing.
"If there's a good end game, then we will participate. If there's not, then I don't see why we would waste our money," Buckler said.
"I'm really looking forward to this year with the competition, although I think some of the (factory) guys got confused which class they're in.
"At the same token, I hope we can also come up with a strong lineup and have a rockin' year because it's just really satisfying to see the class so vibrant with so many manufacturers pushing so hard.
"To me, it's like the sport has arrived mainstream."