The Verizon IndyCar Series world was a bit different when Derrick Walker, then INDYCAR's new President of Competition and Operations, declared at the 2013 Chevrolet Dual in Detroit Presented by Quicken Loans that the "infamous aero kits" would eventually make their competition debut in 2015. Mark Miles was still in his first year as head of INDYCAR's parent company, Hulman & Co., Jay Frye was still a year-plus out from being hired by the sanctioning body, and the new Dallara chassis was only in its second year of competition.
During that press conference, Walker also outlined a long-term, 10-year plan for what he saw as INDYCAR's car evolution and vision through 2021. For the venerable Englishman who ran his own team for nearly two decades after moving from Penske Racing, Walker's tenure with the series ended at the conclusion of the 2015 IndyCar season.
But the plan executed by the new personnel in terms of IndyCar's car evolution has largely stuck to the script since, and with today's pair of announcements at the North American International Auto Show in Detroit, it's solidified a path that veers only slightly from that originally targeted timeline.
In 2017, the manufacturer designed aero kits from Chevrolet and Honda will have their final runs, with those kits frozen this year. New for this year is new brake partner, Performance Friction Corporation, or PFC Brake.
The new-for-2018 universal aero kit will be selected from a pot of 11 or 12 potential suppliers, and likely revealed in the flesh in February. This kit will be utilized for three years in tandem with the current base Dallara IR-12 (Dallara DW12) chassis, with that extended through 2020.
A windscreen or halo-type element could be part of the kit, but the kit may have a couple different solutions.
More efficient downforce is sought from the floor of the car, rather than the top of the car, per driver feedback to INDYCAR. Josef Newgarden and Alexander Rossi were present today as part of a roundtable meeting, and were among those who noted that's a direction they'd like to go.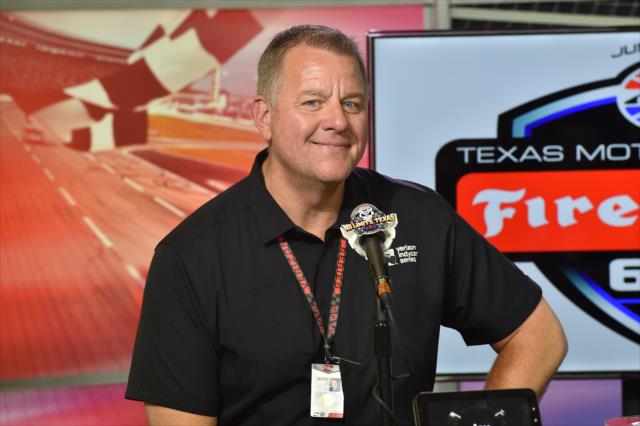 Frye, who succeeded Walker as INDYCAR's President of Competition and Operations, expanded on the car evolution trajectory in a roundtable meeting with reporters at Detroit today. Selected quotes of note are below:
ON THE PLAN ITSELF 
"I went to the University of Missouri, so this five-year plan is actually really four years, but it could be five. If you look at it in 2017, we've announced we're going to freeze the kits. '18, '19 and '20, so the next three years after that, we'll have a universal aero kit, and in the year 2021 it gives us an opportunity to do maybe something drastically different, maybe continue the current universal program, but just provides some options.
"The '18 car, what we're working on now, which we will unveil completely in the next couple weeks, we looked at the cars over the last 20 years, and what different parts and pieces off of different cars that we liked and we knew that other people liked, and especially that our fans were asking for. So that's really where the car started, and it's kind of a reverse engineering exercise. Usually you work on a performance piece first, where this car we worked on the esthetics of it first, hoping that we can create a performance package around it. And besides the performance piece, it also will have a lot of safety initiatives that are very cool, I think.
"An actual drawing of the car will probably be mid-February, and then it'll be early to middle of the summer before we get on any kind of track testing. And then once that happens, the process will accelerate very quickly. So again, once we were very — the model wind tunnel test was done, I believe, 10 days ago, two weeks ago, so once we got those numbers we were very encouraged by the plan and how it could work. If those numbers would have come back not what we thought, then we would have had to maybe regroup a little bit, but right now we don't have to."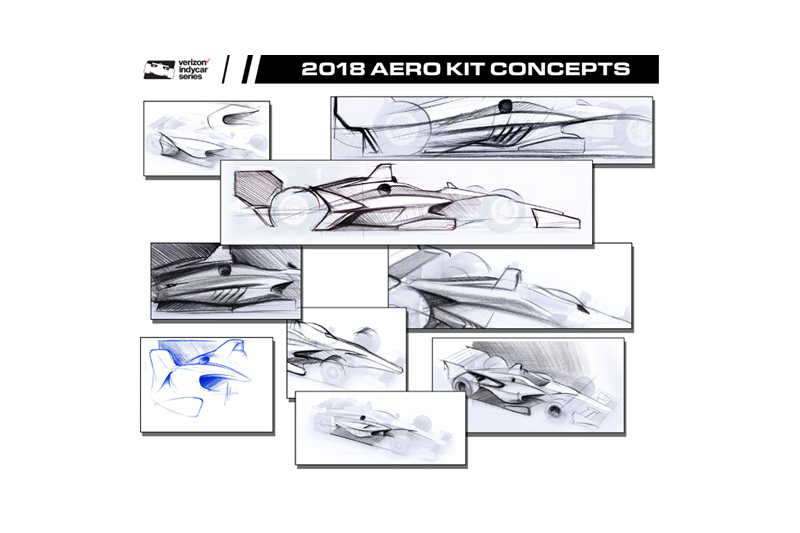 ON THE SHAPE OF THE NEW KIT
"(There's) a lower engine cover, doing some different things in the back, again, a different shape for the side pods. Again, I think you're seeing, something is going to go on the screen at some point, we'll show you kind of some preliminary hand drawings that we had of the car. Again, if you look at the one in the middle, it kind of shows, again, a lower engine cover. You'll notice there's something that's not in the rear wheels."
ON TESTING NEW PARTS THUS FAR
"We tested at Mid-Ohio; we tested at Phoenix. So we're taking the current car and coming up with some of the ideas we have, we basically took parts off to see what they would do. One of the things on this new car, there's a lot of parts and pieces that are not on it, so we took most of the downforce of this current configuration, most of the downforce comes from the top. The new car, most all the downforce will be generated from the bottom of the car, so I think these guys will like that.
"When we did the tests, one of the things the drivers mentioned and commented was how we have a great racing product right now, we don't want to affect that negatively in any way, but this new car, the universal car, we should be able to pull it better. We don't run into that air that they currently do. So that's some things that we're looking at. Performance-wise it should be better because we don't want to go backwards, and the safety elements to it, there's some stuff on the side impact that should be much better."
ON A POTENTIAL HALO/WIND SCREEN
"We are looking at a wind screen or a halo type application. Will that be on the car in '18, I'm not sure, but we're full speed ahead designing and developing as soon as possible.
"But again, even that, because of our schedule being so diverse, maybe there's two different applications. It would be difficult to run a halo at an oval, but what's to say you couldn't run a halo at road courses. Yeah, we're looking at all different scenarios."
ON SAFETY ENHANCEMENTS THE LAST COUPLE YEARS
"One of the things on safety, too, if you look at last year, this was the dome skids, the tethering, the rear wheel guards to the rear flaps, you know, two years ago we had the issues with the cars getting airborne. Last year at Indy, every car that spun, I don't know if you noticed, smoke completely engulfed the cockpit. Well, the year before the cars would get light and there would be no smoke when they spun.
"Well, when we saw smoke when the first car spun and the car was completely engulfed with tire smoke, that was perfect. That's exactly what the — that safety element was supposed to do, keep the car on the ground. It flat spotted the tires. You shouldn't do a 360 spin or whatever and just be able to drive off. It needs to keep the car on the ground. There's been other safety things that we've done that we will incorporate into the '18 car that we have in '17 that we developed in '16."