The memories created from May 29, 2016, when Alexander Rossi completed one of the more heroic and unlikely performances en route to winning the 100th Indianapolis 500, were enough to last a lifetime.
But while the win itself for Rossi and car co-owners Michael Andretti and Bryan Herta brought the flurry of media activity, whirlwind number of trips and appearances in the days that followed, there still wasn't the tangible take-home product of the trophy that comes with it.
Wednesday night as part of the Automotive News World Congress dinner event at the North American International Auto Show in Detroit, the winners have received their Baby Borg-Warner Trophies. The Baby Borg was first presented to Rick Mears in 1989, following his third of four Indianapolis 500 wins in 1988.
Andretti has had four different drivers deliver him a Baby Borg – Rossi joins past champions Ryan Hunter-Reay (2014), Dario Franchitti (2007) and Dan Wheldon (2005) – with Herta now blessed to have a second Baby Borg of his own after Wheldon's triumph in 2011 in a similar surprise victory in a No. 98 Honda.
For Rossi, however, the Baby Borg marked the full circle culmination of the victory, with this physical appreciation now standing as a gift he'll have for life to remind him of that most special day.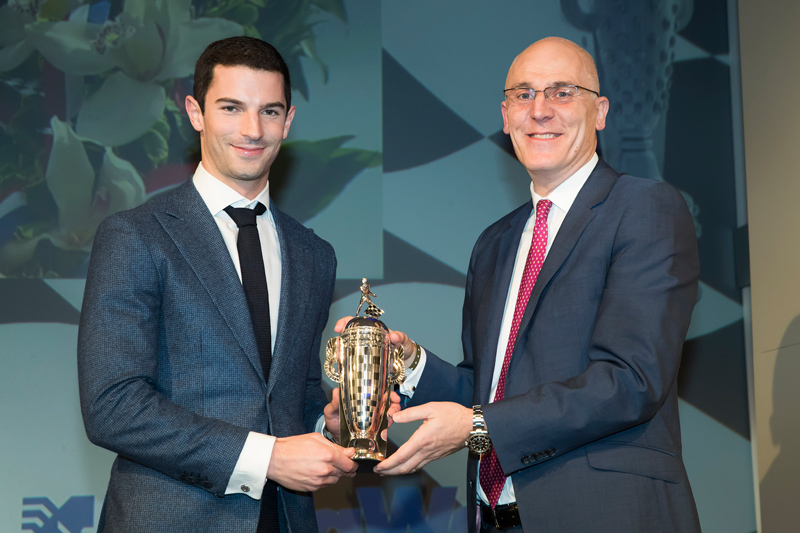 "These two nights were the ones I was most looking forward to," Rossi told NBC Sports. "It's obviously the trophy aspect that makes it real.
"The first evening with my likeness unveiled, you become a part of motorsports history. Yet you leave, and go with nothing in your hand.
"So it's nice to come here to Detroit at the Auto Show. There's so many people and you have the presentation. Now, I can take something home and figure out where I put it in my house!"
In December, Rossi saw his likeness revealed on the Borg-Warner Trophy for the first time, at an event at the Indianapolis Motor Speedway Museum.
Sculptor William Behrends pretty much nailed the face as Rossi became the 103rd face on the trophy (two co-drivers and Tony Hulman are the extras beyond the 100 race winners).
January in Detroit though is where the automotive world comes together and where INDYCAR can be showcased beyond the track itself.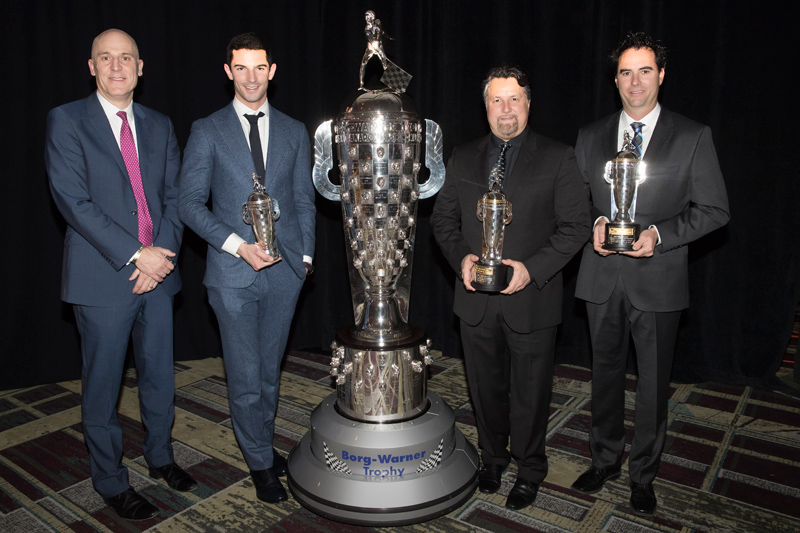 "What BorgWarner does every time is incredible; all four times have been special," Andretti said. "It's so cool they do it here in Detroit, the "automotive capital of the world." It's such a great show and a great place to stage this event. I love they keep the tradition."
For Andretti and Herta, their trophies mark the culmination of the journey to get here. Herta's IndyCar program was in jeopardy of failing to make the 2016 grid altogether, before the former teammates at Andretti Green Racing merged up in late February to create the Andretti-Herta Autosport entry for Rossi.
Even more special for Herta is the fact he grew up near Detroit in Warren, Michigan.
"I was born here and lived here. Michael joked you need a good reason to come back in January because of the weather," Herta related. "But It's an amazing effort. It's great for INDYCAR. Great exposure back in the automotive industry, the backbone of the industry.
"Really, the whole journey has been amazing over the last 365 days to now. We've come such a long way in terms of having real stability with the Andretti Autosport team. It's very exciting."
"This one was really special. As Bryan said it started last year, in February. To win the thing with a rookie driver that's never seen the Indy 500 before was surreal," Andretti added.
It was apparent in December that the win meant more to Rossi as time passed, from the initial shock and saying "I have no idea how we pulled that off!" that occurred in victory lane. At the BorgWarner Dinner, his appreciation for meeting three-time Indianapolis 500 champion Bobby Unser, then four-time Monster Energy NASCAR Cup Series champion Jeff Gordon who popped in in a cameo, was obvious.
Similarly, while Wednesday night marked a surreal moment for Rossi, he expects the magnitude of having the Baby Borg – which he doesn't yet know where he'll place at home – to sink in down the road as well.
"I'm sure this is another thing I'll appreciate more later, than right in the moment," Rossi explained. "The significance will sink in more.
"It comes in different times. It takes you back, and that's when it hits later. Then it'll remind me of another moment. That's an epiphany of the moment and how special it is.
"This journey, and what I've learned about the history is mind-blowing. I'm surprised I went so far in my career without learning more about it. BorgWarner's involvement and their support is incredible… and I'm humbled to accept this award."
Most of Rossi's wins in junior formula came as part of two-race weekends, so that mean there was little time to reflect on each one. The pursuit of the next win was always next.
Rossi hailed his Formula BMW World Championships win in 2008 as meaning the most in his career prior to Indianapolis, as it spring-boarded him to Europe.
The win on open-wheel racing's biggest stage though puts him into rarified air among the legends of all-time.
"This race isn't comparable to anything else given its size and magnitude." he said. There shouldn't be anything else that relates to it. That makes it even more exponentially powerful."