BIRMINGHAM, UK – Given that he has recently taken over the day-to-day running of one of Formula 1's most historic and established teams, Zak Brown cuts an unassuming figure as he graces the stage of one of the stands at Autosport International.
The native of Los Angeles, California and executive director of the McLaren team speaks warmly of his new drivers, having announced them just minutes before.
Do not fear. There hasn't been another last-minute change in the F1 driver market.
Instead, Brown is presenting two new drivers for United Autosports, a sports car team he co-owns which will make its debut in the 24 Hours of Le Mans in June.
Brown's list of interests doesn't stop there. He's also the chairman of Motorsport Network, one of the largest media companies in racing that is involved with the very show he is attending and which has recently taken a stake in Formula E.
He has also played a crucial role in striking sponsorship deals for the majority of the F1 grid, his commercial nous so sharp that he was previously tipped as a possible successor to Bernie Ecclestone at the helm of the sport.
It's safe to say that Zak Brown has a lot on his plate. But turning McLaren's fortunes around is set to be his biggest challenge to date.
Success in F1 with names such as James Hunt, Niki Lauda, Alain Prost, Ayrton Senna, Mika Hakkinen and, most recently, Lewis Hamilton has made McLaren one of racing's most respected and established brands. Outstanding performance on-track is matched by a spotless off-track image, with both echoed by the supercars meticulously produced by the marque in Woking, England.
Yet in recent years, success has been hard to come by for McLaren. The team has not won a grand prix since 2012 and is without a podium since the beginning of 2014, with long-term engine partner Mercedes' decision to focus on its own works team from 2010 prompting McLaren to rekindle its famed partnership with Honda two years ago.
It was a decision made based on the long-term, with the trade-off being short-term pain. And lots of it. With the Honda power unit a year behind the others introduced in 2014, world champion drivers Fernando Alonso and Jenson Button have struggled to generate outstanding results and instead been left to occasionally produce outstanding memes.
The dispute over the future direction of the team recently led to the departure of Ron Dennis, the man who made McLaren the team it is today. After 35 years at the helm of the company, Dennis announced last fall that he would be leaving, citing "entirely spurious grounds" for his exit.
The winds of change are blowing at McLaren, with Brown's arrival – officially on December 11 – being a key part of the revolution taking place at Woking.
"It feels like longer," Brown admits, reflecing on his first month in the job. "It's cool showing up to McLaren every day and seeing the history and the people and the drivers and the cars. It's very hard work but it's a lot of fun work.
"I know what I want to do over the course of the year. I'm trying to get it done tomorrow. That's the hard part: just managing how much can be done in a day."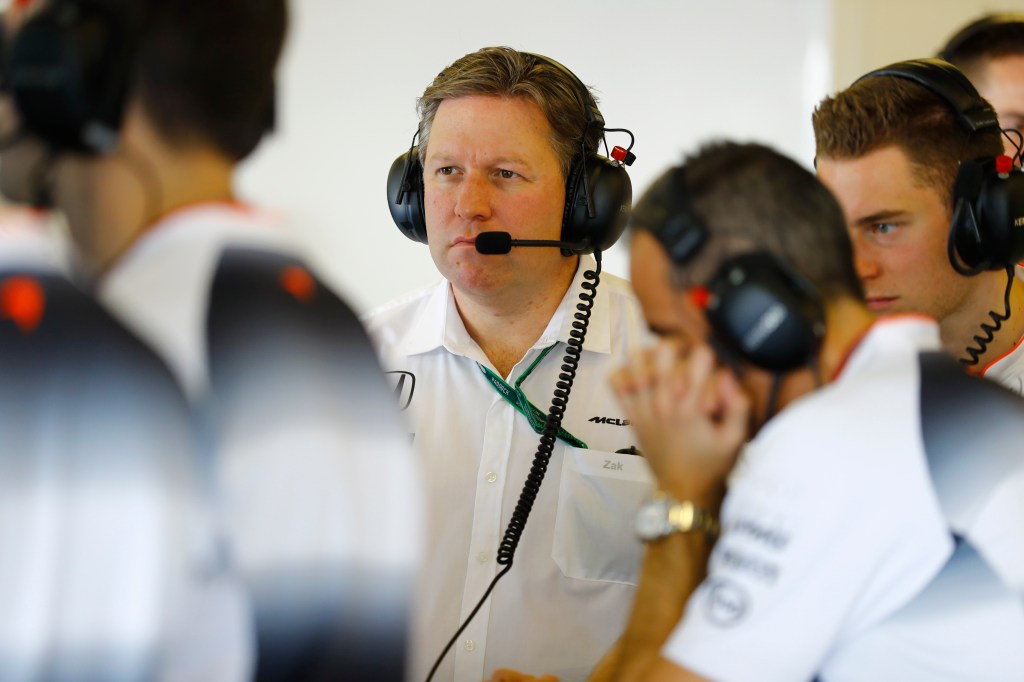 Even in just a month, Brown has already started to make his mark at McLaren. He gave a rousing speech to the workforce not long after his arrival that sparked long, fierce applause, and is enacting change where possible.
"I've done some structural stuff on the commercial side and a bit on the technical side," he explains. "Just making sure everyone has the tools they need and communication is clear and concise."
McLaren-Honda has a real first chance to make a big breakthrough in 2017. The first year of the partnership was, in Brown's own words, "painful", with the team ailing to a lowly ninth place in the Constructors' Championship. But rapid progress lifted it to P6 in 2016. A shift in the technical regulations for the coming season is expected to shake the field up, creating an opportunity for McLaren to make up ground.
"Early reports on the car are good; I saw some of the aero stats yesterday," Brown says with an air of optimism carrying in his voice. "We're close to where we want to be, and Honda's coming along with the engine. We're cautiously optimistic."
McLaren's trials and tribulations have arguably placed the greatest burden upon the shoulders of star driver Alonso. The Spaniard is widely regarded as being one of the finest racers in the sport's history, with his haul of two world titles not doing him justice. His move to McLaren for 2015 after an ill-fated stint at Ferrari came eight years after an explosive season at Woking that saw him fall out in public with the team, largely sparked by the emergence of then-rookie Lewis Hamilton.
Naturally, when Alonso rejoined McLaren on a three-year contract, few expected him to see it out. But 2017 will be year three. However, the success he still craves with every fiber of his being remains elusive, inevitably leading to speculation that he could go elsewhere or – should the 2017 cars not be to his liking – retire from F1.
"He's definitely committed to the project, but his contract is up and he's in high demand as you can imagine," Brown freely admits. "Vettel's out of contract next year, that's my understanding. So as you can imagine, next year's going to be an exciting driver market movement.
"Obviously we'd love to keep [Alonso], he's one of the greatest drivers on the track, if not the best. But we're just going to see how things go and kick off those conversations a few races into the year. If I was him, I'd want to see how we perform before I started making decisions. You can't blame him for that. But I think we're all waiting to see and that goes both ways."
Alonso will be joined at McLaren in 2017 by rookie driver Stoffel Vandoorne. The Belgian has been successful in everything he has raced in through his junior career, culminating in the GP2 title in 2015. "Stoffel will give Fernando a run for his money," Brown says, smirking. "I would not underestimate Stoffel."
Brown may be staring down the barrel of a challenge most would shy away from, but this is not his first rodeo. Granted, United Autosports may not be a team operating on the same scale as McLaren, yet he feels there are lessons to be learned from his involvement in sports car racing.
"With United Autosports we're building history, obviously McLaren's got a tremendous amount of history," Brown says. "In both takes a racing culture, mentality, get the right equipment, get the right people, empower the people.
"So you kind of go racing in the same way. It's just one's with 50 people and one's with 750 people. It's great, there's a lot that I see here that I can learn over at McLaren and vice-versa. I think racing's racing."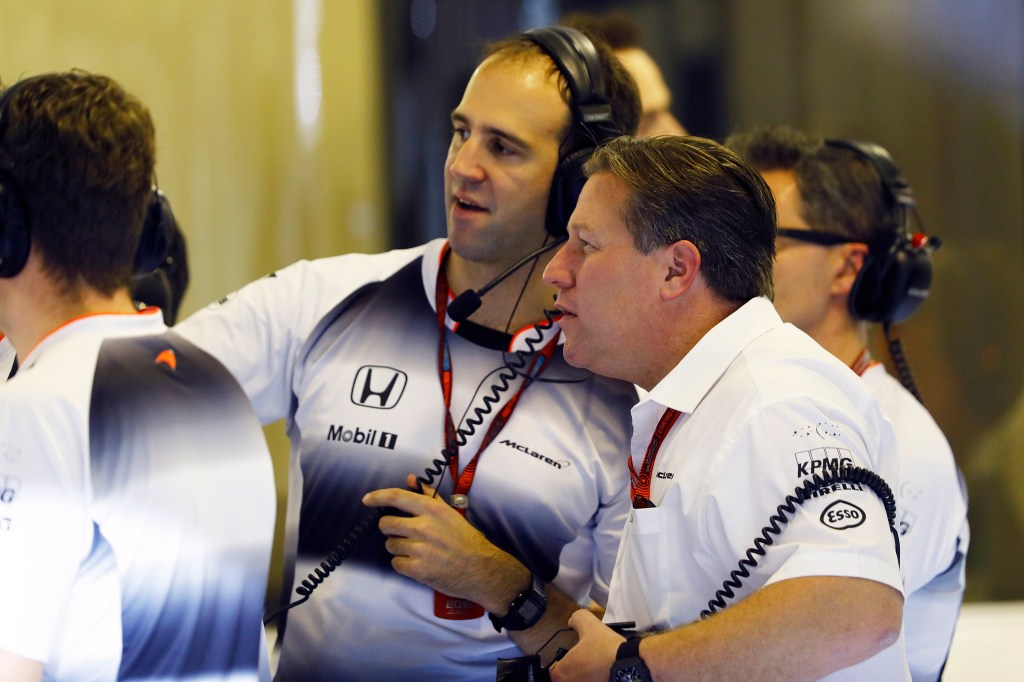 Brown's push for change does not stop at McLaren, though. The 44-year-old has ideas for how F1 can grow and increase its global reach, with a firm desire to put fans first.
"You've got to get the fans closer to the sport, whether it's physically or through digital devices, whether that's live or other media channels or both," Brown says. "I think we need to let the towns know that we're coming to the race earlier. I've landed at some grands prix on a Thursday, land at the airport and you wouldn't know that the race is happening.
"You land in town for the Super Bowl, by the time the gate has pulled up to the gate, you know the Super Bowl is in town. I think the marketing needs to start a city level, maybe get the drivers there a little bit earlier, get the media turned on earlier. And then have some events.
"I think fan engagement doesn't just have to be at the race track. It can be during the week in the town centers, etc. So I think we need to do a better job of event marketing."
Change for change's sake is not Brown's style though. Much has been made in recent times about changing the format of an F1  weekend, with the sport's ringmaster, Ecclestone, suggesting that two shorter races may work better than one longer event. Brown is open to ideas, but is wary of failing to fix something that isn't broken.
"It depends on how good the racing is whether an hour and a half is too long or too short," he says. "If it's a great race, an hour and a half is nothing. If it's a boring race, 30 minutes is boring.
"I'm OK with the format. I'm certainly open to suggestions. I think if you look at other sports, they have made modifications in other sports to be more appealing to the way people view sport now. I think it does need to be reviewed but I'm not convinced there is much wrong with the format of the weekend."
Brown's involvement in motorsport has not been limited to the boardroom or pit wall. The American has loved getting on-track throughout his adult life, starting out in single-seaters as a youngster before becoming more involved in sports cars.
Following a sabbatical from racing to focus on his business interests, Brown has raced on-and-off since 2006, making appearances at the 24-hour races at Daytona and Spa, as well as contesting the majority of the 2013 British GT season with United Autosports. He has an array of classic cars in his garage, too, including one of the McLaren F1 cars raced by Mika Hakkinen that he has personally driven on a number of occasions.
This affinity with McLaren is clear when you speak to Brown. He professes to be a "fan", and that much is clear when he speaks of his new role, but his judgment is not clouded as a result.
"I've been around long enough that when you get into business mode, you've got to turn the fan off," he says. "It's a job. I've been fortunate working with all the teams in the series. I can turn that off. I'm a fan on Sunday when the race starts."
Brown may have a lot of work to do, but to him, it doesn't feel like work. "McLaren is my priority, and then motorsport.com and Network and obviously the show… none of that feels like a job, so it's easy to kind of work 24 hours a day," he says with a smile on his face.
"It's not stressful, it's quite enjoyable. I'd like to do more of what I'm doing now, but I'm quite happy with the portfolio of commitments. I just want to make sure they're at the world championship level for all of them. So far so good."
So is Zak Brown the busiest man in motorsport?
"I don't know!" Brown chuckles. "I know how busy I am. I certainly feel very busy. But there's a lot of people out there working real hard. But yeah, I'm flat out." He claims that he usually gets about five hours of sleep each night; a pretty good figure given the scale of his work.
"I love motorsport," Brown adds. "It's fun. The minute it's not fun, you stop doing it."
This passion and love for racing does more than drive Brown: it becomes him. There is a fervor in his voice when he talks of his 'work' – he may disagree with that term's primary definition being used here – and a love for what he does. Not one iota of cynicism or skepticism seeps through in his answers; everything is exciting.
Brown may be facing an unenviable challenge, such is the enormity of trying to revive the fortunes of a team of McLaren's magnitude, but it is one that he is relishing.
And if Brown's enthusiasm is anything to go by, McLaren is in very safe hands indeed.