It was 21 years ago, but Valtteri Bottas remembers as if it was yesterday — the day that would change his life forever.
Bottas, just six years old at the time, was riding in a car with his father in their native Finland when they came upon a go-kart race taking place.
It was love at first sight for little Valtteri – and dad, too. Although they were supposed to continue on to a neighboring town of Lahti, they decided to postpone the trip and spent the rest of the day watching the racing action.
It was also the first step Bottas would take towards becoming a race car driver. It's a journey that two decades later has now, as of Monday, brought him to a seat with the sport's most dominant team in recent years, Mercedes AMG Petronas, and made him teammates with three-time World Champion Lewis Hamilton.
Along the way to the present, Bottas became a go-kart champion, won countless races across a number of series, and now has just one thing in mind that he's focusing on: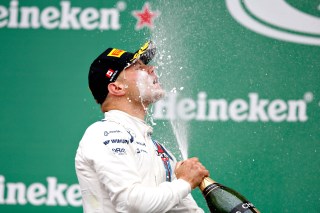 Winning a Formula 1 championship with his new team.
As the driver chosen to replace the now-retired 2016 F1 champion Nico Rosberg, Bottas' dreams have come true. But at the same time, expectations have never been higher or more demanding upon Bottas, who spent the last four seasons with the Williams F1 team.
Bottas finished 17th in his first season with Williams in 2013, then scored a career-best fourth-place showing the following season. Bottas was fifth in 2015 before slipping to eighth last season, as the car regressed.
But now, Williams is in Bottas' rearview mirror and all he hopes to see is clear pathways going forward, hopefully with him in the lead and every other driver chasing his Mercedes-AMG Petronas Motorsport Silver Arrow.
Yet having the best team in the sport is no guarantee of success, Bottas prudently says.
"It would be nice to know the answer to the question of how you become Formula 1 World Champion," Bottas said in a story on the MercedesAMGF1.com website. "But there are so many factors involved. It's not just about you as an individual.
"Even if you're the best driver, you're not going to win anything if your engine packs up ten times during the season. As a driver, you have to concentrate on your performance and give everything for the team. On your own, you don't stand a chance."
But one of the reasons Mercedes chose Bottas over other F1 drivers is his determination and drive – both in the car and in life.
It's something that traces back to the first two times he climbed into a go-kart to begin his path to F1: finishing third in his first race and winning his second. A few years later at the age of 13, even though he was larger and heavier than most of his competitors, Bottas would win the Finnish go-kart championship.
"I had to do everything I could to make my dream come true," Bottas said. That included going on a diet and physical regimen that strengthened both his body as well as his championship-winning chances.
"This was the turning point, at which I became professional and saw racing as more than just a hobby and a fun ride," Bottas said.
Now he has perhaps the most fun – and demanding – ride he's ever had. But just like he did when he climbed behind the wheel of his first go-kart at the age of seven, one thing has remained a constant for the flying Finn.
"I never give up," Bottas said. "I still cherish my ambition of winning the world title. I will do everything I can to achieve that. It's my life goal right now.
"There is no better feeling than being in the pits on Sunday – race day. The mechanics start the engine; you hear it and you feel it, and you know this precious gem will be in your hands for the next two hours. It's now all up to you."
And while Bottas readily admits "I'm living the dream every day," he's not letting the team he's with, or the success it has had over the years, get to his head.
"Ultimately, I'm just an average guy from Nastola (his hometown of 15,000) in Finland, who just happens to be a Formula One driver."
Follow @JerryBonkowski