New Team Penske driver Josef Newgarden has been named as honorary chairman of the 2017 Rev fundraiser to benefit Methodist Health Foundation.
This year's edition of Rev, which brings together luminaries including drivers of the Verizon IndyCar Series, as well as fans and philanthropists, will be held May 6 in the infield of Indianapolis Motor Speedway.
"This is our main fundraiser which also serves to kick off the month of May at the Indianapolis Motor Speedway," Methodist Health Foundation Chief Development Officer Sally McGuffey said in a media release. "Rev has grown to become one of the city's premier foodie events, with cuisine inspired by drivers and Indy's top chefs.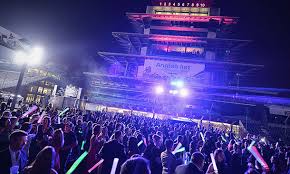 "The event's mission is to raise funds and awareness for Indiana University Health statewide trauma programs, including those that provide care for drivers and patrons at the Indiana University Health Emergency Medical Center of the Indianapolis Motor Speedway."
Rev is presented by Fifth Third Bank and this year's edition will see the addition of Milktooth restaurant, a well-known Indianapolis eatery that is ranked in the top 10 of Bonappetit.com's best restaurants in the United States. Milktooth will be one of more than 60 restaurants that will be offering some of their top delicacies to Rev attendees.
Last year's Rev drew over 3,000 attendees to IMS for not only great food, but also live music and dancing. It has become one of the premier ways for fans to interact with IndyCar drivers while also contributing to a worthy charitable cause.
Newgarden is entering his first season with Team Penske – he'll drive the No. 2 Chevrolet – and sixth overall season in the Verizon IndyCar Series. He finished fourth in last year's final standings.
"It's a great honor to be partner with Rev this year for a cause that does so much for the community of Indianapolis and the Indianapolis Motor Speedway," Newgarden said. "The growth of this event in such a short time is a testament to the hard work everyone puts in to support Methodist Health Foundation. I'm really looking forward to helping the event continue the upward trend."
This will be Rev's fourth consecutive year of being hosted by IMS.
"The relationship of IU Health and Methodist Health Foundation with IMS is over 100 years old and great events like Rev help make our partnership stronger than ever, while ensuring that both drivers and fans continue to receive top-notch care," IMS president Doug Boles said. "Josef is a fantastic addition to this year's Rev team and will ensure the event continues to grow and serve as an excellent Month of May kickoff."
Follow @JerryBonkowski