Porsche and 911 are as inextricably linked as bread and butter. Porsche and a mid-rear-engined 911, however, are as disparate as chalk and cheese.
Yet for 2017, the new era of Porsche's 911 – its flagship car – marks its most radical reinvention from its usual rear-engine flat-six engine that is the hallmark, with the engine now ahead of the rear axle.
The new 911 is a normally aspirated beast and shakes up the norm for all its drivers, its engineers and its team.
Per Porsche: "The suspension, body structure, aerodynamic concept, engine and transmission have all been designed from scratch for the 2017 season. Depending on the size of the restrictor, the motor, which is now positioned in front of the rear axle, puts out approximately 510 hp. Thanks to the modern, lightweight normally aspirated engine, the designers were able to install a larger rear diffuser than in years past. Combined with a top-mounted rear wing, the level of downforce and the aerodynamic efficiency have been significantly improved."
This new car looks to add to Porsche's legacy at Daytona. From 1966 to Daytona, Porsche has 22 overall wins (11 straight from 1977 to 1987) and a total of 76 class wins. The most recent class victory came with the North American debut of the previous generation 911 RSR in 2014. That record is made of 27 GT class wins, one SGS class and GX class win each.
In the stacked GT Le Mans class, Porsche stands alone with the only all-new car for 2017, while Ford (second year of the GT), Ferrari (second year of the 488 GTE), BMW (second year of the M6 GTLM) and Chevrolet (fourth year of the Corvette C7.R) are all well into their current cycles of their newest cars.
That makes Porsche an outlier and arguably the manufacturer to watch throughout the year, as the new car progresses from start-to-finish over the course of the season in both the IMSA WeatherTech SportsCar Championship and FIA World Endurance Championship, where the rebranded Porsche GT Team has parallel two-car programs.
On the IMSA front, it's not just the car that's new, but also both driver lineups – only two years removed from a dream 2015 season that saw them dominate the GTLM class and score a shock, but well-judged, overall win in the torrential rains at Petit Le Mans.
Nick Tandy and Earl Bamber earn justifiable promotions to Porsche's LMP1 team in the WEC, but it left a couple openings on the GTLM team. With Fred Makowiecki then shifted away from a full-season IMSA ride, that meant three spots opened up.
For the Morgan Brady-led, CORE autosport-run U.S. Porsche team, Patrick Pilet, the 2015 GTLM champion and lone holdover, will continue into 2017 with ex-privateer Porsche driver and past factory BMW driver Dirk Werner in the No. 911 car.
An entirely new lineup of Laurens Vanthoor (formerly of Audi) and Kevin Estre will be in the No. 912 car, and this presents arguably the most intriguing of pairings given both drivers' youth but already ton of experience. Makowiecki (No. 911) and Richard Lietz (No. 912) are the third drivers. The two cars clocked 1,824 miles at the Roar Before the Rolex 24 test.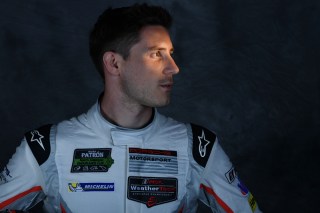 Estre, who joined Porsche as a factory driver last year, said he and Vanthoor already get on great from their European racing experience, and are looking forward to combining as teammates rather than trying to beat each other.
"We drove one time together in Le Mans in LMP2 with OAK (in 2015, in a Ligier JS P2 Honda)," Estre told NBC Sports. "We know each other as teammates, but more as competitors. It's been really good so far. We're both speaking French and have a German wife!
"The connection is really important for endurance races. It's good to feel confident, and speak about a lot of stuff. So far it's perfect. I'm confident we'll work well together with our ways, being pretty similar of GT3 to Porsche. It's quite new and with Porsche in GTLM."
Estre offered advice for Werner and Vanthoor, who join Porsche as new factory drivers this year, on how to integrate into the culture of one of the world's most successful manufacturers.
"I've done a lot before with Porsche in German Carrera Cup and Supercup," he explained. "I knew the German culture. But being new as a factory driver is a bit special. You need to understand the team… you need to know CORE, Manthey, and Porsche AG in general.
"Everything is new. It's a lot different. But with time, you know the people. You know where to go if you have a problem, or which question to ask to which people. I'm a lot more confident and more experienced now."
Estre, who starred with McLaren in Pirelli World Challenge in 2015, had a mixed season in 2016 where he ran a mix of IMSA and European races. Having a single focus back on North America full-time is exciting for the Frenchman.
"I was happy to do different things but knowing you're doing just one championship is different than three races here or there. As a driver, you look forward to winning something and to have a full season here is good for the U.S. I did IMSA three years ago in GTD, so GTLM will be new."
Marco Ujhasi, Director of GT Factory Motorsports for Porsche, said the test went well for the design of the program.
"The test miles that we covered over the last three days in preparation for the race were very important. We managed to tick off all the points we'd scheduled for ourselves and now we have a much better understanding of the car on this racetrack," he said in a release.
"In addition, we experienced changeable and very diverse track conditions. It was dry and wet, warm and cold – precisely what you need in race preparations to be primed for all eventualities. We feel very well prepared for the race and the premiere of our new 911 RSR. In this respect, these three days in Florida were very successful."
As noted above, Porsche won in GTLM in the U.S. debut of its previous 911 RSR in 2014, with Tandy, Pilet and Lietz. An encore with this car's debut would be another interesting story in and of itself.