The trio of new manufacturers entering the 2017 Rolex 24 at Daytona – Acura, Lexus and Mercedes-AMG – add three more bullets to an already loaded GT Daytona 27-car class field for the season-opening round of the IMSA WeatherTech SportsCar Championship season. It brings the total number of manufacturers entered this year up to nine, joining six returning brands (Porsche, Audi, Ferrari, Lamborghini, BMW, Aston Martin) from 2016.
The new cars have all taken an interesting road to get here as they make their U.S. race competition debuts, following either or both of testing and international class racing.
Acura enters with arguably the most buzz among the three manufacturers. The sister brand to Honda has the cache of the history of the NSX brand from the early 1990s, and the long-awaited revival of the new NSX as a GT3 model comes with much anticipation.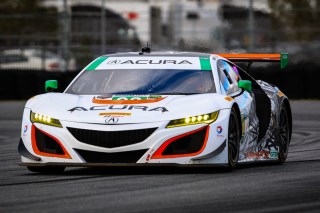 In Michael Shank Racing, Acura has a team with nearly two decades of endurance experience, in collaboration with Peter Cunningham's RealTime Racing which has been an integral part of the testing process. The car was revealed last spring in New York and made its on-track testing debut in late July at the Pirelli World Challenge weekend at the Mid-Ohio Sports Car Course, not far from Honda of America Manufacturing in Marysville, Ohio. A further public test at Utah Motorsports Campus in August followed.
Testing hasn't been entirely smooth, which is to be expected as teams work through the mechanical niggles and prefer to diagnose issues early. As Shank explained to at the Performance Racing Industry (PRI) Trade Show in Indianapolis in December, the working process has gotten better with each run.
"Every time we take the car out, it's getting better, literally," Shank told NBC Sports. "Every time it goes out the door, there's more done to the car to make it endurance-worthy, comfortable for drivers, quick – it's just a huge bucket list, a punch-out list of stuff to get done that we're slowly taking care of."
Acura's pair of NSX GT3s slotted in 20th and 23rd at the Roar Before the Rolex 24 test, which may not be representative of the car's ultimate pace.
With their lineups of Ozz Negri, Jeff Segal, Tom Dyer and Ryan Hunter-Reay in the No. 86 Acura and Andy Lally, Katherine Legge, Mark Wilkins and Graham Rahal in the No. 93 car, the team has assembled eight all-star drivers who are all close and consistent enough on pace to keep the cars in the fight.
Lexus enters into GTD following a roller coaster year-and-a-half of buildup. The team's initial RC F GT3 lacked outright competitiveness before homologation issues, and required a new build of a second generation car that spent the latter half of 2016 building up mileage.
The former Rocketsports Racing – or RSR when it was in IMSA's Prototype Challenge class – has had a mixed history with GT cars. Paul Gentilozzi's effort was a race- and championship-winning machine in the Trans-Am days, most recently with a Jaguar XKR in the early 2000s. However, when the RSR Jaguar program entered into GT2 (now GT Le Mans) in the American Le Mans Series, it struggled for both pace and reliability.
Toyota, Lexus' sister brand, seems entirely committed to the Lexus project, and the renamed 3GT Racing has a great future-looking lineup with Sage Karam, Jack Hawksworth and Robert Alon – all 25 or less – as three of its four full-season drivers. And in Scott Pruett, they have one of the most successful sports car drivers of all-time as their lead driver and mentor-in-chief.
"To have the passion and ability he has at 56, to be a wheelman is unreal," Karam told NBC Sports. "That dude can still wheel a car. Listening to how he talks and goes about everything, it's unlike anyone else. I'm blessed to have a teammate like Scott."
Endurance race extras include a capable quartet of Ian James and Gustavo Menezes (No. 14) and Austin Cindric and Dominik Farnbacher (No. 15), the latter of whom probably has been most integral to the Lexus development process. Lexus was 21st and 24th at the Roar.
The most ironed out car should, in theory, be the new Mercedes-AMG GT3. The car tested for the first time at Daytona in November 2015, which gives it already more than a year up on the other two outright new cars. It had success in European GT racing last year.
In Riley Motorsports, Mercedes has a team that is perhaps the most well-sorted in the paddock. Bill Riley leaves no stone unturned and even with new cars, with the Dodge Viper GT3-R retired from competition, the expectation is that Riley's pair of Mercedes will be instant competitors. Jeroen Bleekemolen and Ben Keating share the team's No. 33 car while the WeatherTech Racing pair of Cooper MacNeil and Gunnar Jeannette lead the team's No. 50 car.
"It's not too hard (of a transition) because this car is so nice and easy to drive," Bleekemolen told NBC Sports. "I've always said of the SLS, this is the easiest car I know and this car is similar in that way. It's a very easy car to drive. You get a feel for the car pretty quick and that makes it also a good all-around car. In difficult conditions, it's going to be good, it's going to be easy. I love this car."
Pace at the Roar backed that up. The No. 33 Mercedes was second, the No. 50 Mercedes 11th, and the third Mercedes – the No. 75 SunEnergy1 Racing entry – split them nearly right down the middle in seventh.
Audi won its first WeatherTech Championship race last year in GTD with its new R8 LMS, which extended the new car's run of early success in international endurance races to four wins in its five most recent starts. The Mercedes' run of international success last year included a top-four sweep at last year's 24-hour enduro at the Nürburgring as part of 18 overall wins, so it follows that even though this race is its IMSA debut, it could and probably should contend for class honors.
For Acura and Lexus, the goals are different. With this being the first race for both cars, finishing is the first and most important goal. Ford achieved a wealth of success as it went on with the Ford GT throughout 2016, but arguably fell flat on its face with a litany of issues that popped up on its worldwide race debut at Daytona.
Provided each of those two manufacturers can get one car home to the finish, it will have been a solid start. For Mercedes-AMG, meanwhile, a win at Daytona is within range to extend its run of form, provided it gets past the other outstanding challengers in class.