The "36 hours of Florida" is the unofficial name for the kickoff to the North American sports car season, with the Rolex 24 at Daytona and Mobil 1 Twelve Hours of Sebring comprising 36 hours of grueling endurance racing to begin both the IMSA WeatherTech SportsCar Championship and Tequila Patron North American Endurance Cup seasons.
Post-those 36 hours, though, a good dose of R&R time is needed. And this is where an outside-the-box idea – a cruise featuring a number of those individuals who ran at either or both of Daytona and Sebring – comes into play.
"Cruisin' with the Racers" came to light last year under a different branding and name, but is set to feature a number of full-time sports car competitors in a motorsports-themed cruise off the coast of Florida, starting in Ft. Lauderdale the day after the race (Sunday, March 19) and returning a week later to Key West.
More to the point is the deal on offer for racers and race fans, with a special promotional offer available for car club members and those with a series membership of just $200.
"It's a hidden gem of a vacation idea," said Marc Miller, who drives the No. 33 CJ Wilson Racing Porsche Cayman GT4 Clubsport in the Continental Tire SportsCar Challenge and will be part of the cruise. He'll share that car with Till Bechtolsheimer this season.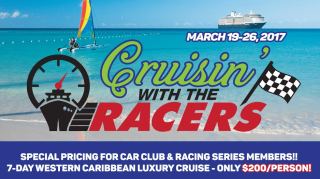 "Essentially this started as a cruise geared for racers. It's morphed into the promotion where we're inviting a bunch of racers on board. There can be even more interaction with auto enthusiasts and car club members. The goal is to get as many like-minded car enthusiasts as possible on the ship.
"A lot of road racers like to have a bit of downtime. There's a busy week of lead up to Sebring, but there's a decent size gap between Sebring and the next race (Long Beach for the WeatherTech Championship in April, Circuit of The Americas for Continental Tire Challenge in May). We know not everyone can go, but the invite is out there."
Miller's 2016 co-drivers at Riley Motorsports, Jeroen Bleekemolen and Ben Keating, and team principal Bill Riley, will be on the cruise as well as others such as Christina Nielsen, Katherine Legge, Marc Goossens and Alex Laughlin. Miller, Bleekemolen and Keating combined to win last year's Petit Le Mans in IMSA's GT Daytona class, in the sendoff for the Dodge Viper GT3-R.
The $200 rate seems a bargain considering the cost of most luxury cruises. More information is available via the cruise website, linked here.