The GT Daytona field in the 2016 IMSA WeatherTech SportsCar Championship season saw Scuderia Corsa claim the title with a combination of both pace and consistency, while the team that came closest to knocking the Los Angeles-based Ferrari team from its perch was sports car veterans Riley Motorsports, with the memorable and powerful Dodge Viper GT3-R.
The Viper's life in IMSA is now at an end and with it, a switch to Mercedes-AMG begins.
Arguably the top pairing of a true pro-am lineup within the framework of the GTD class, Jeroen Bleekemolen and Ben Keating head into their fourth consecutive season as teammates, in what is now the No. 33 Mercedes-AMG GT3, and look to finally secure a first championship. Scuderia Corsa has won the last two titles with two different lineups, while Dane Cameron took the 2014 GTD title in a BMW Z4 GT3 for Turner Motorsport.
Bleekemolen and Keating have won seven races in GTD over the last three years, two each in 2014 and 2015 before scoring three wins last year, including in the Viper's farewell at Petit Le Mans.
The switch to the Mercedes-AMG was a natural one for Bill Riley's group. Bleekemolen's known for his propensity to wheel the heck out of anything he drives, but he has experience in both iterations of Mercedes-AMG's GT3 challengers, having also spent quite a bit of time internationally in the previous generation Mercedes-Benz SLS AMG GT3.
"They've just improved the (new) SLS in all areas, and the SLS was already a really good GT3 car," Bleekemolen told NBC Sports. "But they've just made it better all-around. I'd say the SLS always struggled in hairpins with its long wheelbase, while this car with the shorter wheelbase is a bit better there, has more aero as well, and the whole package is just a little bit better as well.
"It's not too hard (of a switch) because this car is so nice and easy to drive. I've always said of the SLS, this is the easiest car I know and this car is similar in that way. It's a very easy car to drive. You get a feel for the car pretty quick and that makes it also a good all-around car. In difficult conditions, it's going to be good, it's going to be easy. I love this car."
Keating, whose Viper Exchange dealer is the country's largest Dodge Viper and exotic cars dealership, admits the farewell to his racing baby is bittersweet, but the time was right to switch to the new car for this season.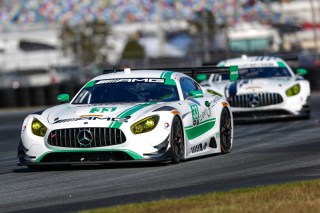 "The first question everybody wants to ask on the AMG is how different is it? The fact is the wheelbases are pretty similar, it's a big displacement, big torque, naturally aspirated front engine – it's not that much different than the Viper, with two exceptions," Keating told NBC Sports.
"The traction control and ABS systems, the electronics systems, are extremely well-developed on the AMG and the car has more downforce. It was developed a couple years later than the Viper, and the Viper needed an evolution if it was going to stay competitive. This car is at the pointy end of the stick. The AMG is phenomenal from a developmental standpoint. And it's got just great downforce, which again makes a big difference with the traction and braking.
"And so it kind of goes hand-in-hand: it does everything a little bit better than the Viper did, except for top speed."
It's worth noting that as GTD has evolved, so too have the lineups within the class. Owing to the quirks and nuances of the FIA Driver Rating system, a fair number of drivers who you could accurately call full-time professionals are rated Silver owing to their recent results, their age, or the fact their results in past series don't factor into the classifications to give them a pro (Gold or Platinum) rating.
This leaves the class with a number of theoretical "am" drivers that are far from it – Scott Pruett, for instance, is a Silver-rated driver because he's 56 years old, rather than the fact he has five career Rolex 24 victories. And there are plenty of others who are rated Silver even though they're pros, or potential full pros-in-waiting.
Keating, who's the modern day equivalent of a Rob Dyson or Bob Akin in terms of having a successful business first but also progressing into a stellar race driver on his own, is one of the few remaining accurately rated Silvers within the category, so his ability to keep pace against full-time pros during his stints is what has kept the team and car in contention for race wins over the years. Keating's also planning to pull double duty in this year's Rolex 24, racing not only the Mercedes but also a Prototype Challenge car for Peter Baron's Starworks Motorsport.
"Last year, I went back to the Viper Racing League in NARA and did a club race with my friends that I raced with five, six, seven years ago," Keating explained. "I did well with that group, but they were competitive. And, I was racing a car that wasn't as much as car as those other guys, and I lapped the entire field except one. It was unbelievable to me to recognize that I've gotten so much better.
"But when you're here with such a competitive field, it's hard to tell that necessarily. And you've got different types of cars that like different types of tracks. It's hard to say how much is driver and how much is car, and how much is BoP or whatever. So, it was really nice to have that comparison.
"The fact is I have gotten a lot better. It's the ability to compare myself with Jeroen, one of the best in the business, it's having such much better engineering, car setup, team strategy, pit crew over the wall, everything adds up – little bitty amounts adds up to being up front. It's a whole lot easier to be upfront and stay upfront, than it is to start in the back and get upfront. So, I'll say I've gotten a lot, lot better and I'll say my team makes me look good."
Bleekemolen has hailed Keating's advancement the last few years.
"We will be fine because Ben is doing just a great job," he said. "He's been on the pace with the pro's last year as well. I have big confidence in him that he can be competitive. He's been fighting guys like Andrew Davis last year and other people like that who are that good. Ben's raised his game year after year, and he's really at a good level now where we can fight for wins, even though he's a true amateur in that respect."
The No. 33 car has Mario Farnbacher, given a lifeline after The Heart of Racing program ended last year, and Mercedes factory shoe Adam Christodoulou as extra drivers at Daytona.
Riley Motorsports also has added Farnbacher's Alex Job Racing teammates from WeatherTech Racing to the stable this year in a second car. Cooper MacNeil and Gunnar Jeannette lead the No. 50 Mercedes-AMG GT3 entry, with MacNeil reuniting under the same tent with Bleekemolen after the two won an ALMS GTC title a few years ago – incidentally beating Keating. Mercedes veteran Thomas Jaeger and Australian Supercars wizard Shane van Gisbergen complete that lineup.