A pair of teenagers took the 2016 GTS class of Pirelli World Challenge by storm. Nate Stacy won and contended for the class championship at age 16 in the venerable Ford Mustang Boss 302. Meanwhile 15-year-old Parker Chase took one of the new GT4-spec cars, the Ginetta GT4, to a number of podium finishes of his own en route to rookie-of-the-year honors.
Expect the two to continue their progression and development this year. Stacy switches to Flying Lizard Motorsports and will be in a Porsche Cayman GT4, while Chase, only a high school sophomore who was recently named to Ginetta's Young Driver Development Program, appears set to continue with the manufacturer for another year. Ginetta and Chase's 2016 team, Performance Motorsports Group, are yet to reveal their formal PWC program but Chase said the goal is to continue as planned in 2017.
Stacy had Touring Car experience in both PWC's TC and TCB classes prior to stepping up to GTS this past season, while Chase was a largely unheralded name to the series and the sports car world.
But after success at the season-opening round not far from Chase's hometown of New Braunfels, Texas at Circuit of The Americas in Austin (the track is 50 miles north of New Braunfels), a decision was made that would see Chase and the rest of Stuart Robinson's Performance Motorsports Group team push the No. 19 Alta Towers/Enertech Resources Ginetta G55 GT4 into a full-season effort.
"It was kind of a one-off race at the beginning," Chase told NBC Sports at the Performance Racing Industry Trade Show in Indianapolis. "We did COTA, and finished pretty well there in third and fifth. From there went to go to St. Pete. That sealed the deal.
"As we're here at end of the season, I know much more. I've developed better race craft. Stepping up from Spec Miata, it was big to just have learned the basics of the cars and progress from there."
Chase's Ginetta, several KTM X-BOWs from the ANSA Motorsports and Mantella Autosport teams, and the SIN R1 GT4s from Racers Edge Motorsports led the charge among the lighter, more nimble GT4-spec cars up against the heavier but more powerful legacy GTS cars, Stacy's Mustang and the Blackdog Speed Shop Chevrolet Camaro Z/28.Rs among them.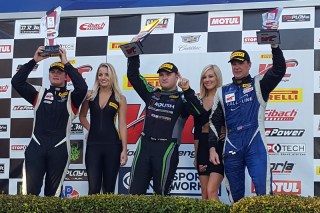 That made the racing last year very intriguing. At Sonoma in particular, when Stacy held off a hard-charging Chase for his first career win, watching the variation in where cars excelled was fascinating, and that taught Chase quite a lot about how to race such wildly disparate animals.
"It was kind of a struggle," Chase admitted. "They couldn't carry much mid-corner speed. In my car and others, you had to carry more, because that's the way to be fast. Being stuck behind kills the momentum, but then they have so much torque out of the corners that you lose time."
Despite the learning curve, Chase developed in multiple areas. He looked up to several-time PWC champion Lawson Aschenbach as a mentor, with Aschenbach without question the most experienced driver in class. He relied on Robinson's advice, having helped him in karting prior to stepping up to GTS. And with fellow New Braunfels native Harry Gottsacker in a second Ginetta, Chase had a second set of data to draw of as the year went on.
"Early in the season in his first few races I helped him a lot. Then by Utah, Sonoma and Laguna (Mazda Raceway Laguna Seca), we were right on same pace," Chase explained. "We took a bit from each other and I think working together is much better than being a one-car team.
"With Stuart, I worked with him a bit in karting. I worked with him more in Spec Miata. He started this program and helped me get my licenses. This one really helped to get me into GTS at 15."
Chase also spread his wings driving different machinery in 2016. Besides the GTS car, he also raced a partial season of GRC Lites and scored a podium at MCAS New River, and raced in the Ginetta G57 LMP3 prototype at December's 25 Hours of Thunderhill with Colin Braun, Ryan Carpenter, Bryan and Colton Herta and Joel Miller. A potential win went begging with right-rear wheel issues striking the car in the final hours.
"Taking it all in really helps me," he said. "The Thunderhill weekend in the G57 gave me a chance to use way more power and downforce. I'm hoping the GTS might feel like a piece of cake afterwards! We'll do some testing and see how I improve."
The PWC GTS season begins at St. Petersburg the weekend of March 10-12. The exact weekend schedule should be released in February, with Chase and perhaps the rest of the PWC paddock looking for more track time beyond the limited running this year on Thursday, Friday and Saturday of the race weekend. Chase will turn 16 in February.