MotorSportsTalk's Tony DiZinno takes a look through the entries for the 2017 Rolex 24 at Daytona, car-by-car. Here's a look through the two prototype classes, Prototype and Prototype Challenge. Roar Before the Rolex 24 times are listed.
With 12 cars in P that are all new and five in PC that are in their final year of eligibility, the prototype classes span the generations of recent sports car designs, teams, and lineups.
—
PROTOTYPE
Daytona Prototype international (DPi) spec cars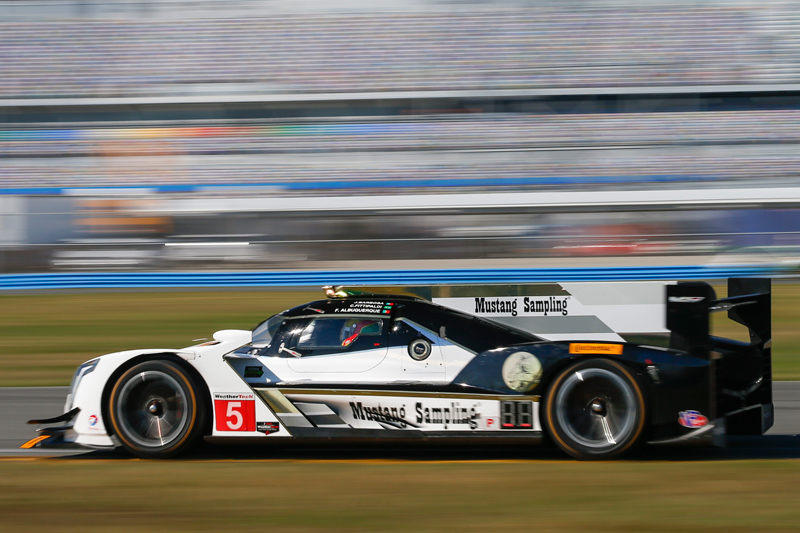 No. 5 Mustang Sampling Racing (Action Express Racing)
Car: Cadillac DPi-V.R
Drivers: Joao Barbosa, Christian Fittipaldi, Filipe Albuquerque
Roar Time: 1:38.693 (5)
Outlook: On what should be a better playing field for the debuting Cadillac DPi, the No. 5 Action Express team seeks a return to winning this race for the first time in three years.
No. 31 Whelen Engineering Racing (Action Express Racing)
Car: Cadillac DPi-V.R
Drivers: Dane Cameron, Eric Curran, Seb Morris, Mike Conway
Roar Time: 1:38.902 (6)
Outlook: The time is right for the No. 31 car to finally contend at Daytona since it hasn't in years past. Defending IMSA champs Cameron and Curran enter at the top of their games; Conway should star in his Rolex debut while Sunoco Challenge winner Morris, Andy Meyrick's protégé, is the wild card.
No. 10 Wayne Taylor Racing
Car: Cadillac DPi-V.R
Drivers: Jordan Taylor, Ricky Taylor, Max Angelelli, Jeff Gordon
Roar Time: 1:38.951 (8)
Outlook: After a rash of near misses and heartache, is this finally the year for the second generation of Taylor brothers to break through at Daytona? Gordon is the star guest driver here, and how close he is to the pace after a 10-year race layoff may determine their final outcome.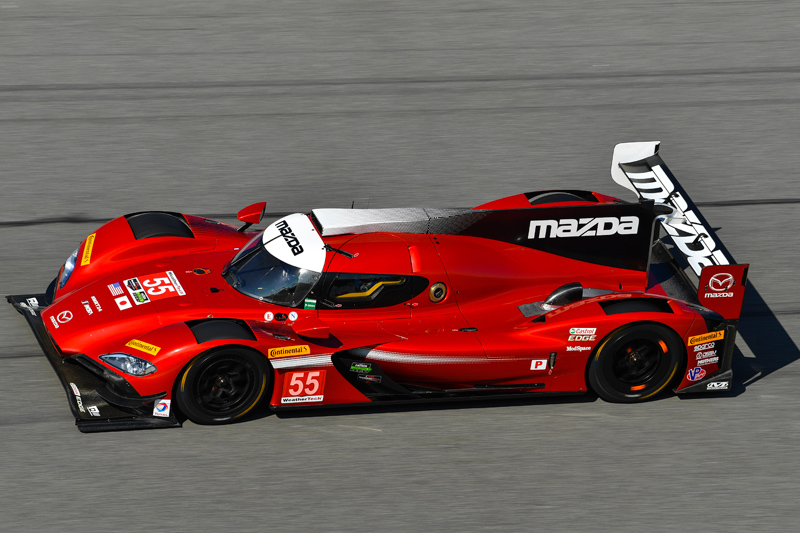 No. 55 Mazda Motorsports
Car: Mazda RT24-P
Drivers: Jonathan Bomarito, Tristan Nunez, Spencer Pigot
Roar Time: 1:38.363 (2)
Outlook: New car but the same lineup for this Mazda trio, who won't lack for pace on their own. Suspension issues interrupted their Roar; reliability is also a key target for the same AER engine that continues into 2017.
No. 70 Mazda Motorsports
Car: Mazda RT24-P
Drivers: Joel Miller, Tom Long, James Hinchcliffe
Roar Time: 1:39.574 (10)
Outlook: Take the above description and copy and paste it here, except with a Machine Gray livery rather than Soul Red. The "Mayor of Hinchtown" makes a welcome return to Mazda for a fifth time, after a year's hiatus.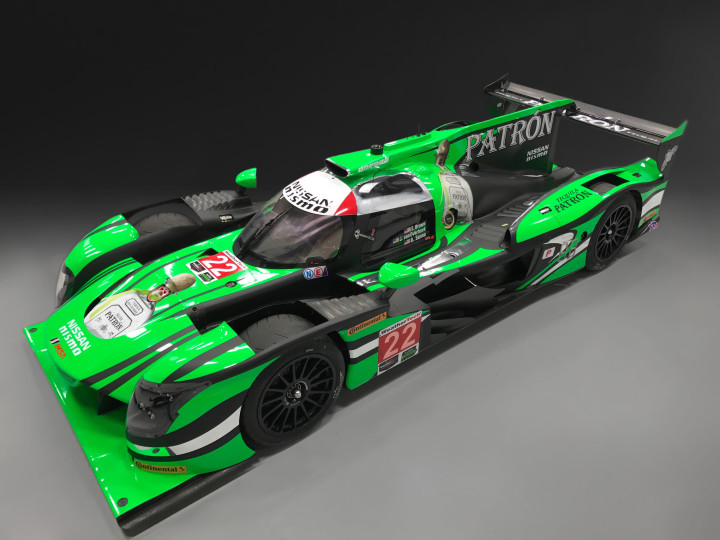 No. 2 Tequila Patron ESM
Car: Nissan Onroak DPi
Drivers: Ryan Dalziel, Scott Sharp, Pipo Derani, Brendon Hartley
Roar Time: 1:39.654 (12)
Outlook: While it's Derani and Sharp that return as defending champion co-drivers, it's likely Derani and Dalziel – back Stateside full-time with ESM after a one-year detour to VISIT FLORIDA Racing – who will carry this car's pace and hopes. The car doesn't have a ton of miles and may struggle initially.
No. 22 Tequila Patron ESM
Car: Nissan Onroak DPi
Drivers: Ed Brown, Johannes van Overbeek, Bruno Senna, Brendon Hartley
Roar Time: 1:39.608 (11)
Outlook: Senna and Hartley are the impressive new additions here alongside the other two defending champion co-drivers, "JVO" and Brown. Hartley's Daytona history is mixed with only one P5, last year, while Senna will look to star in what is, surprisingly, his Rolex 24 debut.
LMP2 spec cars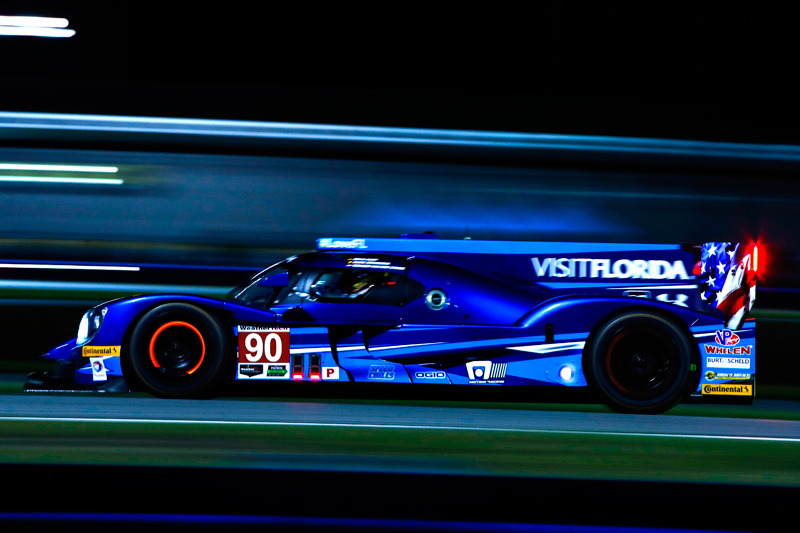 No. 90 VISIT FLORIDA Racing
Car: Riley Mk. 30-Gibson
Drivers: Renger van der Zande, Marc Goossens, Rene Rast
Roar Time: 1:38.922 (7)
Outlook: Last year was a nightmare year for VISIT FLORIDA at Daytona with a tried-and-true car. More new elements enter with a new car (the Riley-Gibson), drivers (the admittedly fast van der Zande and Rast) and director of race operations (Michael Harvey), who if they can mesh quickly could produce a result.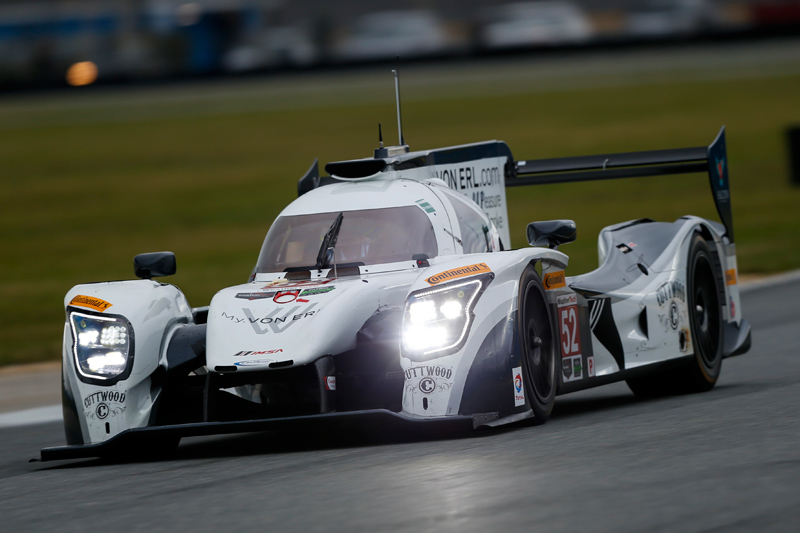 No. 52 PR1/Mathiasen Motorsports
Car: Ligier JS P217-Gibson
Drivers: Tom Kimber-Smith, Jose Gutierrez, Michael Guasch, RC Enerson
Roar Time: 1:38.596 (4)
Outlook: The car, class and most of the lineup is new. But Bobby Oergel runs a good program and won this race in PC before just two years ago. The team once again fields a similarly under-the-radar lineup, particularly with sports car debutante Enerson alongside expected pacesetter "TKS." A podium is possible here if the car holds.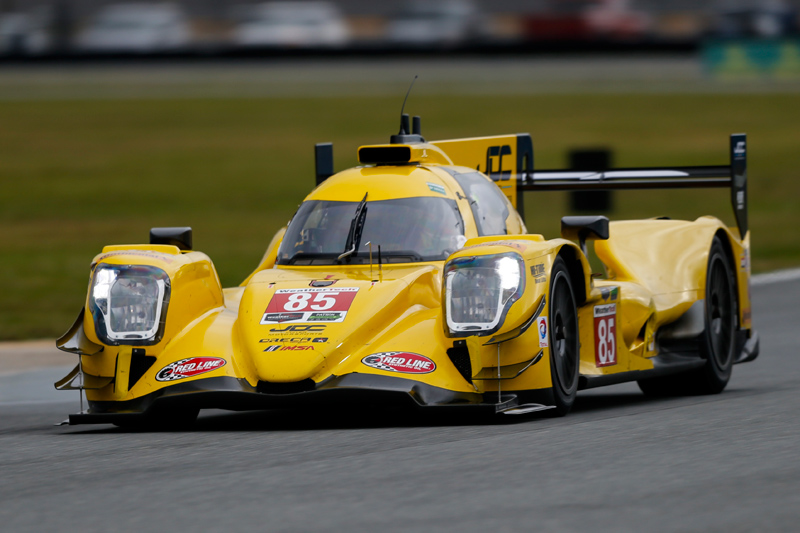 No. 85 JDC-Miller Motorsports
Car: Oreca 07-Gibson
Drivers: Stephen Simpson, Mikhail Goikhberg, Chris Miller, Mathias Beche
Roar Time: 1:39.167 (9)
Outlook: John Church's team steps up to Prototype and will find the going tougher here than it was in PC, where the team won last year. Finishing must be the first goal here for what will be a likable underdog entry in class, with Beche the all but certain car pacesetter.
No. 13 Rebellion Racing
Car: Oreca 07-Gibson
Drivers: Nick Heidfeld, Neel Jani, Sebastien Buemi, Stephane Sarrazin
Roar Time: 1:38.408 (3)
Outlook: Rebellion makes its U.S. return and Daytona debut with, surprisingly, three Rolex 24 rookies in its all-star lineup of four drivers (Sarrazin has one start in 2013). Whether the undoubted pace can translate in the race week remains to be seen.
No. 81 DragonSpeed
Car: Oreca 07-Gibson
Drivers: Nicolas Lapierre, Ben Hanley, Henrik Hedman, Loic Duval
Roar Time: 1:38.343 (1)
Outlook: Elton Julian's team knows how to run endurance races and had some success in the ELMS. Fourth at Sebring was an impressive result last year, and in some respects they may have wanted more. A podium is more than possible for the team that was the Roar pacesetter.
—
PC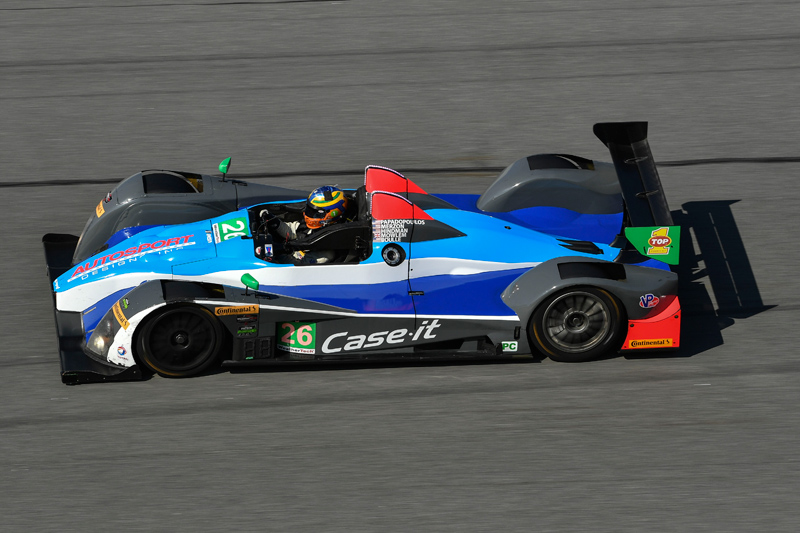 Outlook: The swan song for the PC class at the Rolex 24 at Daytona will see a new team add its name to the list of class winners, a guaranteed fourth in as many years as CORE autosport, PR1/Mathiasen Motorsports and JDC/Miller Motorsports have won the last three. With those three teams now elsewhere on the WeatherTech Championship grid, it's left to the Peter Baron, Brian Alder and Brent O'Neill-led stalwarts to make up the five-car grid.
While the PC class lacks the overall depth and star power in the three other classes, there's still some intrigue. Performance Tech's quartet was meant to be all 24 years of age or younger with French the only Rolex 24 veteran, although that changed following the Roar with 27-year-old Nick Boulle joining the team once more. Baron has done his usual star finding to spread between his two cars at Starworks. And at BAR1, past Indy 500 winner Buddy Rice returns to active competition after five years out, Johnny Mowlem makes one final drive at Daytona, and young guns Trent Hindman and Gustavo Yacaman will be keen to impress in their opportunities.
Expect the class to very much be a battle of survival, but it will be cool to see one of these three team owners rewarded for their persistence and dedication.
No. 38 Performance Tech Motorsports
Drivers: James French, Kyle Masson, Pato O'Ward, Nick Boulle
Roar Time: 1:41.888 (1)
No. 8 Starworks Motorsport
Drivers: Ben Keating, John Falb, Chris Cumming, Remo Ruscitti, Robert Wickens
Roar Time: 1:43.320 (3)
No. 88 Starworks Motorsport
Drivers: Scott Mayer, Alex Popow, James Dayson, Sebastian Saavedra, Sean Rayhall
Roar Time: 1:44.089 (5)
No. 20 BAR1 Motorsports
Drivers: Buddy Rice, Don Yount, Gustavo Yacaman, Chapman Ducote, Mark Kvamme
Roar Time: 1:43.865 (4)
No. 26 BAR1 Motorsports
Drivers: Johnny Mowlem, Tom Papadopoulos, Trent Hindman, Adam Merzon, David Cheng
Roar Time: 1:42.701 (2)