Upon the release of the Roar Before the Rolex 24 at Daytona entry list comes the release of all the drivers who are among the guest stars at the season-opener for the IMSA WeatherTech SportsCar Championship campaign.
Interestingly, NASCAR's presence of drivers at this year's race is reduced, while the Verizon IndyCar Series still has a strong presence.
—
As both Chip Ganassi Racing and Michael Shank Racing have moved to the GT categories, with Ganassi running four Ford GTs in GT Le Mans and Shank running two of the new Acura NSX GT3s in GT Daytona, their usual NASCAR extra drivers at Daytona aren't present in 2017.
Neither Jamie McMurray nor Kyle Larson will have their usual Rolex 24 outing with Ganassi. Both drivers were part of the No. 02 Riley Ford entry that won overall in 2015 with Scott Dixon and Tony Kanaan, two of Ganassi's IndyCar drivers, rounding out the lineup. McMurray has eight career Rolex 24 starts, starting in 2005 and then continuing through last year. Larson only has three career Rolex 24 starts, each of the last three years.
Meanwhile with Shank's team running the factory Acura program, AJ Allmendinger is not part of the Shank lineup. Allmendinger has been part of every Shank run at the Rolex 24 since 2006, including the popular winning lineup in 2012 with Ozz Negri, John Pew and the late Justin Wilson.
This means there isn't a single full-time Monster Energy NASCAR Cup Series driver in the Rolex 24 field. Instead, only Jeff Gordon, who comes out of his brief retirement, will make his second Rolex 24 start with the Konica Minolta-backed Wayne Taylor Racing team in the No. 10 Cadillac DPi-V.R. Gordon shares that car with the car's usual trio of Jordan and Ricky Taylor and Max Angelelli.
Gordon was the center of attention at the December IMSA test and recapped his first running in the car last month. He said during the Roar Before the Rolex 24 that his focus for endurance racing was only on Daytona.
Austin Cindric, who will race full-time for Brad Keselowski Racing in the NASCAR Camping World Truck Series, would be considered the lone full-time NASCAR driver in the field. The 18-year-old son of Team Penske president Tim Cindric has already established himself as one of the most versatile drivers in the country, and will share a Lexus RC F GT3 in the GT Daytona class.
—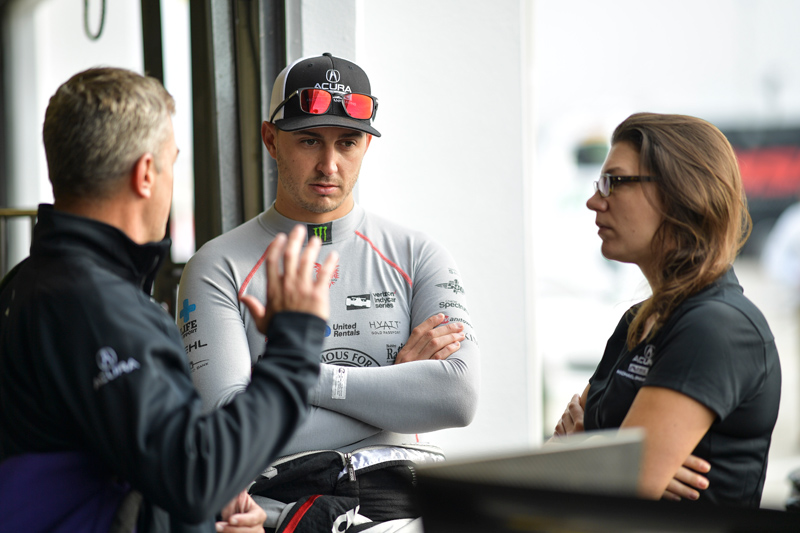 IndyCar, meanwhile, boasts more than a third of its 2017 full-season lineup, plus a number of others who raced at least once in 2016 as part of its 2017 contingent at the Rolex 24.
Here's the full breakdown, with each driver's car and co-drivers:
Spencer Pigot, No. 55/70 Mazda Motorsports Mazda MRT24-P (Jonathan Bomarito, Tristan Nunez)
James Hinchcliffe, No. 55/70 Mazda Motorsports Mazda MRT24-P (Tom Long, Joel Miller)
RC Enerson, No. 52 PR1/Mathiasen Motorsports Ligier JS P217 Gibson (Tom Kimber-Smith, Jose Gutierrez, Mike Guasch)
Sebastien Bourdais, No. 66 Ford Chip Ganassi Racing Ford GT (Joey Hand, Dirk Mueller)
Scott Dixon, No. 67 Ford Chip Ganassi Racing Ford GT (Ryan Briscoe, Richard Westbrook)
Tony Kanaan, No. 69 Ford Chip Ganassi Racing Ford GT (Andy Priaulx, Harry Tincknell)
Sage Karam, No. 14 3GT Racing Lexus RC F GT3 (Scott Pruett, Ian James, Gustavo Menezes)
Jack Hawksworth, No. 15 3GT Racing Lexus RC F GT3 (Robert Alon, Austin Cindric, Dominik Farnbacher)
Townsend Bell, No. 23 Alex Job Racing Audi R8 LMS (Bill Sweedler, Frankie Montecalvo, Pierre Kaffer)
Ryan Hunter-Reay, No. 86 Michael Shank Racing Acura NSX GT3 (Jeff Segal, Ozz Negri, Tom Dyer)
Graham Rahal, No. 93 Michael Shank Racing Acura NSX GT3 (Andy Lally, Katherine Legge, Mark Wilkins)
Of those 11 drivers, Bourdais, Dixon, Kanaan and Rahal have overall wins at the Rolex 24, with Bell adding a class win. Hunter-Reay has come close on a couple occasions. The other five younger drivers, in Pigot, Hinchcliffe, Karam and Hawksworth look for a breakout Rolex 24 race, while Enerson makes his sports car debut.
This doesn't factor in others with past IndyCar experience prior to 2016, who are peppered in elsewhere in the field.
—
There's plenty of other standout sports car drivers as well among the guest drivers, as the field is pretty well-stocked this year from top to bottom.