DAYTONA BEACH, Fla. – Jordan Taylor has many personalities. He's been the guy born in the '90s, ironically rocking an early '90s mullet. He's introduced us to his many unsuspecting passengers on flights via his usually hilarious "JT Facials." He has a dog named Fonzie, and an alter-ego named Rodney Sandstorm.
But Jordan Taylor has one slightly more important thing in his life than all these elements you see on social media.
He has his older brother, Ricky.
And in a year when Wayne Taylor had a four-time NASCAR champion making a comeback after 10 years, his long-time co-driver announcing his retirement, and his youngest son playing out the "I'm a sports car star, but I can't even get the sports car media to interview me" running joke as the NASCAR star saddled back up in his lineup, Wayne's rock that held it all together this year at Daytona was Ricky.
The 2017 Rolex 24 at Daytona will, for me, be remembered as "Ricky's Rolex."
Because at long last, and deservedly so, the older brother has emerged from his younger brother's lofty social media and sports car star shadow.
—
Ricky, 27, and Jordan, 25, have had slightly divergent paths on their way up the sports car world. While Ricky was always overflowing with potential, it seemed there were moments when wins went begging and it cost both Ricky, and his dad Wayne, race wins in the GRAND-AM Rolex Series.
A one-year shift for Ricky Taylor from his dad's team in 2013 opened the door for Jordan, who'd been plying his trade in the GT categories and winning races in a Camaro for Autohaus Motorsports, a chance at the spotlight.
Jordan promptly won that year's GRAND-AM championship with a series of barnstorming drives co-driving alongside Angelelli, his dad's longtime co-driver, for his dad's team. Ricky had one podium finish all season.
The metaphor of the gap between the two – both personality and performance-wise – was outlined within a hilarious and off-the-wall Continental Tire-supported music video called "Jordan Loves Stickers." It showed Jordan, with the mullet only beginning its growth into legendary status, as a hotshoe driver in love with a Continental Tire. Ricky, meanwhile, had a moment in the video where his head was sticking out of a can.
The funny part is, if you don't know the Taylors, you'd think Jordan is always gregarious and up for joking around, and Ricky is quieter and under-the-radar … or under the can.
In actuality, Jordan is a seriously focused driver whose determination and dedication outweighs his social media presence. Ricky, meanwhile, is unfailingly nice and polite – perhaps the nicest driver I've ever met in racing – and rarely without a beaming smile on his face, absolutely high on life.
Angelelli stopped full-time driving at the end of 2013, which opened the door for a refreshed and slightly older Ricky Taylor to rejoin his dad's team, now with Jordan as his teammate.
Some success came the first year. In 2014, Ricky Taylor emerged at the head of a titanic scrap with Action Express Racing's Joao Barbosa to win at Detroit. The Taylor brothers and Angelelli then won as a unit at the 2014 Petit Le Mans, but watched as Action Express took the title. Ricky also had a dynamite pass at the start of last year's Long Beach race that wound up the eventual decider there.
Ultimate success at Daytona, however, eluded the Taylors. Jordan, Angelelli and Ryan Hunter-Reay were second in 2013. All three Taylors and Angelelli were second in 2014, denying Wayne a chance to win with his sons. A drive-time miscalculation in 2015 relegated the team from second to the back of the field. In 2016, the Taylors, Angelelli and Rubens Barrichello were, you guessed it, second.
Essentially, Wayne Taylor Racing had done the sports car racing equivalent of the 1990s Buffalo Bills – make it to four straight Super Bowls, but come second in all of them.
It seemed the bad luck was set to continue when Jordan posted a video Friday night alleging Ricky had inadvertently left the water in their RV running. But come morning, the social media posts were about temporary tattoos of Rolex watches, with the hopes their wrists would be heavier 24-plus hours later.
Second was not going to happen again in 2017. And it was Ricky who emerged as the brightest star this week.
—
The Rolex 24 offers drivers who otherwise star during the bulk of the IMSA WeatherTech SportsCar Championship season a chance to do so in front of the biggest media audience of the year, at Daytona's World Center of Racing. It's the place where unheralded international drivers like Pipo Derani and Max Papis showed up 20 years apart and suddenly kickstarted their careers.
Sometimes, the Rolex 24 also gives drivers a shot in the arm to perform even better than they're capable of. I had a chat with Ricky during the Roar Before the Rolex 24 test and while his usual nice presence continued, there was an inner burning in his eyes I hadn't really seen before.
"If it was easy, it wouldn't mean so much," he told me, noting the number of second-place finishes both he and his dad have had in recent years at this race.
But Ricky was also bullish on the development work done by Dallara and Cadillac of the new Cadillac DPi-V.R.
"Even compared to the P2 car I drove in Le Mans (a Morgan Judd) in 2014, this is a totally different planet. It's such a huge evolution from P2 cars in the past," he said.
The Konica Minolta team saw something too, opting to use Ricky for all the key moments this weekend.
Qualifying doesn't mean much for a 24-hour race but with Ricky resigned to fourth on the grid and both Action Express Racing Cadillacs on the front row, you could tell that was only going to be fuel for the race itself.
The Taylor car had the measure of the Action Express cars in race pace, seemingly throughout the race. Colder temperatures may have played to the team's strength.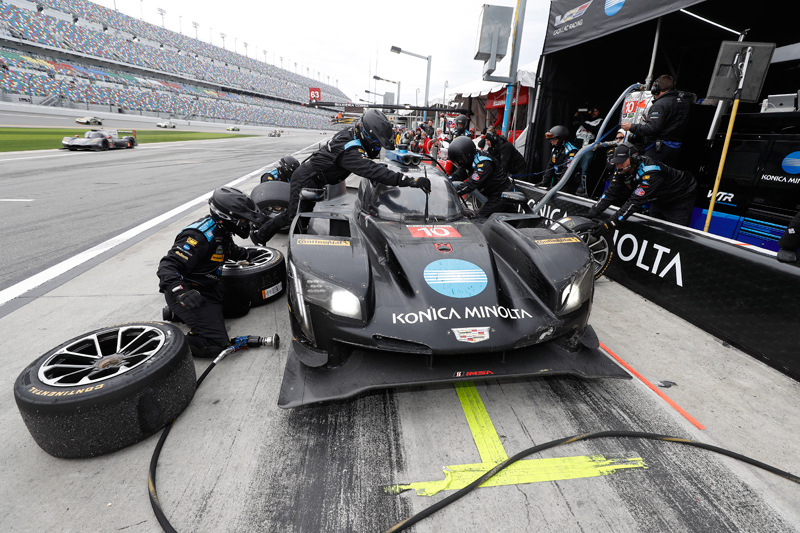 In the final hours, Angelelli took his last laps ever behind the wheel, and enjoyed one final bout with his GRAND-AM sparring partner, Barbosa. Angelelli came out ahead.
But it was the decision that came next from the pit wall to run Jordan next, and close with Ricky, that would determine whether this run of runner-up finishes would finally meet its end.
—
Ricky Taylor's move on Filipe Albuquerque into the Bus Stop with an hour and 26 minutes remaining would have stood out as the decisive move under normal circumstances had cautions not intervened. But they did, and when Taylor got backlogged behind traffic and perhaps fell victim to cagey tactics from Albuquerque's race teammate Mike Conway, it could have been easy to get defeated.
"Ricky's move at the Bus Stop early on, I thought, okay, we're going to be okay," Wayne Taylor said. "And then somehow every time we come to this event and we've finished second so many times, it's been because of something else that's happened that we weren't in control of, and what happened today was somebody crashed and the 5 got into the pit before us, and I thought, okay, here we go again.
"It's funny, I was telling somebody outside that the weirdest thing is as a father, people always ask me what's it like to have your kids racing because most mothers worry about the fear factor, which I never do, and the great part I am proud of is that when they're in the car, I'm actually very relaxed because I do believe they know what they're doing, and I had no question in my mind that Ricky was not going to come home second today.  There was no way he was going to do it."
Then, the move of his life came inside the final 10 minutes. Ricky made the attempt that had to work for not just himself, but his team, his family and his co-drivers. Albuquerque turned in, shutting the door, but still having left enough of a gap where Ricky had at least a chance to make it work.
As Ricky related after the race, it was a move he had to make.
"There's a lot of emotions going on. I wanted to win terribly," he said. "We were either going to make a move and do something and win or sit there in second and wait until next year, basically. I didn't want to do that."
IMSA Race Control reviewed the contact between the two cars, but took no further action.
The move was made. The win was secured.
This was Ricky's day.
—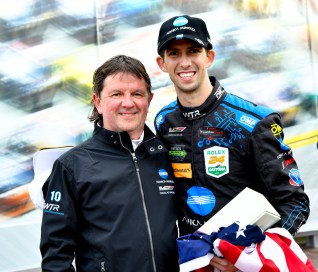 The joy in this Rolex 24 win for the Taylor team comes with the convergence of all these story lines. Jordan and Ricky have their first Rolex 24 win, now matching their dad Wayne, while doing it for their dad's team. They brought the win for their longtime friend and teacher Angelelli. They brought the win home for Gordon, who was effusive in his praise of the Taylor brothers afterwards. The win comes after Wayne Taylor and Angelelli were part of Cadillac's last top-flight prototype program in the early 2000s.
"These two over here, you know, this experience to me was about building this bond and this friendship that I didn't expect to happen because of the way they welcomed me in, and we had a lot of fun along the way," Gordon said of the Taylor brothers.
"And then I was able to learn just how talented they are. I mean, I was so impressed over watching all night.  I was glued to the TV every second, every lap. I couldn't sleep because I wanted to watch these guys do what they did in the rain, in the cold, in the most treacherous conditions, and they did it at a level, that I'll be honest, I'm not capable of doing, and I was so impressed.
"Then you go to the last stint in this final race of a 24‑hour race and you see it come down to that, and it was a thrill of a lifetime, and I'm just so honored to be sitting here and be a part of this experience."
—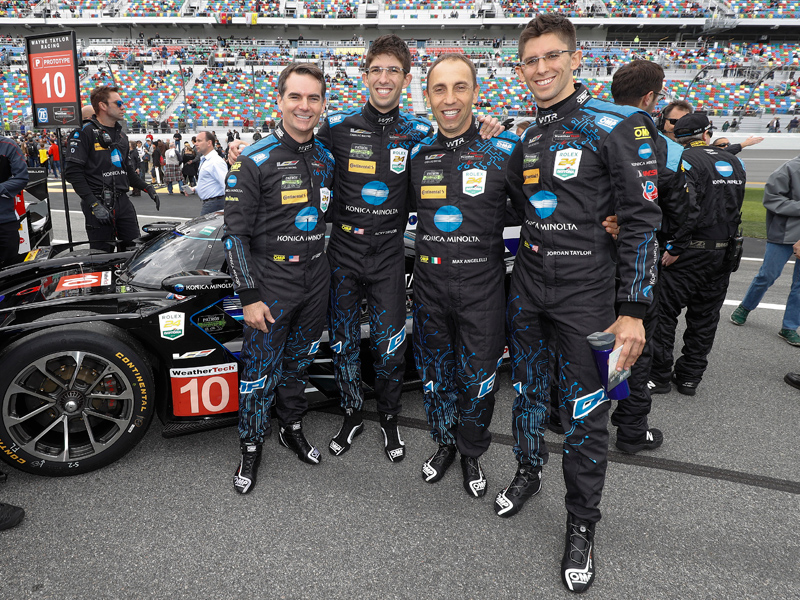 This was a race of finishing that "unfinished business," for both the team, and for Ricky.
"I'm still shaking," Ricky said. "You've got Cadillac's unfinished business from the LMP program which Max and my dad were both a part of the first go around, and then wrapping that up with ‑‑ starting off with a win here in Daytona, and then you've got Max's last race, and we've been family for 20 years now, and he's taught us everything we know.
"We used to have classes with Max.  He used to be the Professor X, and he'd come over to our house, and we'd have a pen and paper, and he'd teach us about downforce and he'd teach us about overtaking.  Today was a good example of one of those lessons, I think.  That was an Ax move."
Ricky was overcome with emotion but still took a bit of time to reflect on the journey to the biggest and most important win of his career.
"I mean, for me and Jordan, for Rahal and Andretti, I feel like we're all kind of in the same boat," he said. "We just want to prove ourselves that we can do the job, and although I believe we are in the best equipment, I think we have to take advantage of it, and we've been so strong here for so many years, and to get the opportunity to finish was very scary.
"This is the top one for sure.  There is nothing close."