Editor's note: Charlie Kimball, driver of the No. 83 Tresiba Honda for Chip Ganassi Racing Teams, took over the Verizon IndyCar Series Instagram and Snapchat social media accounts during the NHL All-Star Game at STAPLES Center this weekend in Los Angeles. Honda is the official vehicle of the NHL. While there, Kimball was also keeping apprised of his Ganassi and Honda teammates racing at the Rolex 24 at Daytona. Kimball recounts his reflections of the weekend on ice and watching the cars metaphorically on ice, when speaking to MotorSportsTalk editor Tony DiZinno.
—
One of my many interests outside the cockpit is watching hockey, and so to have the opportunity to take in the NHL All-Star Game presented by Honda not far from my hometown in Los Angeles was something I really appreciated having the chance to do.
As drivers, we're always working to engage with our fans via social media. But to be honest, I'd never done anything as in-depth as a full account takeover, which I did this weekend for IndyCar. So this was a deeper dive into taking over a full social media presence, compared to just my own, for an in-depth weekend. For me, it was a neat way to express something I've been super interested in, and has ties to racing on NBCSN and with Honda. This was a chance for me to be able to share a little bit of what I like other than racing, with non-traditional hockey fans.
The celebrity game and skills competition was fun to watch, and very impressive. Saturday night after the skills competition, there was a blink-182 concert, and you almost felt transplanted back in time because for only an hour show, they played all their big hits. And that was just the warm-up act!
The All-Star Game itself was a blast. When you get 3-on-3 hockey, there's not a lot of defense played. The goalies get hung out to dry. So there's lot happening in 10-minute periods each time they go out.
One of the things I really appreciate about hockey is how much those involved appreciate the sport. There's a saying I've heard, where cricket is a game for gentlemen played by gentlemen, soccer is a game for gentlemen played by hooligans, rugby is a game for hooligans played by gentlemen, and Aussie Rules Football is a game for hooligans played by hooligans. When you look at hockey, you think it could be a hard-hitting, vicious game. But the respect these guys have for each other, for the game, and the history of the game is unbelievable to witness.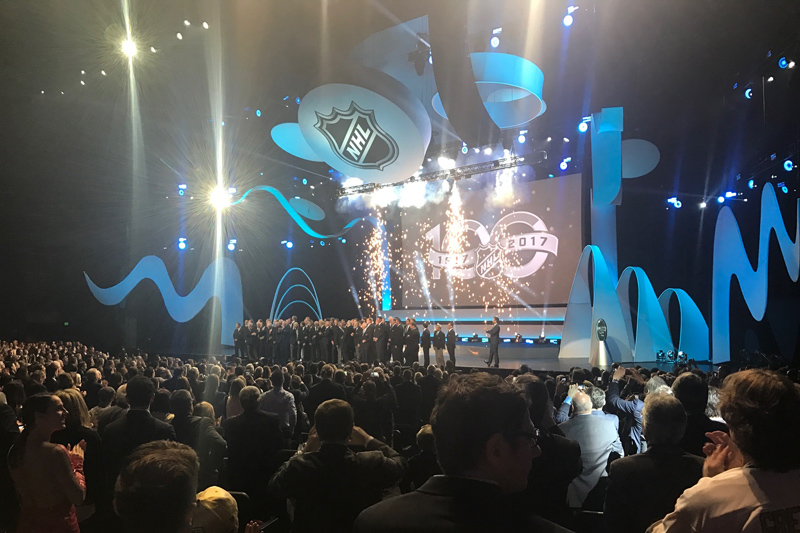 The NHL 100 celebration Friday night reminded me a lot of the Indianapolis 500 banquet. One of the first things they did was reveal the list of 100 greatest players, which included a number of players from the first 50 years of the game until 1960s… and right then, four living players walked out. Not even 10 seconds into it and the current players in the audience just applauded straightaway. That respect and the understanding for the game of hockey is really an indication of how remarkable the game and appreciation is.
You can draw so many parallels to IndyCar. The driver back then were right on the limit of everything their cars could do. It's the same in the ice rink.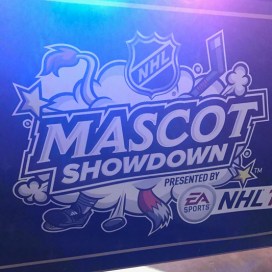 While there's appreciation for the legends, there's also good times and laughter we got to have with the mascots this trip. I believe 27 of the NHL mascots were in town. I got to know Bailey – the Kings mascot – when we were out in November. We'd shared some Twitter love. So I took a pic of the mascot showdown, and a number of bad puns were made. But all of them were in STAPLES Center, interacting with kids during TV timeouts. They were messing around with people and each other, which produced some classics! Nash – the Nashville Predator – came by. He came and took a photo with all the kids. They'd known each other and seen them at Predators games. It's pretty cool the relationships that the mascots build with the fans.
The skills competition was the showcase event prior to the game on Saturday. It ended up a five-stage competition to pit the four divisions against each other. First off it was a relay, so there were thre wrist shots into an empty net, from the mid-line, the blue line, and close in. Then it moved into a passing competition, where one of the players had to pass a puck into a 4-inch by 2-inch goal! That was pretty serious. Then there was the puck handling… the skating competition. There's six Gatorade bottles set out. They had to set this up and around. It went then to a tight-in, puck handling course, where you'd slide the puck through obstacles. There was a goalie shooting from his own goal over a barrier into the other goal at the end of ice. The winning time was crazy – a minute and 21 seconds. So all that happens in the time it takes me to do a lap of Watkins Glen!
There were also the target shooters. A guy stands on blue line… and they'll feed them the puck and show how quickly they knock out the targets. Sidney Crosby's targeting is spectacular. His ability to place the puck is super impressive. There was the fastest skating competition. I joked in one of my Instagram or Snapchat stories that it's self explanatory. They can skate so fast with the stick in hands, and in full pads. Then it was the fastest shot. So it's a slapshot from halfway between blue line and goal, as long as it went in. It tripped the radar gun at like 104 mph. Then they did a shootout between Pacific and Atlantic. Atlantic won and got to play the metro division … this was like knockout qualifying. And then the knockout round went up until the final round of All-Star Game.
At this point, I was merely catching my breath from how exhilarating this competition was. But me being a racer and having done the Rolex 24 at Daytona before, I had to check in on my teammates down in Daytona. Scott, Tony and Sebastien were racing in the Ganassi Ford GTs and Graham and Ryan were in the new Acuras. The challenge now was finding a way to be able to watch.
I'd mentioned earlier on Saturday how we're at the concert and party. So I pulled out my phone to check in, and I pulled up the IMSA app and I saw how cold and wet everyone is. They're cold and wet, and I was warm and dry!
I've driven at the Rolex 24 twice and done the "graveyard shift." These stints are overnight; they can feel lonely and take forever, and it's hard to stay focused at that point. Throw the challenge of rain in there and I was very impressed with the limited accidents in the rain.
Anyway, Saturday night, the only place that has FS2 TV coverage was the bar. So we sat at the bar from midnight to 12:30, so 3:30 a.m. ET, and it looked absolutely miserable. We ended up sitting next to a bunch of race fans. They were tangentially aware, and were seeing what our interest was in the race. We got up the next morning, and we had a decision to make: we could go to the NHL All-Star Brunch, or watch the last hour from the hotel and order room service.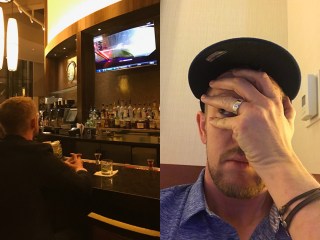 In the last hour.. I couldn't watch. I could not watch that GTLM battle. It was just craziness! But it was unbelievable, as the Ganassi Fords won in class. And it was nice to see the NSX run as well as it did in its debut. It wasn't just the Ganassi boys, but it was the Honda brethren. Graham and Ryan ran up front. There's some bugs to work out, but it's their first year in an endurance car. It ran really well and they did a really nice job.
We made it back to STAPLES for the game. The final act was incredible; being at STAPLES – it's all (Los Angeles) Kings and Pacific fans. So that last sequence when the puck nearly went in… we were all asking how it did not go in? That was a $90,000 miss right there. The prize money is $1 million awarded to the winning team, and split up among the 11 players. It was a thoroughly fun event and tense right down to the end.
I've had people ask whether some kind of all-star event might work for INDYCAR as well. It would be a great way to highlight the participants, especially those who have a great first half of the season. But the series is so good right now you'd need to have all the cars involved. Maybe you have different physical competitions, or highlight things we do week-in, week-out that you don't see on the race broadcast. Say you look at Firestone guys breaking down or mounting tires. The question would be who would sponsor it and where would it be. But it could provide some cool highlights.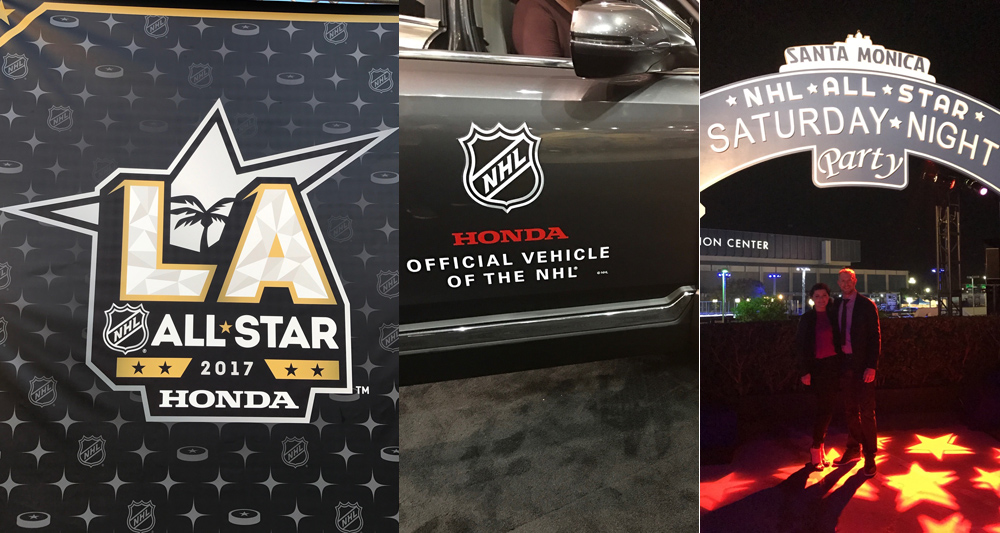 This was a super fun weekend, all around. It's great to have the Honda family support because there's so many things they are involved with beyond INDYCAR. There's the NHL, redesigned Ridgeline, 2017 CRV and more. And you've seen what Bridgestone/Firestone have done with the Winter Classic.
It's been nice for me to be back with Honda and it'll be cool to do more fun things as the year goes on. As of next week though it's back to the day job with our open test at Phoenix!
Thanks for reading.
-CK